Welcome to Bonanza!
Bonanza is a marketplace of more than 25,000 sellers and 4 million items where shopping is...
Safe
Buyer satisfaction guaranteed when paying with Paypal or Checkout by Amazon
Fast
You need a new user account like you need a bee sting. No login required to buy here!
Acclaimed
Praise by CNN, Oprah, and others has made Bonanza one of the largest marketplaces online.
Item details
Qty available
Only one in stock, order soon
Region of Origin
US-Midwest
Original/Reproduction
Original
Size Type/Largest Dimension
Small (Up to 14'')
This item has been added to your cart
~PRiMiTiVe GRUNGY UNCLE SAM & PINWHEEL TUCKS~PTAT~PSOA~
added to cart.
Only one available in stock
View Cart
or
continue shopping
.
Please wait while we finish adding this item to your cart.
Seller offering time-limited coupon
Coupon available:

20 percent off

Applicable to item: ~PRiMiTiVe GRUNGY UNCLE SAM & PINWHEEL TUCKS~PTAT~PSOA~
Item quantity: Only one available in stock
Item price: $54.95 $43.96


Apply Coupon To Item
More about this item

~*Gr8Expressions Gifts n' Collectibles PRiMiTiVes by Jan*~

~*PRiMiTiVe Grungy Summer Uncle Sam & Pinwheel Tucks/Ornies/Fillers*~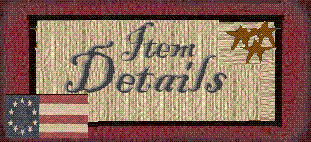 Hello and Welcome! Thanks for visiting our Store!

Just in time for the 4th of July!!!

I'm introducing one of my latest creations that I Designed myself, so these are Brand New and One-of-a-kind! This Wonderful Set of 5, PRiMiTiVe, Grungy, Uncle Sam and Pinwheel, Tucks/Bowl Fillers/Ornies. Each of the Uncle Sam Tucks measure 7" High x 4 3/4" Wide, and they come along with 3 different Sizes of Pinwheels, the Largest measures 12" High x 8" Wide, the Middle-sized Pinwheel measures 9" High x 5 1/4" Wide, and the Smallest measures 4 1/2" High x 2 3/4" Wide. I know that in most cases Photos don't always capture everything as it actually is, so I just wanted to clarify that these Tucks are definitely Grubby Prim! The 2, Uncle Sams are made of Muslin that has been Grunged and Baked with my own Recipe of Coffee, Vanilla and lots of Cinnamon several times to achieve that Perfect Aged and Time-worn, look that we all Love!!! The Sam's Eyes and Lips have been completely Handpainted on, and there Eye color is Blue and their Lips are Red. I have added real Sheeps Wool for their Eyebrows, Mustaches, and Beards, which Adorn their Faces in Perfect, PRiM-fashion. The Sam's also have Hand-Needlesculpted Noses. Their Top Hats were also made of Muslin that was Painted, Sanded, Grunged, and Baked to PRiM-fection! A Dirty, piece of Cheesecloth has been tied around each of their Top Hats and I added a Rusty Bell that's been attached with a Rusty Pin, and 1 of the Sams has a Grunged, Hangtag with a Vintage Image Print. The Pinwheels were made of a Variety of Fabrics which include: Americana, Blue and Red Ticking, and Striped Fabrics with Natural Cotton Quilt Lining sandwiched in between. The Pinwheels have been Grunged, Sanded, and Baked also, for that Perfect Prim Touch! I added a Grunged, Wooden Dowel to Each of them for a Stick Handle. Then for the Final touches, I Handstitched a Rusty Bell to the Center of each of them and tied Dirty, Cheesecloth Ties around each of their Sticks and then added a Grungy, Handmade Hangtag that has a Vintage Image on it to the Largest one. If you would like, I can Blush the Cheeks on the Sams for you, Please just let me know at the time of Purchase. This Set does come Signed and Dated by me. These PRiM Grungy Uncle Sam & Pinwheel Tucks would make Charming, Accents for your PRiMiTiVe-country Home for the upcoming 4th of July Holiday or all Year long, and would be Perfect to Tuck into your Cupboards or to display in one of your Old Wooden Bowls or Trenchers!!! They would also make an Excellent, Gift for any PRiM, Lover!!!

I hope you Enjoyed looking as much as I Enjoyed Creating them! Many Blessings, Jan ;)

I belong to 2, Wonderfully, Talented, and Creative Groups of Ladies named "PAST TIMES AND TREASURES (PTAT)" and PRIMITIVE SISTERS OF AMERICA (PSOA), so be sure to check out all of my PRiM Sisters Creations as well! You can do this by typing (PTAT) and (PSOA) into the Search Bar, and you'll be able to locate all of their Listings too!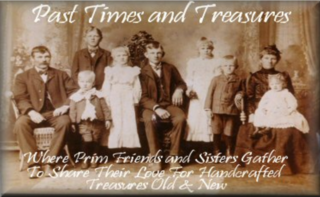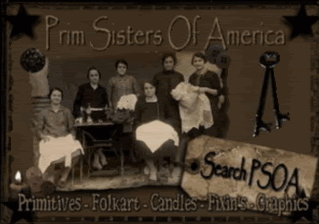 Copyright ©2007 TwoDollarTemplates - All rights reserved.
Gr8Expressions Gifts n' Collectibles PRiMiTiVes by Jan PRiMiTiVe Grungy Summer Uncle Sam amp Pinwheel Tucks/Ornies/Fillers Hello and Welcome Thanks for visiting our StoreJust in time for the 4th of JulyI'm introducing one of my lates...
Listing details
Shipping discount
Shipping weights of all items added together for savings.
Price discount
10% off w/ $75.00 spent
Posted for sale
More than a week ago