Welcome to Bonanza!
Bonanza is a marketplace of 25,000 sellers and 5 million items.
Easy
No sign-up required, fast and simple checkout
Price
Free shipping on millions of items
Secure
SSL encryption for peace of mind with your purchase
Trust
The New York Times, Oprah, and others have raved about us since 2007
See the small card with the code on it? The seller printed that out and included it in the picture to show that they have this item in their possession.
Does this picture look different than its small version did? Bonanza's "Background Burner" allows sellers to delete the background of a picture so it's easier for your eye to parse in search results. What you see here is the original picture.
Item details
Qty available
Only one in stock, order soon
This item has been added to your cart
10 Cotton Shirts Front printexed Tops Tunics Caftans Kurtis Wholesale lot
added to cart.
Only one available in stock
View Cart
or
continue shopping
.
Please wait while we finish adding this item to your cart.
More about this item
indigo creations
INDIGO CREATIONS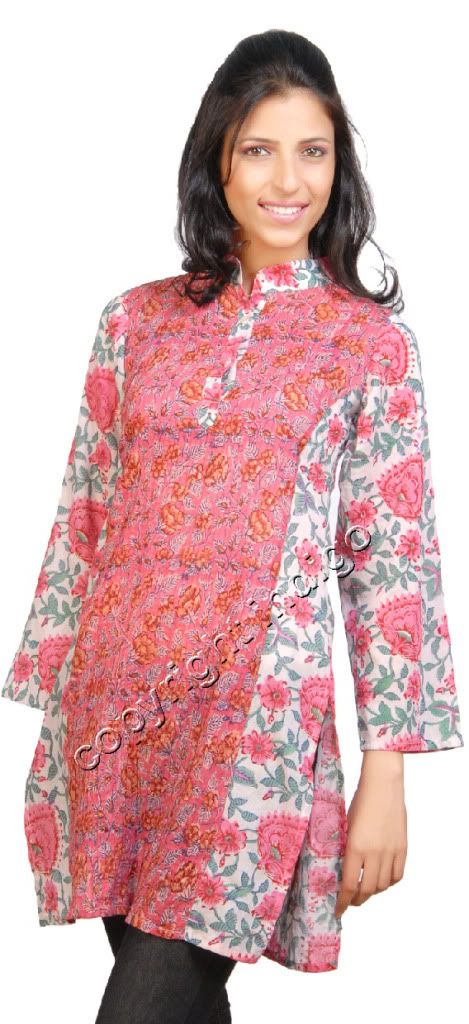 Click view all option to see all the prints.
Thanks
Item Description
Quantity: 10 pcs
Material: Cotton (Voile) Extremely soft cotton
Style: 2 contrasting printed fabrics used to this stylish shirt. Front part is pleated finely by hand machine. Picture cannot tell the beauty of this piece.
Colors: Assorted prints/colors will be send. Few of the prints we have taken pictures of above. The designs and prints keep on changing according to latest fashion.
Size:
We make XS, S, M, L , XL sizes.
Note: Kindly after completing the transaction let us know the sizes you need and we will make them for you.
If we do not receive any instruction from you then we will send 2 pcs of each size.
Even larger plus sizes can be made as per your requirement.
Length: 34" ( 85cm) approximately . It varies a bit according to the chest measurement.
Sleeves: 3/4 sleeves
Chest: All sizes are approximate and changes according to designs of tops.
XS: 36 "
S: 38"
M: 40"
L: 42"
XL: 44"
Neck line : As in picture
Specialty:
Specialty is the hand block printing that makes it a piece of art. See below the history and details of hand block printing from Jaipur.
Natural vegetable colors used to print the fabric.
Very comfortable to wear in both hot or cold weather. Looks great with any leggings or jeans or pants. Now presenting you at genuine wholesale prices to promote this extinct art.
Washing instructions: Machine washable
The Art of Block Printing
The beautiful art of block Printing employs wooden or metal blocks to print designs and patterns on fabric, by hand. What makes block Printing unique is that the design has to be created by the artist before the Printing begins. It is carved onto the block by hand. The colors used are normally vegetable dyes. Mineral and non-toxic chemical dyes are also used. The carved block is dipped into the required color, and then it is used to design the fabric.
The Origin of Block Printing

Excavations of dyed and printed fabric, have traced the origin of block Printing to seventeenth century Gujarat. Today, block Printing is practiced in numerous centers all around India. Techniques of Block Printing

There are a number of processes of block Printing:



Direct Block Printing

In this technique, the cotton or silk cloth is first bleached. Then the fabric is dyed, unless a light background is desired. Thereafter, the fabric is printed using carved blocks, first the outline blocks, then the ones to fill color.

In the resist technique, areas that are to be protected from the dye are covered with a mixture of clay and resin. The dyed fabric is then washed. The dye spreads into the protected areas through cracks, producing a rippled effect. Block prints are then used to create further designs.

Discharge Printing

In this technique, the fabric is dyed. Then, a chemical is used to remove the dye from the portions that are to have designs in a different color. These portions are then treated, so they may be re-colored.
Block Printing in Rajasthan

From Gujarat, the art of block Printing spread to Rajasthan. Here colorful prints of birds, animals, human figures, gods and goddesses are popular. The important centers for this form of hand Printing are Jaipur, Bangru, Sanganer, Pali and Barmer.

Sanganer is famous for its Calico printed bed covers, quilts and saris. In Calico Printing, the outlines are first printed, and then the color is filled in. Bold patterns and colors are popular. They are printed repeatedly in diagonal rows. Doo Rookhi Printing is also famous here. In this technique, artists print on both sides of the cloth.

Bagru is famous for its Syahi-Begar prints and Dabu prints. The former are designs in a combination of black and yellow ochre or cream. The latter are prints in which portions are hidden from the dye by applying a resist paste.

Barmer is known for its prints of red chilies with blue-black outlines, surrounded by flower-laden trees. The other famous prints are of horses, camels, peacocks and lions, called Sikar and Shekahawat prints.
Payment Policy
PayPal preferred



Item will be shipped immediately on the same or next business day of receiving full payment
Shipping Policy
All products will be shipped from our factory in Jaipur, India
Our shipping partners are:
UPS, TNT, FEDEX, DHL AND INDIAN GOVERNMENT POST OFFICE
Returns Policy
This Item is Brand new. We check all our items carefully before dispatch. However in rare case if the item which reached to you is defective or not up to your satisfaction. We provide 100% money back guarantee or exchange.

We provide 7 days cooling-off period with every purchase you make. Any dissatisfaction with the product, we guarantee cash back. kindly contact us immediately by email for any REFUND/EXCHANGE.

Note: We do not reimburse the shipping cost.

To avoid loss is transit while returning (we are not liable for the loss), please insure the product and ship it back to us. You may contact us prior to the shipment you make, so that we can confirm well in advance the return procedure and return address to ensure that your experience in dealing with us is a pleasant one.
Actual Images of item are shown above
Feedback
We take pride in our products and we would like nothing more than for you to have a positive experience when shopping with us. Misunderstandings may occur so in the unlikely event you experience any problems, prior to leaving neutral or negative feedback email us. Your satisfaction is the only way to our success and we will do our best to keep it that way. We're not happy unless you are!
Contact Us
We assure you prompt reply to any questions and queries.
Why Us
Indigo Creations
5 simple reasons to buy from us:
We believe in fair trade
Best prices
Best quality
Trying to recycle the products to save environment
Best after sales service
Listing details
Shipping discount
Seller pays shipping for this item.
Posted for sale
More than a week ago
Quick and easy sign-up
After signing up, you'll have access to Bonanza's features
| | |
| --- | --- |
| | Sign up with your other accounts |
Log in to your Bonanza account
Log in to get access to Bonanza's features
| | |
| --- | --- |
| | Log in with your other accounts |