See the small card with the code on it? The seller printed that out and included it in the picture to show that they have this item in their possession.
Does this picture look different than its small version did? Bonanza's "Background Burner" allows sellers to delete the background of a picture so it's easier for your eye to parse in search results. What you see here is the original picture.
Item details
Qty Available
Only one in stock, order soon
Topic
Vintage Paperbacks Classics
Country/Region Of Manufacture
United States
This item has been added to your cart
Antique Charles Dickens Christmas Book, Five Short Novels 1914
added to cart.
Only one available in stock
View Cart
or
continue shopping
.
Please wait while we finish adding this item to your cart.
Added to your wish list!
1 in stock
Ships within 2 days. Estimated delivery:December 7th
Do you have any questions for the seller?
More about this item
Christmas Books 5 Short Novels
World Classics - 1914
These five short novels, written for Christmas 1843 to 1848, demonstrate Dickens' most characteristic writing.
The volume includes the 1914 classic tale of A Christmas Carol, The Chimes, The Haunted Man, The Cricket on the Hearth, and The Battle of Life.
Charles Dickens is probably the greatest novelist England ever produced.
His innate comic genius and shrewd depictions of Victorian life -- along with his memorable characters -- have made him beloved by readers the world over.
Though The Battle of Life and The Haunted Man were deservedly less successful in their own time, only now have the interest of being quarries in their rather peculiar stories for autobiographical obsessions. 
A Christmas Carol

(1843)

The Chimes

(1844)

The Cricket on the Hearth

(1845)

The Battle of Life

(1846)

The Haunted Man

(1848)
Description:          
Author(s):

Charles Dickens

Publisher :

H. S. Nichols N.Y.

Publication date:

1914

Edition:

Stated: 1914 copyright Edition

Binding

leatherette

Volume(s):

--

Pages:

648
Condition:
    Book has back pages loose, the rest is in fair shape.
    Cover has a lot of shelf wear and rather tattered (see pic); keep it untouched or professionally re-cover.book.

About the Author: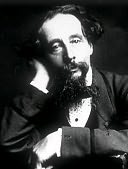 Born on February 7, 1812, Charles Dickens was the second of eight children in a family burdened with financial troubles. Despite difficult early years, he became the most successful British writer of the Victorian age.
In 1824, young Charles was withdrawn from school and forced to work at a boot-blacking factory when his improvident father, accompanied by his mother and siblings, was sentenced to three months in a debtor's prison. Once they were released, Charles attended a private school for three years. The young man then became a solicitor's clerk, mastered shorthand, and before long was employed as a Parliamentary reporter. When he was in his early twenties, Dickens began to publish stories and sketches of London life in a variety of periodicals.
It was the publication of Pickwick Papers (1836-1837) that catapulted the twenty-five-year-old author to national renown. Dickens wrote with unequaled speed and often worked on several novels at a time, publishing them first in monthly installments and then as books. His early novels Oliver Twist (1837-1838), Nicholas Nickleby (1838-1839), The Old Curiosity Shop (1840-1841), and A Christmas Carol (1843) solidified his enormous, ongoing popularity. As Dickens matured, his social criticism became increasingly biting, his humor dark, and his view of poverty darker still. David Copperfield (1849-1850), Bleak House (1852-1853), Hard Times (1854), A Tale of Two Cities (1859), Great Expectations (1860-1861), and Our Mutual Friend (1864-1865) are the great works of his masterful and prolific period.
In 1858 Dickens's twenty-three-year marriage to Catherine Hogarth dissolved when he fell in love with Ellen Ternan, a young actress. The last years of his life were filled with intense activity: writing, managing amateur theatricals, and undertaking several reading tours that reinforced the public's favorable view of his work but took an enormous toll on his health. Working feverishly to the last, Dickens collapsed and died on June 8, 1870, leaving The Mystery of Edwin Drood uncompleted.
(Author biography from the Barnes & Noble Classics edition of David Copperfield)
CS-225
Listing details
Shipping discount
Shipping weights of all items added together for savings.
Posted for sale
More than a week ago