Welcome to Bonanza!
Bonanza is a marketplace of more than 25,000 sellers and 4 million items where shopping is...
Safe
Buyer satisfaction guaranteed when paying with Paypal or Checkout by Amazon
Fast
You need a new user account like you need a bee sting. No login required to buy here!
Acclaimed
Praise by CNN, Oprah, and others has made Bonanza one of the largest marketplaces online.
Item details
Qty available
Only one in stock, order soon
This item has been added to your cart
HANDWRITTEN Recipes Church COOKBOOK St. Rose Portland
added to cart.
Only one available in stock
View Cart
or
continue shopping
.
Please wait while we finish adding this item to your cart.
More about this item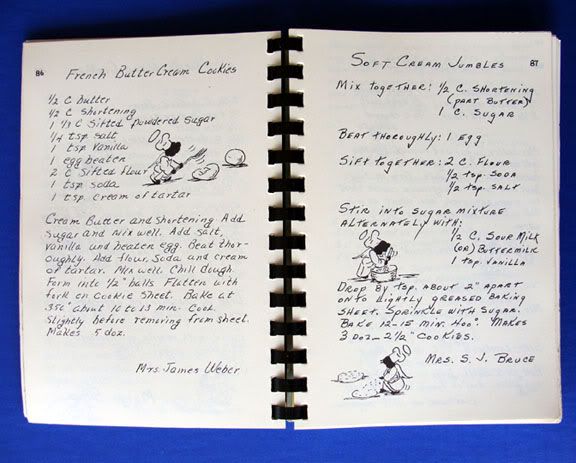 Heavenly Dishes
from
St. Rose Kitchens
compiled and edited
by
St. Rose Church
Mothers Club
Portland, Oregon
Second edition
1962
Handwritten Recipes
Spiral Bound
COOKBOOK


Foreword
In this cookbook we bring you some of the favorite recipes of St. Rose Parishioners.
We are pleased to publish the favorite recipe of Mrs. John Fitzgerald Kennedy, wife of the president of our United States, for New England Fish Chowder and the favorite recipes of Mrs. Lyndon Johnson, wife of our vice-president for Pedernales River Chili.
It is also our pleasure to include in this publication recipes from the Mother House of our Holy Child Sisters, Rosemont, Pennsylvania, the Covent of The Holy Child, Portland and Our Lady of peace retreat House, Beaverton, Oregon
We are grateful, too, to all of you who so generously gave us your recipes, time and talents; and also to the merchants and business firms without which this cookbook could not have been possible.
Happy cooking, all of you!
This book contains over 400 recipes are compiled from the members of the church, with the contributor's name next to the recipe
All pages are handwritten, but the pages are copies, not originals.


Table of contents
Breads
Cakes
Confections
Cookies
Desserts
Icings
Main Dishes
Pickles
Pies
Salads
Sauces
Sips and Dips
Soups
Vegetables
Also includes advertisements from local businesses
Softcover, spiral binding, published in 1962
Book dimensions:
6 x 8 x 0.75 inches
300 pages


This is an awesome, nostalgic cookbook, filled with mouthwatering recipes, you will LOVE it!
Don't lose out on this awesome cookbook - click on the Buy-It-Now button nd we will ship it to you within 48 hours
This impossible to find cookbook is in EXCELLENT condition. Some foxing that comes with time. Name of the previous owner is on the inside front cover. The rest of pages are clean. Smoke and pet free home.
International clients welcome, only US currency accepted, please contact me for shipping fees.
Payments to be received within 10 days after the purchase. Buyer pays $4.00 S/H. I gladly combine shipping.
Item Will Be Shipped From


Click Very Desperate Housewife store for MORE COLLECTIBLE ITEMS

~*~*~*~*~*~*~*~*~*~*~*~*~*~*~*~*~*~*~*~*~*~*~*~*~*~*~*~*~

Pay me securely with any major credit card through PayPal!
Click Here to ADD ME TO YOUR FAVORITE SELLERS LIST
---
Heavenly Dishes from St. Rose Kitchens compiled and edited by St. Rose Church Mothers Club Portland, Oregon Second edition 1962 Handwritten Recipes Spiral Bound COOKBOOK Foreword In this cookbook we bring you some of the ...
Listing details
Shipping discount
No combined shipping offered
Price discount
10% off w/ $60.00 spent
Posted for sale
More than a week ago