Welcome to Bonanza!
Bonanza is a marketplace of more than 25,000 sellers and 4 million items where shopping is...
Safe
Buyer satisfaction guaranteed when paying with Paypal or Checkout by Amazon
Fast
You need a new user account like you need a bee sting. No login required to buy here!
Acclaimed
Praise by CNN, Oprah, and others has made Bonanza one of the largest marketplaces online.
Item details
Release Date
March 15, 2011
Player Count
Online Multi-Player
This item has been added to your cart
Homefront, PC game
added to cart.
37 available in stock
View Cart
or
continue shopping
.
Please wait while we finish adding this item to your cart.
More about this item
Carinso
Brand new sealed, PC/mac windows XP later category edition release edition paypal
They are just keywords
Description :
The year is 2027. The world as we know it is unraveling after fifteen years of economic meltdown and widespread global conflict over dwindling natural resources.

A once proud America has fallen, her infrastructure shattered and military in disarray. Crippled by a devastating EMP strike, the USA is powerless to resist the ever expanding occupation of a savage, nuclear armed Greater Korean Republic.

Abandoned by her former allies, the United States is a bleak landscape of walled towns and abandoned suburbs. This is a police state where high school stadiums have become detention centers, and shopping malls shelter armored attack vehicles. A once-free people are now prisoners… or collaborators… or revolutionaries.

Join the Resistance, stand united and fight for freedom against an overwhelming military force in Homefront's gripping single player campaign penned by John Milius (Apocalypse Now, Red Dawn). Stand alongside a cast of memorable characters as an emotional plot unfolds in this terrifyingly plausible near-future world. Experience visceral, cinematic first-person shooter action as you fight your way across Occupied USA using guerrilla tactics, and commandeer military vehicles and advanced drone technology to defeat the enemy.

Multiplayer brings epic warfare to the online arena as infantry, tanks, attack helicopters and combat drones battle across huge, open battlefields. A rich feature set offering layers of tactical depth combined with a game-changing innovation in the multiplayer space will set a new benchmark in online warfare.

Condition: brand new & factory sealed
Release: PC game (US)
Compatibility: Windows XP SP3 or later worldwide
Language: English
Publisher: THQ

Release: March 15, 2011
Availability: In Stock


Tracking # will be provided within 24-48 hrs except post holidays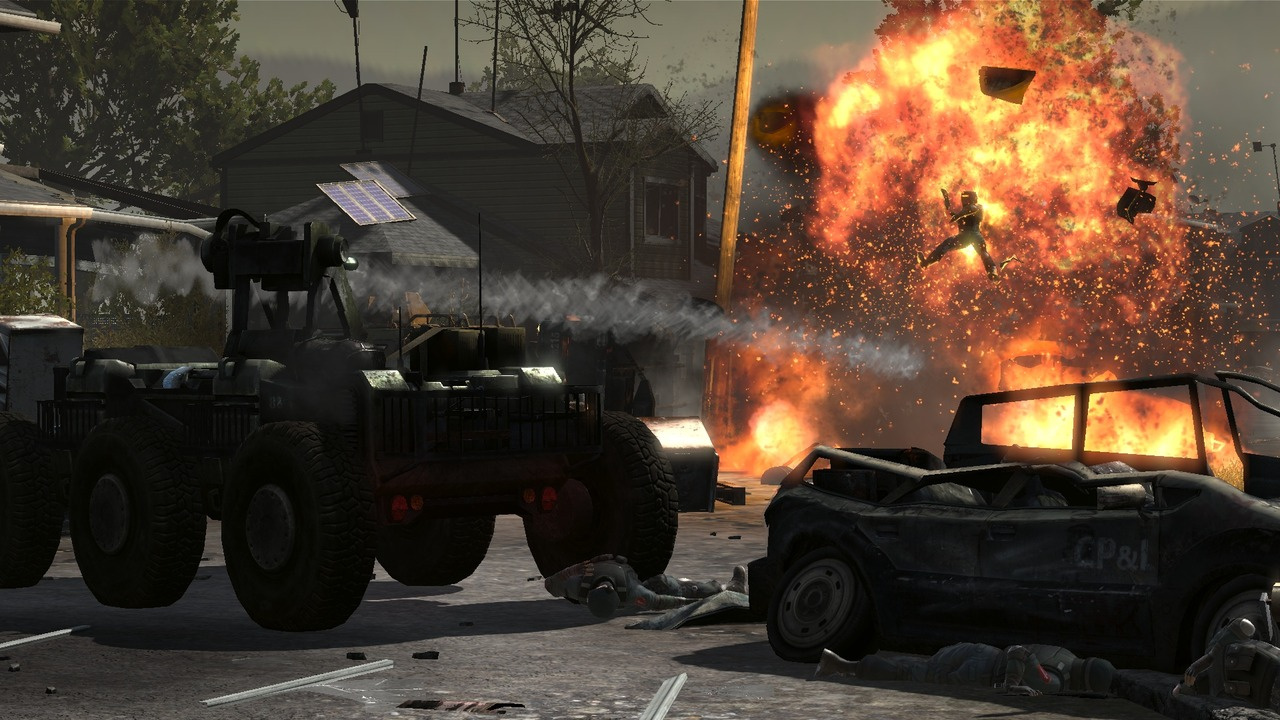 "Everything came on time - everything was perfect"
Buyer: bonzbuyer745354







Fast dispatch worldwide to PayPal address
Check your email for tracking #

Get $1.50 refund for additional items?
Search it from our 500 games list
See what others say about this seller: here
Unlike other sites, a marketplace here you can see

reviews/history

the ex-buyers had
Secure payment, use PayPal, seller never see your card number & it covers against fraud activities
This seller has a upgraded pro-seller account, e
ligible for

Bonanza buyer's protection
14 days exchange if item is broken or faulty ( your PayPal money will not be taken within this period )
An invoice/receipt can be issued upon request, if needed.
Tracking # provided, ( required for $25 purchase or above )
Excellent seller, extremely fast shipping and great prices A+++ Will Recommend! A+ Will Buy Again!
I recommend this seller to all costumers!! 100% satisfied !!
I quit buying, and the seller already returned my money, very honest, thank you!
Very Honest, Quick Dispatch. Great Communication! AAA++++
GREAT PRICE. OUTSTANDING COMMUNICATION. ITEM WAS IN GREAT CONDITION!! A++
I recommend this seller to everyone because he is honest, correct and fast
Really good deal! Save me lots from retail !!
PayPal only
We reserved the rights to cancel any transactions with non-responsive/suspicious/unverified account.
well packed & carried by HongKong Post & USPS after payment & information is received & confirmed.
Traceable on USPS website
5-11 working days or more to US, CA, AU, UK
8-19 working days or more for other areas
More info can be seen here
( optional ) adds $
2.01
for tracking # (required for purchase over $25)



Want it fast? Upgrade to EMS!



Adds $17 for US/ AU/ AZ
ask us for other regions
Tell us after buy :
1. Give your daytime contact #, for written on parcel for postman.
2. adds $2.01 for tracking # ? (required for purchase over $25)
3. adds $2.99 for colorful gift wrap ?
( on second inner layer of parcel, not the front with address attached )
4. tell us how did you find our site?
5. Upgrade to EMS?
6. $1.50 discount for each additional item on combined shipping
our email address with your
site user-name attached and tell us after
(Remember, quote your user-name on every contact/payment, makes yourself unique from other buyers )
Makes life easier
Read about us for more info
Over 10 years video games shop
AUTHENTIC ITEMS :
ALL OUR ITEMS ARE PURCHASED AS BRAND NEW - WE DO NOT SELL SECOND HAND, EX RENTAL, COPIES. The item(s) inside as you would expect to purchase in a High Street store and are in the original manufacturers case/box.
Carinso Brand new sealed, PC/mac windows XP later category edition release edition paypal They are just keywordsDescription : The year is 2027. The world as we know it is unraveling after fifteen years of economic m...
Listing details
Shipping discount
Items after first shipped each discounted $2.00
Posted for sale
More than a week ago