Background Burn FAQ
How does it work?
Background Burner finds items in product images, "burning away" the background of the picture and leaving your product on a professional-looking white background. Comparable services charge about $3-5 per picture and take a couple days. The Background Burner takes around 20 seconds.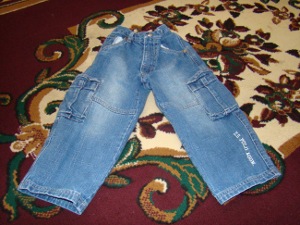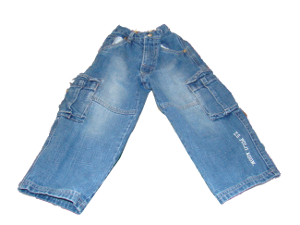 Jeans on a rug, before and after
The magic comes from our patent-pending image recognition algorithm, which has been tuned to perceive the subject of a picture similarly to the human eye. Its output is a handful of different image interpretations, from which the user can pick a favorite and download, or use it on a Bonanza item listing.
If there are still some areas that need some touching up after the burn, we provide a tool that allows you to erase or recover the part of the image that we missed (of course, with development of the Background Burner ongoing daily, we are working hard to minimize the misses).
How do I know I'll be satisfied with the results?
Before you pay for anything, you'll get a chance to see the results. If you don't like what you see, you can remove the image or just ignore it -- you won't be charged. If you mostly like what you see, you could also quickly touch up the image to make it perfect before you buy it.
How do I touch up images?
Every once in a while, the Burned version may not have a perfect background removal. If that happens, just find the thumbnail that looks the best and click "Touch up." Then use the interactive touch-up tools to perfect your background outline. Use the green brush to mark areas of the product (foreground), and the red brush to mark areas that should be removed (background). Don't be too detailed - just give it a few hints, and let the technology do the rest.
How can I improve my results with the Background Burner?
The Background Burner performs best when there is a clear separation between your foreground and background. Pictures where the foreground and background are of a similar color are more likely to fail. Pictures with a uniform background (i.e., no texture or distinct items in background), and without shadows, will also improve the quality of your results.
What doesn't it do?
First of all, what it does do is remove the background around sellable items in product images. It may not find the mountain in the beautiful sunset from last year's trip to Italy. It also may not make your Facebook profile picture more attractive (not that that's even possible, right?). It has been finely tuned in the art of isolating an item from a picture, notsomuch in isolating "beauty" from your scenic photograph.
See also our tips for getting best results with the Background Burner.
Do I lose any rights to my images by using this product?
It's your image when you upload it, and it's your image when your download it. You're paying for our process of removing the background from your images, not for a copyright hassle. However, if you think it did a particularly fine job on your images and want us to feature your products in our marketing efforts, we'd be more than happy to do so.
Why is the Bonanza logo on my image? How can I remove it?
Until you choose to use an image, we won't charge you for it. After you use it, the logo will be removed from your image and you'll see a link to download it.
What is Bonanza? Who made this thing?
Bonanza is a marketplace for buyers and sellers looking for everything but the ordinary. The best way to discover just how not ordinary something can be is by looking at pictures of it; however, it is not always easy for online sellers to have access to a professional photography studio. As a way to help sellers everywhere, we created the background burner.
See also bonanza.com
Do you have discounts for large volumes?
We sure do. See our our pricing page for more information about our discounts for volume buyers.
Can I license this technology for my own marketplace or selling tool?
Absolutely. We have built the Background Burner from the ground up with licensors and resellers in mind. We offer a full, easy-to-use API to let your users create and edit their own Background Burns. We also offer very low pricing for high volume partners. Please contact api@bonanza.com if you are interested in learning more about becoming a Bonanza licensing partner.
I have another question that wasn't addressed here!
Sorry! Let us know at support@bonanza.com and if it's frequent enough, you may see it on this page later.
« Back to Background Burn Home