Some of you might remember the Seller Spotlights we featured on the blog during our Anniversary week celebration. We received a lot of great feedback from the Bonanza community about these spotlights, so we've decided to make these a monthly affair.
How does this work?
Each month, we'll be interviewing a Bonanza seller to learn how their business started, what makes them tick, and what advice they have for other sellers. We'll share our findings here on the blog. We hope these blog posts will be educational and inspirational to our sellers.
Awesome! How do I get selected for a Seller Spotlight?
If you're interested in being selected for a Seller Spotlight, you can fill out this form. Please note that submitting your name for consideration does not guarantee you will be selected for a spotlight.
Does this take the place of the "Dedicated Blog Post" we can purchase with our tokens?
Nope! Our goal with these Seller Spotlights is to encourage the Bonanza community to engage with each other in a new way. If you save 40,000 tokens, you can still redeem them for a blog post specific to your booth.
I have other questions about this. Who can I talk to?
Our award-winning support team is more than happy to answer your questions about the Seller Spotlight series. Let's get started with our feature!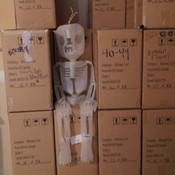 Seller name:
Michael. Check out his booth here!
How did Cannivator come to be?
"I started my online business almost four years ago. The company I worked for had been taken over by a multinational corporation, and finding a steady source of income was a challenge that I wasn't confident I could overcome. I learned about Bonanza in a book about online selling for dummies, and I thought that this might be something I could do. At first I tried to sell new stuff, which sold - just not like I thought it would. I live in a rural area where there are lots of retirees from across Canada, who bring all sorts of cool vintage things that people love."
What is your favorite feature on Bonanza?
"I love the ease of posting and editing pictures easily on the item listing page. I also export to eBay extensively, and I love that Bonanza provides that capability." Michael is a proponent of TurboTraffic and Bonanza's Advertising Broadcaster. "As someone who still works part time, I don't have time to do market research and run advertising campaigns, so that's why I love using the advertising Bonanza provides. I believe that TurboTraffic has helped my sales significantly."  
What advice would you give to sellers who are new to online selling or Bonanza?
"Be prepared for things to go slowly for the first 6 months or more. When you're first starting out, you have no reputation and have to spend time to build it up. Don't be discouraged - it takes time to find your niche. Everyone thinks that everything they have is worth a million dollars, but that's not always the case. Have a strategy for your business inventory. Don't go out and spend thousands on things you THINK will sell. I started with pins because they were small, cheap, and easy to sell. Then, I moved onto shirts, and then onto other clothing items. I lucked into lots of my inventory because of my location and the community I live in."
Michael added that sellers shouldn't be afraid to ship internationally, because so many sellers are doing it and it opens your store up to tons of other buyers.
Michael's final piece of advice was to find your passion. "If you have no interest in your items, they're just items. Why spend time on something you don't care about? My general rule of thumb is that if you find it cool, somebody else probably will too."
What recent movie or tv show have you been enjoying?
"I'm currently into New Japan Pro Wrestling."
What is your favorite quote?
"The second you stop dreaming, you start dying." Michael said, "This business was a dream and started as something small, and over the years it's grown into something totally different. I now have a stable income and can live comfortably after just a few years of building my online business."
If you could spend the day with anyone, living or dead, who would you choose and why?
"I'd like to spend the day with my young self and tell him what's ahead in life and teach him from my mistakes."