Hello, and Happy Monday! As our team is hard at work on backend projects related to taxes and payments, I'm going to share some information that is good to keep in mind as we start to plan for Halloween (and soon, the Holidays!). As mentioned in last week's blog, I'm here to give you a refresher in how Bonanza's Advertising program works. 
Bonanza's Broadcaster Fees
When you opt-in to Bonanza's advertising program, you decide how you much you want to pay and we cover the advertising costs until your item sells. Higher advertising levels unlock access to additional shopping channels. They also include a higher ad spend to drive more buyer traffic to your listings.

We offer four advertising levels:
Basic

(9% fee)

— Access to Google Shopping's powerful shopping engine, our network of affiliate bloggers, and Bonanza Promotions.
Standard

(13% fee)

— All the channels of Basic, plus publishing to eBay.
Superior

(19% fee)

— All the channels of Standard, plus BingAds.
Elite

(30% fee)

— All the channels of Superior, plus an even higher ad spend.
How much will I pay once my item sells?
When you sell an item, you'll pay up to the max fee you've selected. We'll charge you less than the max fee whenever possible. Behind the scenes, Bonanza pays for each ad click that brings shoppers to your listings. Our goal is to help you sell your items as fast as possible, and we use your selected max fee to determine how much advertising we can buy on your behalf.
Your monthly bill will reflect any final value fees from sales made during the time that your items were advertised.
Will I lose money by advertising?
Increasing your advertising rate doesn't mean you have to make less money. You can build the cost of this increased fee percentage into your item listing price. Most of the time, this increase won't impact your overall listing price significantly, and you'll still make the same amount of money when your item sells!
 There are a few factors that go into building your fee percentage into your listing price:
Commission rate.

As discussed earlier, this is the percentage of a sale that you pay to Bonanza. Our base fee is 3.5% and we offer four additional commission rates that unlock different advertising channels.

Net revenue percentage.

This is the percentage of a sale that you keep. If you pay 3.5% of a sale to Bonanza, you keep 96.5% of the revenue. If you pay 9% to Bonanza, you keep 91% of the revenue, and so on.

Profit.

This is how much money you make after you pay your fees. Of course, there are other costs that factor into your business's profit, but we keep it simple on our end.
Let's look at an example.
Suppose you're selling a garden hose for $30.00. Bonanza's base commission rate is 3.5%. This means that your net revenue is 96.5%. To figure out your profit, we'll multiply the listing price by the net revenue:
| | | | | |
| --- | --- | --- | --- | --- |
| listing price | x  | net revenue percentage | = | $ profit |
| $30.00 | x | 0.965 | = | $28.95  |
Now, we want to make sure you'll make the same amount with an increased commission rate. To do this, we'll divide your profit (from Step 1) by the net revenue percentage of the NEW commission rate. Here's a breakdown with the net revenue percentage of each advertising level:
| Broadcaster Level  | Commission rate | Net Revenue % |
| --- | --- | --- |
| Basic  | 9%  | 91%  |
| Standard  | 13%  | 87%  |
| Superior  | 19%  | 81%  |
| Elite  | 30%  | 70%  |
You can use the net revenue percentage of each Broadcaster Level to decide which listing price you feel comfortable. Here's a breakdown for our garden hose example. This is a fairly simple way to build Broadcaster advertising into your listing price. Remember, profit divided by net revenue percentage equals your new listing price.
$ profit

/
net revenue percentage
=
new listing price

$28.95 
$28.95
$28.95
$28.95

/
/
/
/

0.91
0.87
0.81
0.70

=
=
=
=

$31.81
$33.28
$35.74
$41.36
Trending Categories and their top-sellers
Seasonality can have a major influence on sales fluctuations throughout the year — it's pretty safe to guess that more bathing suits will be sold in May than in December. However, there are certain categories that are perennial top categories for Bonanza. We looked at the average Broadcaster fee rate for the Top 10 sellers in these popular categories:
Watches: 13%
DVDs & Blu-ray: 13% 
Health care: 19% 
Men's clothing: 19% 
Handbags: 9% 

Home & Garden 13%
Men's shoes: 19% 
Vitamins: 19% 
Car & Truck Parts: 13% 
Software: 13% 
 How can I get free traffic?
They say that nothing in this world is free. But if you put in the work and spend your time driving buyers to your booth, we think that should be recognized. Specifically, we look at any of your sales that came via your free referral link or a customer marketing coupon and waive the final value fees for those sales.
Your Referral Link
Each seller has their own unique referral ID that can be used whenever you're sharing a link to your booth or item listings. Simply add your referral ID to the end of the URL you're sharing.
What are the elements of a referral link?

Bonanza URL. This is "bonanza.com" followed by a description of the link type you're sharing (either "booths" or "listings").

Your booth or item identifier.

Find this by visiting your booth or the item listing and looking at the browser URL.

Your referral code.

This can be found on the referral traffic page.
How do you know when a purchase came from my referral link?
We look at the buyer's last arrival to Bonanza — if they came to Bonanza from your referral link and made a purchase in that same session, you'll pay no final value fees. We do it this way because it can be incredibly difficult to determine a buyer's first ever entry point to Bonanza. In order to better predict the cause of a sale, we look at how the buyer arrived to the site during the same session in which they made the purchase.
Where can I post a link with my referral code to get free sales on Bonanza?
You can use post a link with your referral code just about anywhere – online forums, review sites, your own third-party site, to name a few. You will pay nothing when buyers click through these links to purchase your products. Please be sure you follow the posting guidelines for whatever site you share your links on. Additionally, Bonanza is unable to attribute visit from sites that are a part of our Broadcaster program (for example, Google Shopping).
To learn more about advertising fees and policies, check out the Broadcaster Fee guide.
Customer Marketing Coupons
At Bonanza, a one-time customer has a 30% chance of returning to your store and making a purchase for a second time, so imagine the possibilities with commission-free customer marketing coupons. Whether you create a campaign from scratch or use one of our pre-made templates, any sales that are a result of a customer marketing campaign will be free of FVFs.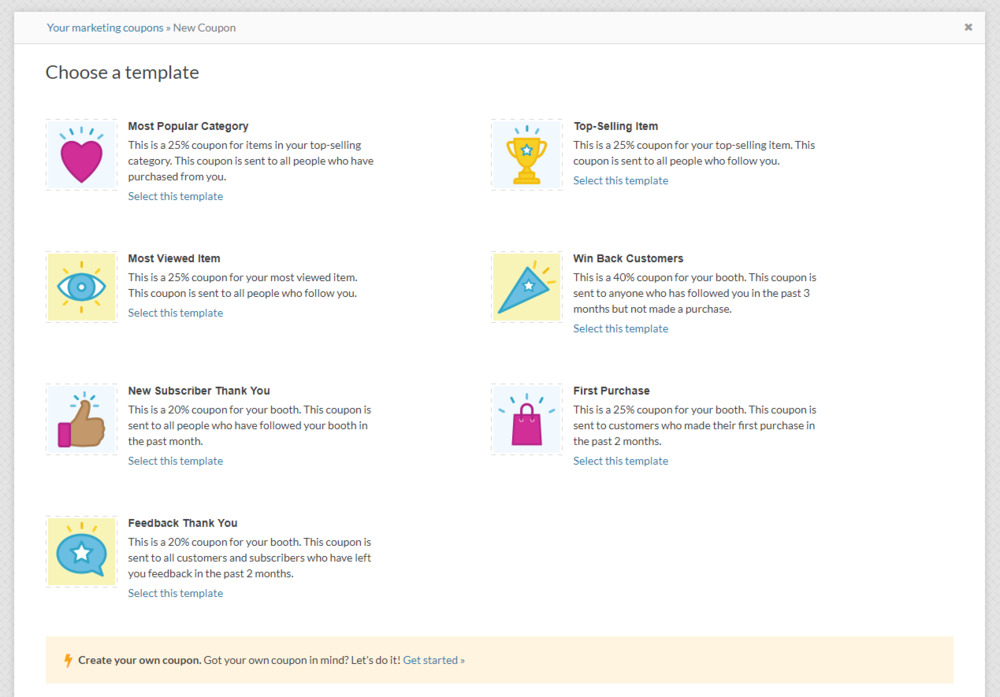 Here are some ideas for campaigns through the Customer Marketing Tool:
Turn their frown upside-down. Offer a coupon to buyers who have left negative feedback — it could turn their experience around.
Give them meatballs for their spaghetti. Offer discounts on specific items to buyers who have bought similar items in the past.
Say "thank you for being a friend." Design and create your own loyalty program for your repeat customers by offering coupons to your frequent buyers.