Hello, and happy Friday! Over the past few months, our marketing team has been busier than elves at the North Pole. We've devoted time, energy, and even money into increasing sales on behalf of our sellers during the busiest shopping season of the year. I'm excited to give you an update on Bonanza's marketing efforts over the past few months. Our 4th quarter strategy was to focus on sales-driving events, like Halloween, Black Friday, and the myriad of December holidays.
Halloween
Costumes and Halloween accessories sell historically well on Bonanza, since buyers know we're a great place to find everything but the ordinary. With that in mind, wanted to make the most of this opportunity to drive new traffic to our sellers in advance of the major shopping season.
First, we created a listicle blog post called 100 Halloween Costume Ideas. We also created a series of video ads to promote costumes on Bonanza. The first video campaign advertised buying unique items on Bonanza and drove home our tagline – everything but the ordinary. The other three videos were stop-motion style ads that advertised the many different Halloween accessories that can be found on Bonanza. Here are the videos, for your viewing pleasure:
We advertised these videos on both Youtube and Facebook, which was viewed over 50,000 times. We also created a Halloween specialty shop, which we shared through several Pinterest ads.
Between the videos, the Halloween Shop, and these Pinterest ads, we increased Halloween sales by 18% compared to last year.
Black Friday and Cyber Monday
In order to drive shopper excitement over Black Friday deals, we created several hand-picked lists that featured items with major discounts and displayed them on the homepage.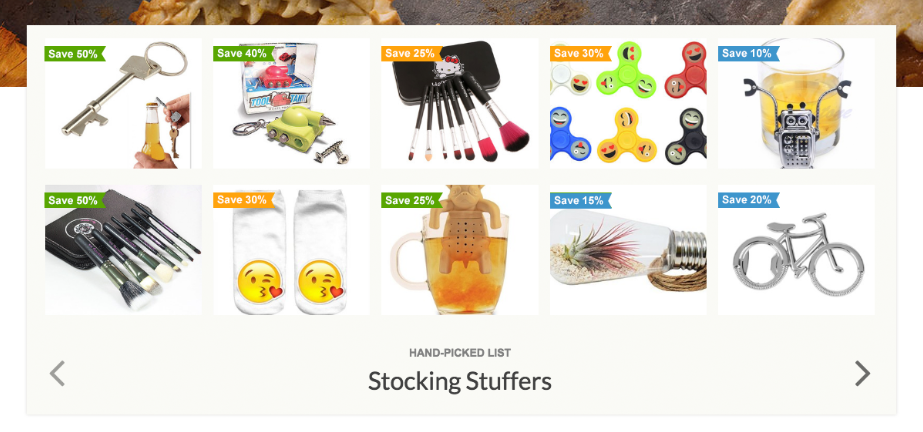 We also created several new Black Friday and Cyber Monday emails, designed to entice deal-seekers to shop on Bonanza. Each email focused on a different tactic, ranging from general "Buy on Bonanza" messaging to specific targeting on some of our high-performing categories.

These emails performed exceptionally well, reaching about half a million buyers and increasing holiday newsletter sales by 194% year over year.
Winter Holidays
Sellers often request more video advertising for Bonanza, so we created a digital video to drive brand awareness to Bonanza (and our amazing sellers). The concept behind this commercial-style ad is that there's something for everyone on Bonanza. By shopping on our marketplace, you support thousands of small businesses and individuals all over the world. This ad is currently running on both Youtube and Facebook.
Though this ad is still running, the numbers have been excellent so far. The ad has been viewed nearly 13,000 times on Facebook and 27,000 times on YouTube! We are excited to track the rest of this ad's performance throughout the holiday season. If you like the ad and want to share it with your friends, please do!
We also have our Holiday Shopping gift guide center live on the site, providing buyers with links to relevant categories for seasonal shopping. This page also features links to our most popular gift guides. We are actively advertising these gift guides through 6 different holiday ads on Pinterest that are focused on driving holiday traffic to Bonanza.
We plan on running these ads until the end of the month, but early results show nearly 200,000 impressions, which goes a long way in driving more buyers to the site.
Wrapping it up
So, what's on deck for 2019? We are planning to continue to grow our social media following and brand awareness both organically and through paid ads. One way we plan to grow our Instagram is by allowing sellers to submit their own images to be posted on our page. We are also looking at other outlets (like radio and television) to expand our reach even further. Stay tuned for more details coming early next year.
From the bottom of our hearts, thank you for choosing Bonanza. Our marketplace thrives because of the amazing community of sellers we have, and as we prepare to wave goodbye to 2018, we are incredibly grateful for your loyalty. Cheers to 2019!