Bonanza's Sitewide Spring Sale
It's that time of year again! Tulips and daffodils are blooming, Mother's Day is just around the corner, and the sun is peeking out to give us hope for a warm spring. Plus, it's time for Bonanza's site-wide Spring Sale!
All sellers can participate
Here's how it works: Create a coupon in your booth with the coupon code "SpringSale2022" (instructions below). Assign any discount amount to your coupon, from $5 off to 25% off. Buyers will be able to used this shared coupon code to buy items throughout the site, with the discount amount being unique to each seller. The sale will start on May 4th and last until May 11th.
We'll be advertising the sale on all social media accounts, and we encourage you to do the same. You can use the hashtags #BonanzaSpringSale, #SpringSale, #shopBonanza, #BonanzaMarket, #Sale, and #CommunitySale. We'll be posting announcements about the sale that you can share with your network. Follow us on social media here:
To announce your participation in the sale to buyers visiting your booth, you are welcome to use this new temporary booth banner: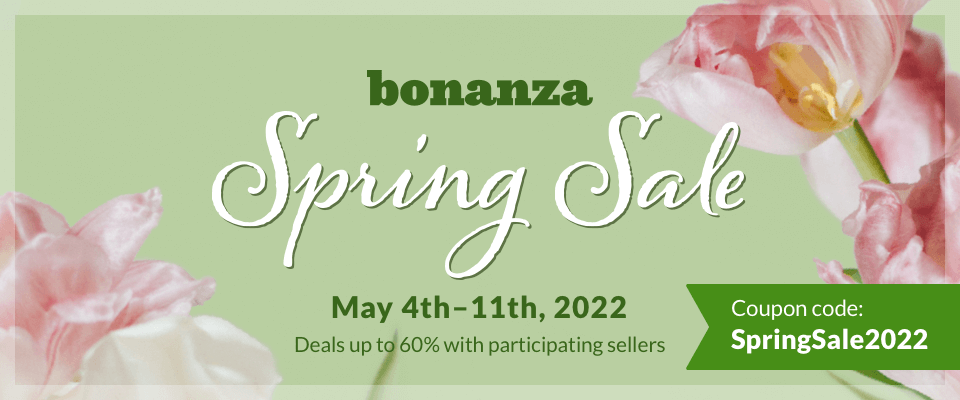 We'll also be promoting the sale through an email campaign to our marketplace buyers and posting to our Coupons & Deals page.
Here's how to create your coupon
To create this custom coupon, hover over the "Selling" link located in the upper-left corner of any page and select "Booth settings" from the drop-down menu, then click the "Discounts & Coupons" tab. Enter your coupon code and any discount amount you want in the coupon creation box.
To make the coupon public, click the button to "Publish this coupon." Published coupons will be advertised in your listing headers.
Pro Tip: Be sure to save any changes you make before navigating away.
Removing existing coupons
Coupons will stack. If you've created any other coupons that are currently active, you may want to remove them for now so buyers don't use more than one. You can always recreate them later. To remove a coupon, just click the "Remove coupon" link next to the coupon you wish to delete, then save the changes.
After the sale is over on May 11th, you can delete the 'SpringSale2022' coupon using the steps outlined above.
Help us get the word out
To promote the coupon for your booth and the booths of your fellow sellers, be sure to spread the word! Bonanza will share the coupon code "SpringSale2022" on Instagram and Facebook. You can share those posts with your friends so no one will miss out. 
I hope you'll join us in our site-wide community sale! If you have any questions about how it works, you can ask in the comments below or contact [email protected]. Happy selling!