ADORABLE CHRISTMAS CHIHUAHUA DOG
BARREL WATCH
(Other styles shown below
'holiday shipping information' box)
You will receive Choice 1 as your default
choice unless I hear from you before or immediately after purchase (via email, message, or notes on Paypal upon checkout) this is the watch style you will receive.
VERY IMPORTANT: Once it's ordered from my distributor, it can't be changed, so please follow through promptly with your choice, if different.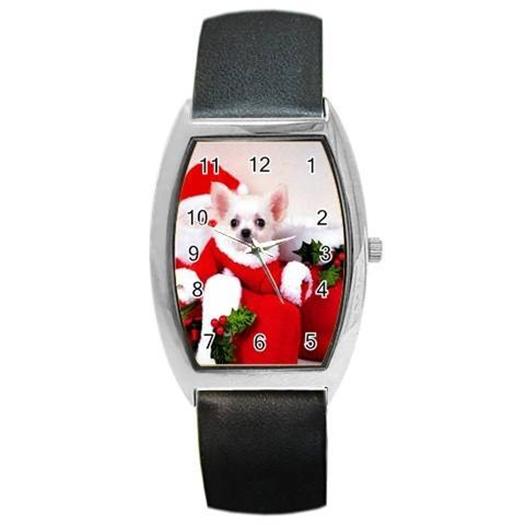 Choice 1
Get ready for the holidays with this

cute watch!
(other choices shown below)
IMPORTANT HOLIDAY SHIPPING INFO:

Please note, during the Christmas Holiday Season, (Late October, November, and through early December) delivery can take approximately 2 - 4 weeks or longer, so please bear this in mind when ordering.

In order to insure that your purchases will reach you by Christmas, items must be ordered by DECEMBER 1st, although special orders can be placed until the 13th.

To avoid confusion or disappointment, after DECEMBER 1st, I will put my store on vacation, and only list any items I have in stock, and which I can ship from Chicagoland.

Also available in the 9 other styles.

If you'd like to see a picture, please message me
and provide your email so I can send it to you.

Otherwise, this is the watch you will receive. Please note: unless I hear from you immediately after (email message or notes on Paypal) thesale, this is the watch style you will receive. Once it's ordered from my distributor, it can't be changed, so please follow through promptly with your choice, if different.

If you'd prefer a different style these are what I offer:

Choice 2 = ChihuahuaSquare Watch Choice 3 = Chihuahua Gold-Tone Watch

Choice 4 = Chihuahua Silver-tone Watch Choice 5 = Chihuahua Sports Watch

Choice 6 = Chihuahua Stainless Steel Watch Choice 7=Chihuahua Keychain Watch

Choice 8 = Chihuahua Rectangle Charm Watch Choice 9 = Chihuahua Heart Charm Watch

Choice 10 = Chihuahua Round Charm Watch
Default Product Details:

 Unisex silver-tone high quality barrel style watch.
 The watch casing measures approx. 1" x 1 1/2'' in diameter. The watch band fits most wrists from approx. 6 1/2'' to 8''.
 Stainless steel back
 The watch band is made of genuine leather.
 Miyota watch movement made by Citizen.
 The battery for the watch is included.


IMPORTANT INFORMATION,
PLEASE READ CAREFULLY!
(Only bid if you agree to all terms)

**PAYMENT**


 Payment is due within 3 days.

 All of the items I sell are custom designed in the Chicagoland area, then printed and shipped from Hong Kong.


BUYERS with LESS THAN FIVE(5)
feedback points MUST
use Buy-it-Now.


**SHIPPING INFO**

 Shipping confirmation IS NOT AVAILABLE with STANDARD (airmail) delivery from my distributor in Hong Kong.

 From the date your order is processed, PLEASE ALLOW 2 - 3 weeks to the U.S. and 2 – 4 weeks international (although many times it can be sooner) for standard (airmail) delivery.
* During the Christmas holiday season, and in February (when my distributor is on national holiday for 10 days then) please allow up to 4 -5 weeks for delivery. Thanks.
 I offer a shipping discount of $3.50 off each additional watch or watch sets purchased at/or near the same time (that can be shipped in the same order) as the original listing. At the end of thesales, I will send a combined invoice reflecting this.

 I will notify you of the date your order has been placed for printing and production.

 Please note: Color can vary slightly during the printing process.
My goal is for you to have a great
experience as a buyer,
while offering you a nice
product at a good price.

**REFUNDS & RETURNS**

If you are unhappy with your purchase, you have 14 Days to return it after receiving your item.

Return shipping is at buyer's expense.

Please notify me and I will give you the address to return it to.

Original shipping cost is non-refundable, unless item is lost or damaged.

If there is a problem, please don't
leave negative or neutral feedback
without first contacting me.
I'm always willing to help all
my customers with any
problem that might arise.
Terms and Conditions
 Payment is due within 3 days.

 I reserve the right to delete any bids placed that are placed from those with zero, little, or negative feedback, or those not verified by Paypal.
Choice 1 = Adorable Christmas Chihuahua Puppy Dog Xmas Barrel Watch
Choice 2 = Adorable Christmas Chihuahua Puppy Dog Xmas Square Watch
Choice 3 = Adorable Christmas Chihuahua Puppy Dog Xmas Gold-tone Watch
Choice 4 = Adorable Christmas ChihuahuaPuppy Dog Xmas Silver-tone Watch
Choice 5 = Adorable Christmas ChihuahuaPuppy Dog Xmas Sports Watch
Choice 6 = Adorable Christmas ChihuahuaPuppy Dog Xmas Stainless Steel Watch
Choice 7 = Adorable Christmas ChihuahuaPuppy Dog Xmas Key Chain Watch
Choice 8 = Adorable Christmas ChihuahuaPuppy Dog Xmas Rectangle Charm Watch
Choice 9 = Adorable Christmas ChihuahuaPuppy Dog Xmas Heart Charm Watch
Choice 10 = Adorable Christmas Chihuahua Puppy Dog Xmas Round Charm Watch