Warning:If you are buying cubes that don't bear the name "Litecubes". You are purchasing imitation or look alike products. Litecubes products hold the one and only patent for this type of product. These cubes are FDA approved. By purchasing imitations you run the risk of ingesting internal toxins due to poor and substandard design. It is a sad fact of life that a successful product is replicated, often by individuals who have no concern for the health and safety of the end user of the product. Litecubes vigorously and aggressively defends it's patent and copyrights worldwide.
Real authentic LiteCubes have the same light bulb logo shown below stamped on the underside of the cube!
DirectGlow is an Authorized Distributor of Litecube Products

Introducing the Rainbow Cube:

Get them brand new, get them here! These unique cubes have 8 color cycles activated by a small push button. A series of button pushes will cycle the cube through the following color sequences:
Red-Green-Blue-Yellow-Aqua-Purple-White-Rainbow phase
These color changes are achieved by 3 tiny LED lights embedded within the cube that illuminate at different intervals and intensities to produce the above colors. The rainbow phase features ALL colors slowly phasing from one color to the next. These are our most popular and best selling cubes for obvious reasons!
Rainbow Litecubes are completely safe to put into any type of beverage. They are encased in a waterproof non toxic shell and packed with coolant gel to keep your favorite beverage frosty. Freeze them and use them over and over again. Litecubes are quality products and do not look or feel cheap. They will provide many hours of fun and entertainment when used properly
The applications for Litecubes are endless, but here are just a few our customers have used:
-Weddings-
-Birthday Parties-
-Food and Floral Arrangements-
-Parties and Raves-
-Themed Sporting Events or Get Togethers-
-Holidays-
Planning a special event? We handle all types of special requests and custom orders. We will work with you to make your event a memorable one!
Want to really wow your guests? Have your LiteCubes custom imprinted! We can imprint names, logos, artwork, and just about anything else! Contact us for pricing & details.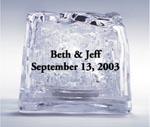 Need a different amount? Quantity discounts for RAINBOW LiteCubes are available! Custom orders are welcome. Please contact us for a quote.