** " Tales Of Eternia " **
** 
For the Sony Playstation One (PS1)
 **
NTSC-J,   Import for Japanese
Playstation
Real Japanese Product!  (some sellers are offering chinese copies)
Pictures may take a few moments to load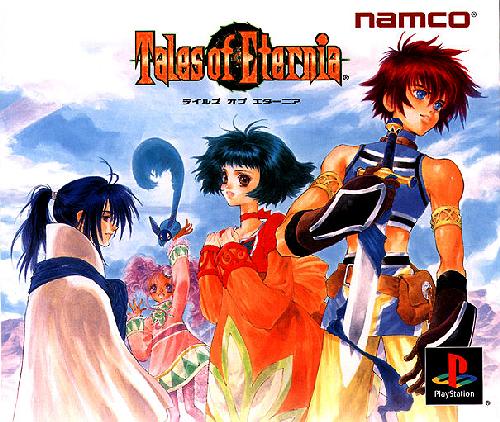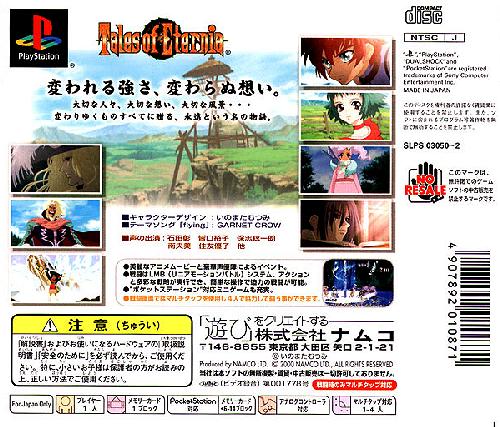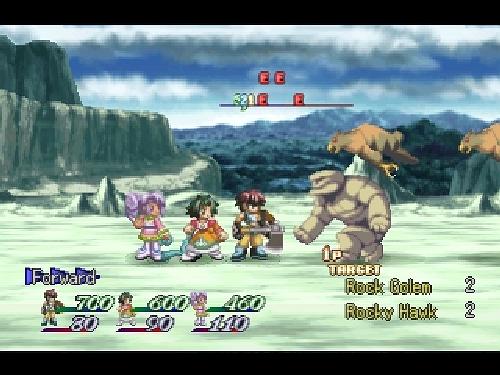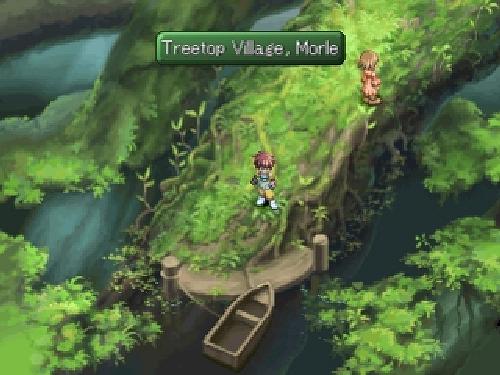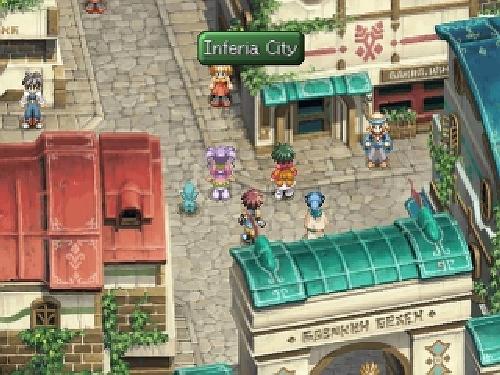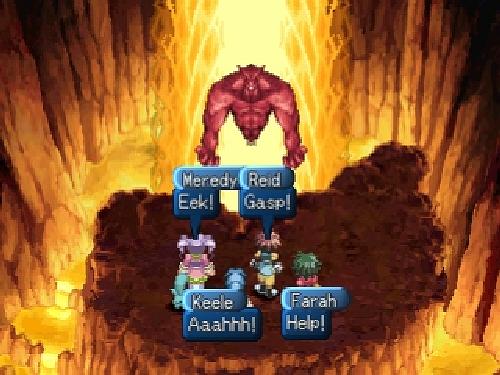 Embark on a Heroic Journey to Discover the Truth Behind an Enigmatic Stranger and the Ominous Message She Brings.
For years, life in the sleepy village of Rasheans was routine and peaceful - that is, until the day a spacecraft crashed in a nearby forest leaving nothing but wreckage, a mysterious girl, and a desperate warning of catastrophe. Join Reid, Farah, and other valiant heroes as they set out to discover the origin of the stranded girl and the truth behind the fate of their worlds.
Beautifully Animated Sequences
Large Cast of Unique Personalities
Real-time Combat system with combo-moves and skills
Intriguing sub-worlds and mini-games
Hundreds of Powerful Spells, Enchanted Weapons, and Arcane Items
Since their days on the Super Famicom, the Tales games have gained a huge following in Japan and retained a consistent stylistic approach to gameplay and visuals. Like its predecessors, Tales of Destiny II is a sprite-based, 2D game that boasts a combat engine quite different from many of its peers.
STORY:
The story of Tales of Destiny II involves a mysterious stranger who crash lands on our hero's planet and meets two young but brave travelers who become wrapped up in a life-or-death quest that will determine the fate of both of their home planets. The safety of the universe also hangs in the balance, of course. The 2D visual style of the game, which is occasionally blended with 3D special effects, is straight out of the pages of a Japanese manga, complete with the large eyes and multi-colored hair that one might expect from such a design motif.
Reid Hershel, along with his childhood friend Farah Oersted, notice an unusual change in the color of the Orbus Barrier coupled with the flight of a strange ship from Celestia. When they go to see what happened, they meet Meredy, who is dressed in a strange fashion and speaks a bizarre foreign language, and her pet Quickie. Consequently, Reid and Farah visit their childhood friend, Keele Zeibel, in search of answers regarding the identity of Meredy. Reid learns that she speaks Melnics, an ancient civilization's language. After traveling to Morle, Reid's group receives a special translation earring that allows communication with Meredy.
Tales of Destiny II follows Reid Hershel as he tries to prevent the Grand Fall, a cataclysmic event that would destroy his planet along with that of newly-found traveling companion Meredy. Specifically, the Grand Fall entails the violent collision of twin planets Inferia and Celestia. The journey takes Reid across both planets, as he seeks out those responsible for this movement towards the brink of annihilation.
GAMEPLAY:
The game's combat system, which takes place on a flat, two-dimensional plane much like a fighting game, is handled in real time. The player only controls one of up to four people in his or her party, but they have the opportunity to give other members of their party more specific demands. In addition to the normal poking, slashing and striking attacks, the combat system, dubbed the Linear Motion Battle, allows players to perform special attacks known as Craymel Artes, eventually combining these arts into new and more powerful attacks.
In addition to all of this, Tales of Destiny II, like its predecessors, also features a continuing sub-quest known as the tri-Ace cooking system. Players will occasionally encounter a mysterious master chef, who will give them a list of ingredients found all throughout the game world. Players must find these vital items, eventually combining them. The result is a food product that will give them some sort of special bonus, and help them inch closer to their mammoth goal of galactic salvation.
Features:
    Third person perspective.
    2D graphics
    Cartoon graphics
    Medieval Fantasy theme.
---
We provide Prompt Shipping and careful wrapping. Standard Shipping has been taking 2-4 Weeks. Expedited Shipping has been taking 7-14 days. We will combine orders to save on shipping costs.
I have quoted the standard SAL (International Air Service 2-4 Weeks) and expedited AIR (similar to Global Priority 7-14 days). If you MUST have your package faster, you may also request the more expensive EMS (Global Express 1 Week or less).
If you really want to save on postage, feel free to ask for the MUCH cheaper MEDIA RATE postage. Most packages can be shipped via media rate for less than $5-10. However, you must agree to the very slow delivery time (6-8 Weeks or more).
---
Visit our store for other great items!