** " Tobal Nº 1 " **
** 
For the Sony Playstation One (PS1)
 **
NTSC-J,   Import for Japanese
Playstation
Real Japanese Product!  (some sellers are offering chinese copies)
Pictures may take a few moments to load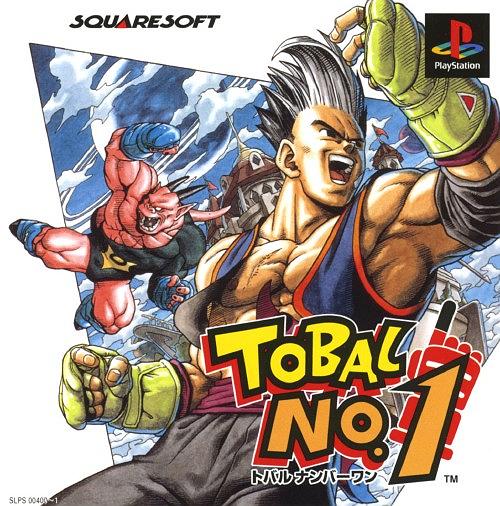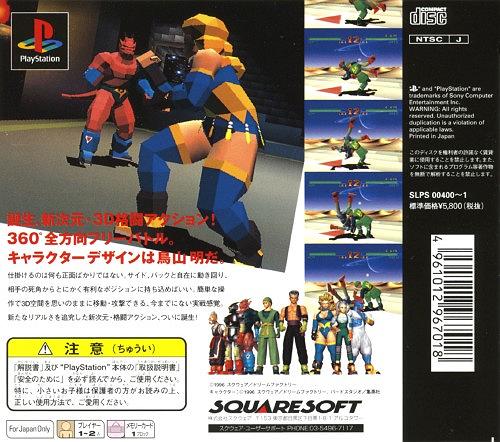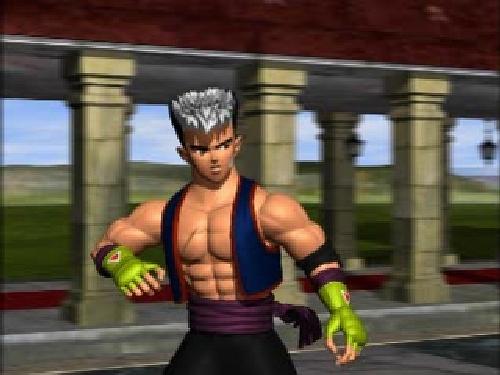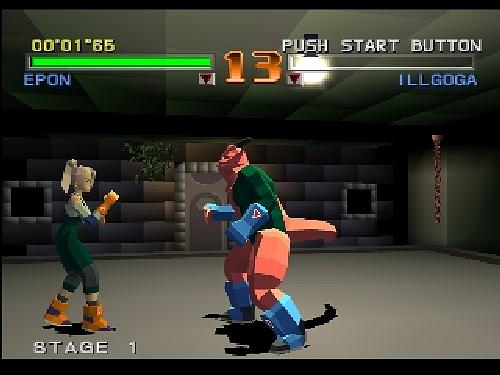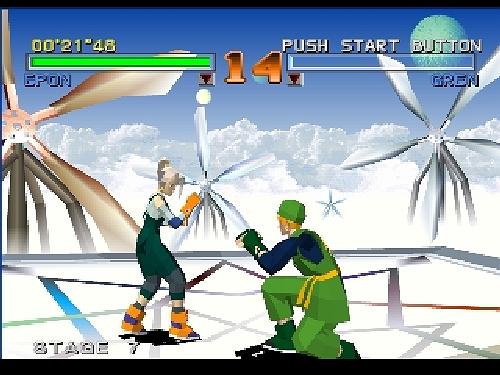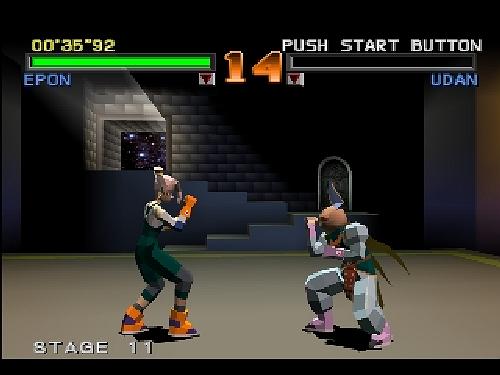 Tobal No. 1 is a fighting game for the PlayStation developed by DreamFactory and published by Square in 1996. The game was DreamFactory's first release, as well as Square's first release on the CD-based console.
Tobal No. 1 marks Square's incursion into the fighting game genre, although an adventure-like quest mode is part of the game. The game's mechanics were designed with the aid of fighter game designer Seiichi Ishii, while all the characters were designed by Akira Toriyama of Dragon Ball fame. The sequel, Tobal 2, was never released in North America and Europe.
Packaged with both the North American and Japanese version of the game was a sampler disc featuring a pre-release demo of Final Fantasy VII and video previews of Final Fantasy Tactics, Bushido Blade, and SaGa Frontier.
STORY:
Tobal No. 1 takes place in the year 2027 on a fictional planet called Tobal, which has large deposits of Molmoran, an ore that can be used as an energy source. The planet's 98th tournament is held to determine who has the rights to the ore. A number of humans and aliens compete for the title. The game's plot and character backstories are only explored in the instruction manual. All of the initial eight playable characters receive the same ending.
The game's immediately playable characters include Chuji Wu, Oliems, Epon, Hom, Fei Pusu, Mary Ivonskaya, Ill Goga, and Gren Kutz. Bosses include Nork, Mufu, and the emperor Udan. All bosses are unlockable after defeating them in Dungeon Mode except Nork. Instead, the game allows the player to select Snork (Small Nork), a pint-sized version of the very large character. There is also one secret fighter named Toriyama Robo (named for Akira Toriyama) who is unlockable if the player can complete the 30-floor Udan's Dungeon level in the quest mode. Toriyama Robo is not seen at any point in the game except at the very end of the dungeon.
GAMEPLAY:
Tobal No. 1 has various gameplay modes including a tournament mode, two player versus mode, practice mode, and the unique quest mode, all of which utilize the same fighting system. The game itself runs at up to a smooth 60 frames per second due to its lack of textured polygons and reduced details which gave the game a distinctive look in comparison to other fighting games at the time, such as Tekken 2. The game's controls are unique in that they allow full freedom of movement in the ring as long as the player faces the opponent. The player has the ability to dash and jump, and certain buttons execute high, medium, and low attacks for each character. Tobal No. 1 also has an intuitive grappling and blocking system, offering the player a variety of throws and counter moves.
Perhaps the most distinctive feature of Tobal No. 1 is the "Quest Mode", which combines the game's fighting controls with three-dimensional dungeon exploration. The player must advance down a number of floors, contend with traps, and engage in fights with a variety of enemies including the game's playable characters. Several items can be found, dropped by enemies, or bought using crystals. These items can be picked up, consumed, or thrown at enemies, and include foodstuffs that can restore the player's HP or potions that have a range of effects including raising the player's maximum health or bringing it down to 1 point. There is no way to save one's progress, and dying means starting over from the beginning. Defeating certain characters in this mode unlocks them as playable characters in the game's other modes.
Each of the eight initially playable characters can perform high, medium, and low attacks, and the game makes use of a grappling and blocking system that lets players execute a variety of throws and counterattacks.
Features:
Featuring such modes of play as "Tournament," "Vs.," and "Quest"
Kick, punch, guard, jump, dash, and attack your way through the darkness of a dungeon to locate the Molmoran
Select from 11 different characters including Emperor Udan, Nork, Hom, Epon, and Oliems
Manufacturer's description:
"A groundbreaking new fighting game featuring new levels of 3D freedom and a totally original Quest mode!"
-Ultra Game Players
Final Fantasy VII Sample CD included! (SLPS-00401)
Features:
    Third person perspective.
    3D graphics
    Cartoon graphics
    SCI-FI, Futuristic & Martial Arts themes.
---
We provide Prompt Shipping and careful wrapping. Standard Shipping has been taking 2-4 Weeks. Expedited Shipping has been taking 7-14 days. We will combine orders to save on shipping costs.
I have quoted the standard SAL (International Air Service 2-4 Weeks) and expedited AIR (similar to Global Priority 7-14 days). If you MUST have your package faster, you may also request the more expensive EMS (Global Express 1 Week or less).
If you really want to save on postage, feel free to ask for the MUCH cheaper MEDIA RATE postage. Most packages can be shipped via media rate for less than $5-10. However, you must agree to the very slow delivery time (6-8 Weeks or more).
---
Visit our store for other great items!