** " Valkyrie Profile " **
** 
For the Sony Playstation One (PS1)
 **
NTSC-J,   Import for Japanese
Playstation
Real Japanese Product!  (some sellers are offering chinese copies)
Pictures may take a few moments to load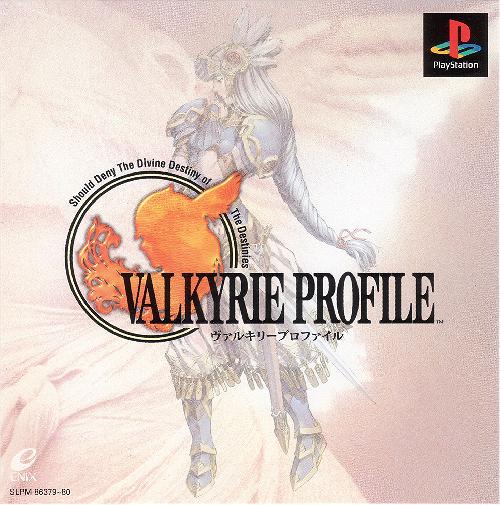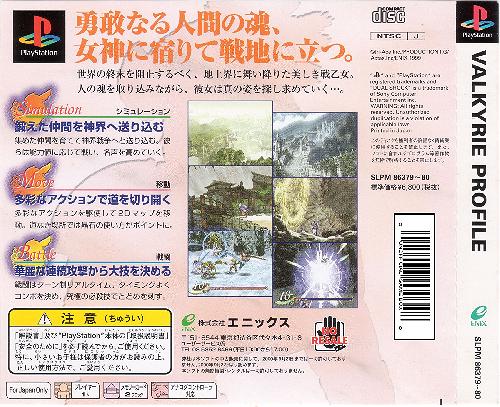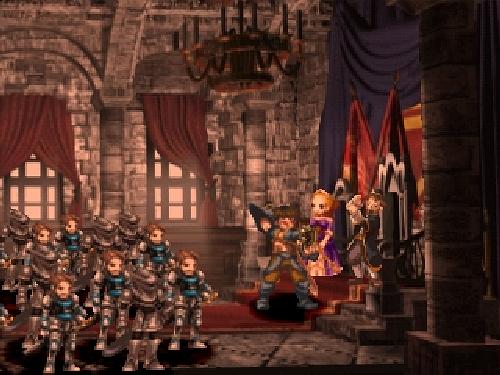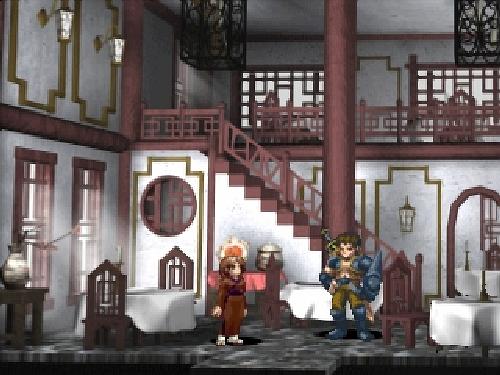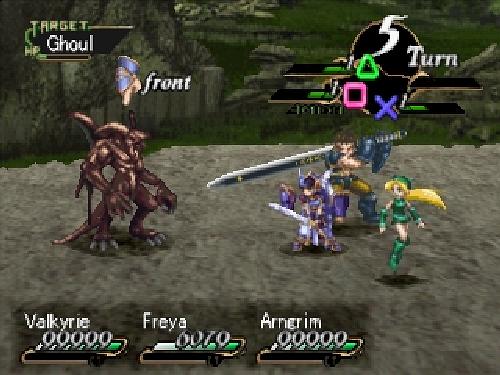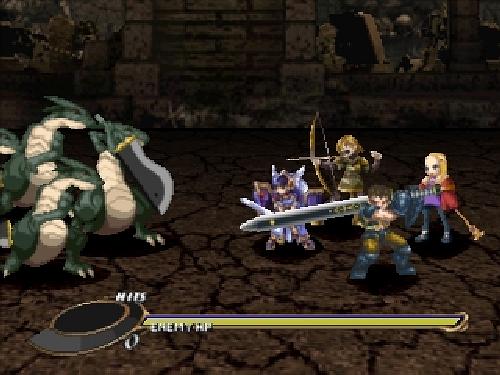 Valkyrie Profile is a role-playing video game developed by tri-Ace and published by Enix (now Square Enix) for the PlayStation. It was released on December 22, 1999 in Japan and on August 29, 2000 in North America. An enhanced port of the game was later released for the PlayStation Portable under the name Valkyrie Profile: Lenneth on March 2, 2006 in Japan, July 18, 2006 in North America, and April 27, 2007 in Europe.
The game was both a commercial and critical success, spawning a few related titles on different consoles. A PlayStation 2 sequel, titled Valkyrie Profile 2: Silmeria, was released in 2006 in Japan and North America, and 2007 in Europe. Valkyrie Profile: Covenant of the Plume for the Nintendo DS was released in Japan in 2008, March 17, 2009 in North America and on April 3, 2009 in all PAL regions.
Valkyrie Profile's storyline centers on Norse mythology. A war between Ragnarok and Odin is close to breaking out in Valhalla while a conflict on Earth is also brewing. As a Valkyrie, the player's role is to go down to Earth and recruit 24 fallen soldiers to join the fight against Ragnarok. As each soldier's spirit is recruited it must be trained and eventually sent to Valhalla to fight beside Odin. Deciding when to send a soldier to Valhalla impacts the game as weak soldiers may perish while strong soldiers may be useless if sent too late.
While adventuring, only a total of three other warriors may be in your party at any one time. When in dungeons the game becomes a side-scrolling platform game in which the player will be able to run, jump, and attack. Battles outside of dungeons are turn-based and include combination attacks.
The game is divided into eight chapters, each with different quests, dungeons, and items available. Each chapter is further divided into periods, depending on the difficulty (16 in Easy, 24 in Normal, and 28 in Hard). Visiting towns, dungeons, and recruiting einherjar use up periods, requiring that the player budget their available time. Once the periods in a chapter are up, the Sacred Phase begins, in which Lenneth returns to Asgard and Freya updates her on the status of the war with the Vanir and the fate of her einherjar in Valhalla.
Set over two discs, Valkyrie Profile features hand-painted backgrounds and multiple endings.
STORY:
In the village of Coriander, a 14-year old girl named Platina lives with her cruel parents. The village falls upon hard times and her friend Lucian finds out that her parents are going to sell her into slavery. The two run away but accidentally wander into the Weeping Lily Meadow where Platina dies from the toxic pollen.
Lenneth Valkyrie awakens in Asgard and is tasked by the god Odin and goddess Freya with recruiting Einherjar for their war with the Vanir and the coming of Ragnarok. Her first recruits are the princess Jelanda and mercenary Arngrim.
Lenneth missionis to recruits and prepares the souls of fallen warriors (Einherjar) before sending them to Valhalla for a final apocalyptic battle between the Æsir and Vanir: Ragnarok. Along the way, she uncovers the tragic events of her own hidden past.
GAMEPLAY:
Dungeon exploration plays more like a platform game than a traditional RPG, with Lenneth Valkyrie the only visible character and capable of jumping, sliding, swinging her sword, and shooting ice crystals. Ice crystals can make temporary steps and freeze enemies and are used for solving many puzzles. Upon contact with an unfrozen enemy, an RPG-style battle begins. Enemies are visible and attacking them gives Lenneth a first attack advantage in combat. Lenneth can also engage an enemy in battle by coming into contact with them; in this case, there is a 50% chance that the enemy will have the first attack.
Travel on the world map occurs in a 3D third-person perspective, with Lenneth flying in the skies over Midgard. Pressing the Start button allows her to perform a "Spiritual Concentration," which reveals new dungeons, cities and towns, and recruitable einherjar. When entering a city or town, the game switches to a 2D profile view and Lenneth will disguise herself as a human, allowing her to interact with inhabitants without drawing attention to herself.
Much of the game consists of Lenneth locating and recruiting new einherjar (with cut-scenes of the circumstances of their deaths), training them, and determining if and when to send them to Valhalla to fight alongside with the Æsir. Character development for most of Einherjar consists of their "death scenes," which are often dramatic and highly emotional and often steeped in symbolism and metaphors, and dialogue between them and the Gods while in Valhalla. Each einherjar has a Hero Value, a number representing their usefulness in Valhalla, and Lenneth must send einherjar with the proper hero values and skills to survive in Valhalla and keep Odin and Freya satisfied.
CHARACTERS:
There are 24 playable characters in Valkyrie Profile. However, some of them can only be obtained in hard mode.
- Lenneth is the primary protagonist of Valkyrie Profile, a recently awakened warrior-maiden and servant of Odin, who has been tasked with recruiting einherjar, the souls of deceased warriors, to fight with the Æsir in their war against the Vanir and prevent the destruction of Asgard in Ragnarok. Lenneth is one of the three goddesses of fate (the other two being her sisters, Hrist and Silmeria) the three apparently share the same body, though only one is awake at any given time and can be distinguished by their hair color and armor.
Loki is revealed to be the final antagonist of Valkyrie Profile. He is half Æsir and half Vanir by blood. Although he has been accepted by the Æsir, he is not completely trusted by either side. Odin and Freya sealed his power so that he remains a young version of himself. He seeks the power of the Four Treasures, which will give him the power to challenge Odin.
Manufacturer's description:
The Gods are at War.
You must gather the souls of fallen warriors and train them to fight at Odin's side. From the creators of Star Ocean: The Second Story, Valkyrie Profile sets new standards for role playing games on the PlayStation game console.
Epic storyline set in the world of Norse mythology
Multiple endings and 50+ hours of gameplay.
Intricate character development.
Innovative combo-driven combat system.
Stunning hand-painted backdrops and animated visuals.
Spectacular special effects.
Innovative combat system.
Travel across gorgeous lands.
Explore mysterious dungeons.
Fight against dozens of unique enemies.
Features:
    Third person perspective.
    2D graphics
    Cartoon graphics
    Mythology & Medieval Fantasy themes.
---
We provide Prompt Shipping and careful wrapping. Standard Shipping has been taking 2-4 Weeks. Expedited Shipping has been taking 7-14 days. We will combine orders to save on shipping costs.
I have quoted the standard SAL (International Air Service 2-4 Weeks) and expedited AIR (similar to Global Priority 7-14 days). If you MUST have your package faster, you may also request the more expensive EMS (Global Express 1 Week or less).
If you really want to save on postage, feel free to ask for the MUCH cheaper MEDIA RATE postage. Most packages can be shipped via media rate for less than $5-10. However, you must agree to the very slow delivery time (6-8 Weeks or more).
---
Visit our store for other great items!