** " Dino Crisis 2 " **
** 
For the Sony Playstation One (PS1)
 **
NTSC-J, Import for Japanese Playstation
Real Japanese Product! (some sellers are offering chinese copies)
Pictures may take a few moments to load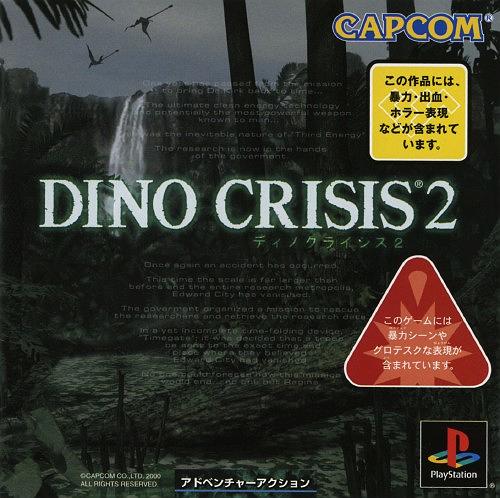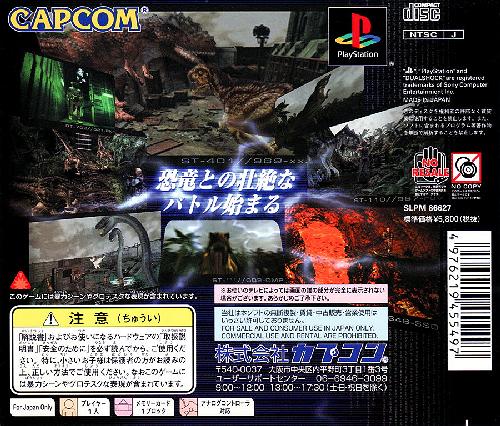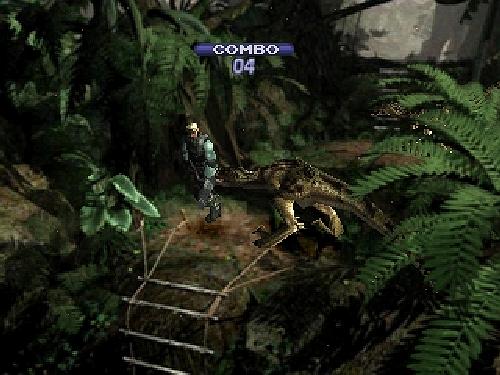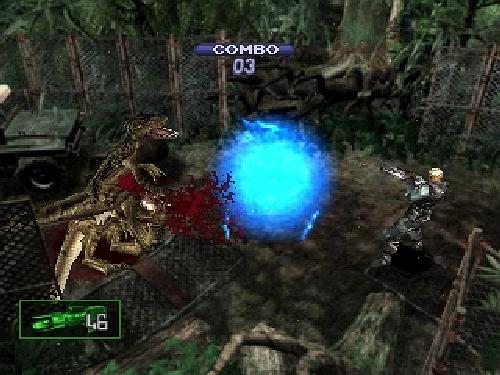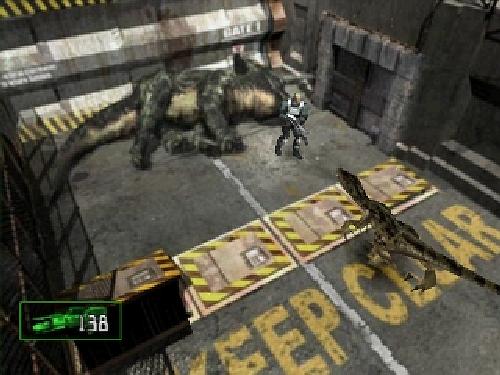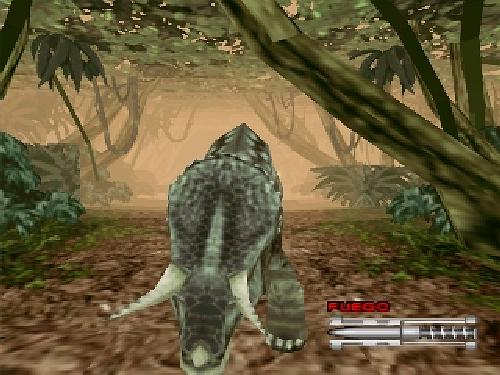 Dino Crisis 2 is a third-person shooter video game for the Sony PlayStation, published by Capcom in North America, released on September 13, 2000 and publish by Virgin Interactive in Europe, release on November 4, 2000. It was developed by Capcom Production Studio 4. The game is the sequel to Dino Crisis and was followed by Dino Crisis 3 in 2003 and was ported to Microsoft Windows that same year.
The story follows the events of the last game, where Regina is now on another mission involving a facility located close to the fictional Edward City, where a major anomaly has caused the whole island to be transported back in time to the era of the dinosaurs, along with all the human inhabitants. Regina is sent on a rescue mission with her new ally Dylan Morton, who has a strange connection to the events on the island. The player's control switches between Regina and Dylan at specific points in the game.
GAMEPLAY:
Dino Crisis 2 is a third-person shooter, yet the perspective changes with movement into new areas and fields of view as the game uses predetermined camera angles. The game also departs more from the survival horror of the first Dino Crisis and is more action-oriented, with more open areas, more items and less emphasis on puzzles.
As players kill dinosaurs in succession, countering attacks and avoiding damage in areas, they can earn "Extinction Points" that act as a form of in-game currency that tally up as player moves between locations. Throughout the game the player can locate and use computer stations that act as save point where players can save and load games, along with spending Extinction Points on new weapons, upgrades, health packs and ammunition. There are also bandages that are used to prevent bleeding that occur when a player takes damage from certain attacks that results in slow draining of the health bar.
There are two forms of weapons in the game, main and sub-weapons, meaning the player can only equip one of each at a time. Main weapons provide the most damage and are used for the majority of attacks, for example shotguns, flamethrowers and rifles whereas sub-weapons are used to get past obstacles, like the machete for cutting plant vines and the firewall gun that creates a temporary wall of fire against foes. Over the course of the game, players will switch roles between Regina and Dylan, who have different weapons, making some passages blocked for one but accessible for the other.
Among the third person shooter gameplay are sections of on rails shooting, such as a chase where the player shoots at dinosaurs that are chasing an automatically driven vehicle and, like the previous game, several puzzles. Throughout the game, the player finds data files and documents that progress the story and give details of certain areas. Hidden "Dino Files" can also be found; these go into detail about each dinosaur in the game. Upon collecting all the available Dino Files, the player is granted unlimited ammunition for weapons on the next play through.
STORY:
It's 2010: one year has passed since the events of Dino Crisis. Third Energy research continues, this time at the hands of a government agency. However, an accident has occurred: Edward City, an entire town devoted to the research, has completely vanished, and been replaced by a prehistoric jungle. A search and rescue operation is set underway by TRAT to travel back in time and recover the survivors and locate the missing Third Energy research data. In this team are soldiers Dylan Morton and David Folk, and intelligence operative Regina due to her experience from the last encounter. Upon landing on the island, the team sets up camp but is attacked by Velociraptors, with most of the team killed except for Dylan, Regina and David. Unexpectedly, the Velociraptors begin to flee in fear; a Tyrannosaurus Rex suddenly enters the camp site from the jungle. Upon appearing, David shoots at it with an RPG, damaging its eye and permanently disfiguring it. The angered Tyrannosaurus then chases Dylan and Regina to a slope, where they both tumble to the ground below, and then go their separate ways.
Manufacturer's description:
One year has passed since Regina's fight for survival against prehistoric dinosaurs, and the capture of the rogue Dr. Kirk. Third Energy research continued recklessly.
Another "accident" was imminent. Suddenly, Edward City, an entire town devoted to Third Energy research completely vanished, mysteriously replaced by prehistoric jungle. Now, a search and rescue to recover survivors and locate the missing research data begins. Armed with heavy artillery, only Regina has any idea of what to expect when the team arrives…pure terror.
    Features: Sequel to the popular horror-survival game
    Fight off vicious man-eating dinosaurs
    Use 2 weapons simultaneously
    Spin-and-shoot feature allows you to cover more area
    Several weapons to choose from, including automatic rifles and tasers
Features:
    Third person perspective
    3D Graphics
    SCI-FI & Dinosaurs themes.
---
We provide Prompt Shipping and careful wrapping. Standard Shipping has been taking 2-4 Weeks. Expedited Shipping has been taking 7-14 days. We will combine orders to save on shipping costs.
I have quoted the standard SAL (International Air Service 2-4 Weeks) and expedited AIR (similar to Global Priority 7-14 days). If you MUST have your package faster, you may also request the more expensive EMS (Global Express 1 Week or less).
If you really want to save on postage, feel free to ask for the MUCH cheaper MEDIA RATE postage. Most packages can be shipped via media rate for less than $5-10. However, you must agree to the very slow delivery time (6-8 Weeks or more).
---
Visit our store for other great items!