Una Woodruff
"The Pegasi"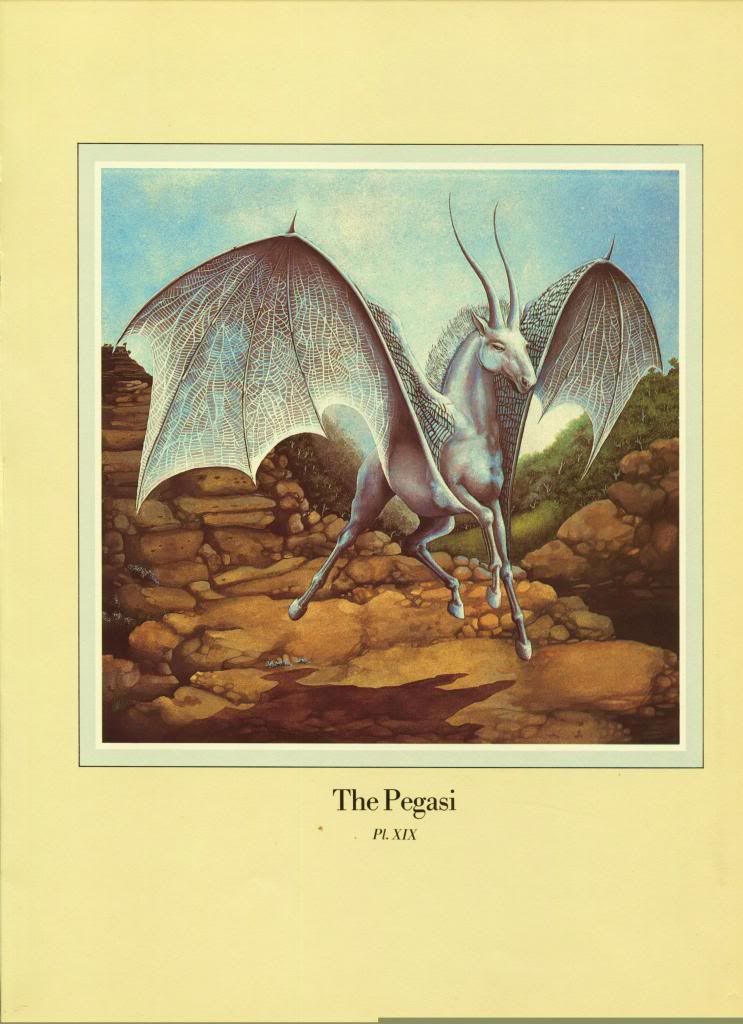 "The creature had the appearance fo a horse, but with wings like a bat and the horns of an antelope. Little is known of their habits,
as they inhabit the inaccessible heights of the mountains and are rarely seen
."
Original plate (not a reproduction) rescued from 
from "Inventorum Natura",
the fantastic (and somewhat fictional) study of the "journal of a scientific expedition conducted by Pliny the Elder in search of material for his 'Natural History'"
. The marvelous flora & fauna he found may have gone the way of the Loch Ness Monter, or the Yeti, but are here captured by Woodruff's wondrous imagination in glorious detail and a riot of color.
Along with the print you will receive a copy of the facing page, on which is the Latin description of Pliny's "discovery", along with the English translation.
This is an original book page, it is not a copy from a laser printer, or otherwise.
This plate is in excellent condition,
 o
n 
semi-
glossy, medium-weight paper,
the edge removed from the binding is a little rough.
plate size: 12 X 9 inches
printed area: 7 1/8 X 7 1/8 inches
Underneath is printed:
*there is a small brown dot next to the caption, as seen in the scan
 (which could be covered upon framing if desired).
The back side has text, 
but nothing shows through.
Highly suitable for framing
!
~See my other listings for more prints from this collection~
Fast & Free domestic shipping via First Class Mail