**TriGun (Deep Space Planet), Vols 1-2 ! **
By Yasuhiro Nightow 
Free English Translation Included Upon request!
Pictures may take a few moments to load!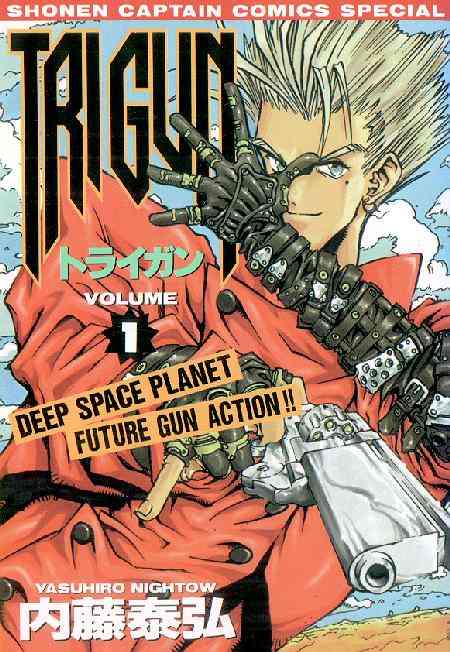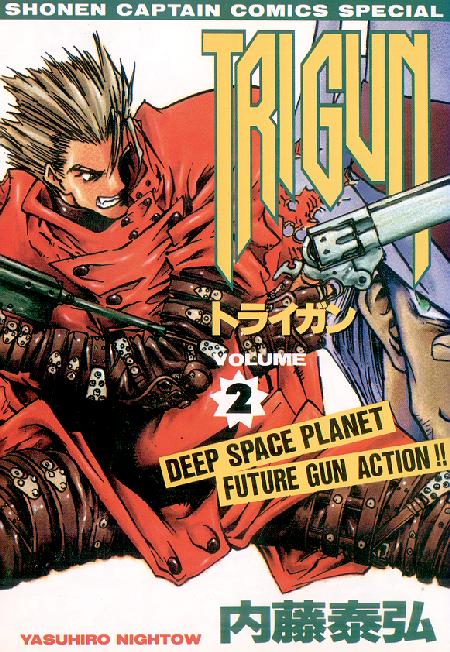 Three Very Nice, Near Mint, 5x7"inch, 200-250 page black and white Manga Japanese Comics! These medium quality scans really don't display the fantastic pictures in this book! More scans available upon request. This book should be part of your collection!

. . . On a barren, dusty planet baked by the rays of two suns, colonists eke out a miserable existence in small settlements reminiscent of the Wild West. It has been hundreds of years since the Ship brought them to this world; people know the old stories but no one remembers the lost technology that allows them to raise crops on this inhospitable land. In this lawless time stands a lone gunman. His name is Vash the Stampede. He is the Humanoid Typhoon, the man responsible for wiping out the entire city of July. The price on his head: $$60 billion (double dollars). Truly a man to be dreaded. Where he goes, destruction follows. . .

 
---
Some really great graphics here! These Manga are fantastic stories and perfect sources of unique anime clipart! Unless stated as new, most are used, but in Excellent condition, Near Mint!. I see NO signs of rips, tears, dogears, or water damage at all!
We provide Prompt Shipping and careful wrapping. Standard Shipping has been taking 2-4 Weeks. Expedited Shipping has been taking 7-14 days. We will combine orders to save on shipping costs.
I have quoted the standard SAL (International Air Service 2-4 Weeks) and expedited AIR (similar to Global Priority 7-14 days). If you MUST have your package faster, you may also request the more expensive EMS (Global Express 1 Week or less).
If you really want to save on postage, feel free to ask for the MUCH cheaper MEDIA RATE postage. Most packages can be shipped via media rate for less than $5-10. However, you must agree to the very slow delivery time (6-8 Weeks or more).
---
Visit our Store for More Great Items!