Sterling Silver Purple Swarovski Animal Abuse Awareness Bracelet

Before I advertise to you the bracelet that I selling, I would like to share with you a letter I got from Wayne Pacelle, President and CEO of Human Society of the United States (HSUS), a 501(c)(3) non-profit organization advocating the rights of animals:
"One Sunday afternoon, A young woman sent to check on the condition of a vacant townhouse that belonged to a friend of hers. When she unlocked and opened the door, she was overcome by the intense heat that had been building in the sealed townhouse over the past couple of hot summer weeks.
And then shoe found her friend's dog, Sunbear, emaciated and barely alive, and abandoned in the empty home!
Apparently, Sunbear, a chocolate Labrador retriever, was locked in the townhouse for weeks during the hot, humid summer, without any food or water.
Sunbear was immediately rushed to the nearest veterinary hospital as soon as he was found. The veterinarian worked frantically to try and revive Sunbear from the weeks of damage that starvation and dehydration had done to his weak body.
When Sunbear was brought in, he weighed just 25 pounds, one quarter of his normal weight.
But their efforts were too late. After two days of trying to revive Sunbear, he died from malnutrition and dehydration."
And this picture of Sunbear, which was sent to me with the letter, tore me apart.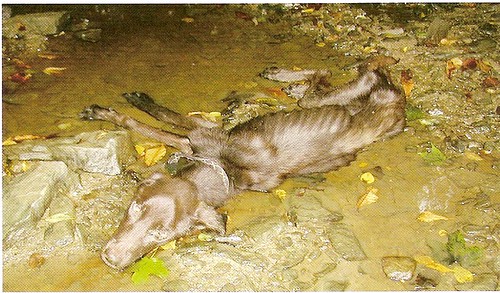 Please help prevent the abuse and cruelty being inflicted upon such poor, helpless creatures. What happened to Sunbear is just egregious. I am so sickened by these crimes, and I need your help to reduce and prevent further heinous actions on animals. Consider viewing my Giving Works animal abuse awareness items listed , where your purchase goes to fund a non-profit animal rights organization, such as the Human Society of the United States, and are secured by Mission Fish.

* * *

Up for sale is a beautiful purple animal abuse awareness bracelet (designed and handmade by me). The color purple is the color for animal abuse and cruelty awareness and prevention. This bracelet features a .925 solid sterling silver awareness ribbon and animal paw charm, .925 sterling silver spacer Bali beads, Austrian Swarovski bicone crystals, and a .925 sterling silver heart toggle clasp.


Bali beads, named after their city of origin, are meticulously handcrafted by Indonesian artisans to show floral carvings, twisted ropes and knots, and ornate patterns. For these reasons, Bali beads are much more special and precious than ordinary sterling silver beads.

Swarovski crystals, known for their beauty, clarity, and brilliance, are made from controlled conditions using fine materials, then carefully pressed, cut, and faceted with utmost precision. Swarovski crystals truly are crystal clear; they sparkle at every angle. Gorgeous.

All metal will be .925 sterling silver, and all crystal beads will by Swarovski.

Animals are helpless. Animals need people who will defend them from their biggest enemy: people--people who torture/hunt/flay/kill them for fun/sport/fur/food/money. That is why 50% of the proceeds from thissale will go to the HSUS. Please know that I absolutely make NO profit from the sale of these bracelets and am not in anyway affiliated with the HSUS.


This bracelet is approximately 7.25-7.5 inches long, but I will be happy to re-size the bracelet up to 8 inches for free. If you want this bracelet modified or in a different color or modified, feel free to ask for it.
Please be advised that handling time may require up to two weeks days for special requests/customized orders.


Finally, please do not forget to check out my other items for more awareness bracelets and jewelry. I do combine shipping.





Get cash back on all your purchases!
Sellers: Delight buyers. Get your own map of past buyers.