BEAUTIFUL FOLIES BERGERE CAN-CAN GIRL, PIN UP GIRL
CIGARETTE MONEY CASE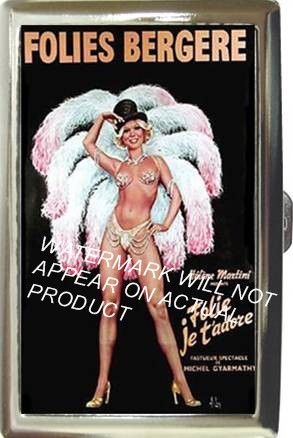 DESCRIPTION:

Our brand new high quality silver chrome with a matte finish, cigarette case, wallet, or credit card case, is a double sided case which can hold 16 cigarettes. The size of the case is approximatly 4'' x 2 1/4'', and 1/2'' deep. If you do not smoke it will hold credit cards, money or whatever you want. The image is covered by crystal clear enamel, for long time protection. This is NOT a cheap stick on photo, this is superior high quality artwork.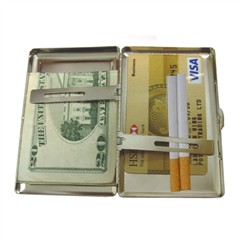 Do you have your own pictures or ideas you'd like to see on this or any other products? We can personalize this and 200 other items.
(-:-) CLICK HERE TO VISIT MY STORE, TIMELYOBSESSION (-:-)


IMPORTANT INFORMATION, PLEASE READ CAREFULLY!
(Only bid if you agree to all terms)


**PAYMENT**

PAYPAL IS THE ONLY PAYMENT ACCEPTED.

Payment is due within 3 days.

All of the items I sell are custom designed in the Chicagoland area, then printed and shipped from Hong Kong.

Ships worldwide.

From the date your order is processed, PLEASE ALLOW up to 14 business(counted as Monday-Friday) days (although many times it's much sooner)for standard (airmail) delivery.

I will notify you of the date your order has been placed for printing and production.

Please note: Color can vary slightly during the printing process.

Sorry, but as of February 1, 2008, I will
NO LONGER ACCEPT BIDS from those with
LESS THAN FIVE (5) feedback points.

**REFUNDS & RETURNS**

If you elect insurance (optional, but highly recommended -
$2.00 U.S., $3.00 Canada & Europe) you will be refunded 100% of your payment on any item LOST in transit, (rarely, but it happens) or DEFECTIVE product as soon as it is returned. *

Otherwise, you will not be refunded the shipping charge.

We will either give you a full refund (if insurance is purchased) or you may choose to use it as a credit towards a future purchase.

All items must be returned new and unused in the original packaging within 7 days of notifying me. I will give you MY address to return it, so I can return it to the manufacturer.

* EXCEPTION: Unless the item you receive is damaged or missing, we will charge a 30% restocking fee.

My goal is for you to have a great experience as a buyer,
while offering you a nice product at a good price.

If there is a problem, please don't leave negative or
neutral feedback without first contacting me.
I'm always willing to help all my customers with any
problem that might arise.
Our name has OBSESSION in it for a reason! Do you have a passion or obsession for a celebrity, sports team, or anything else? Can't get enough of them/it? Well, OBSESS away!

We can use any image you'd like to personalize this and 200 other items with your own picture; from watches to mugs, from T-shirts to wallets, from business card holders to mousepads!

Inquire about our other available products to meet your needs, or visit our store to see some of the other items we offer.

(-:-) CLICK HERE TO VISIT MY STORE, TIMELYOBSESSION (-:-)


Terms and Conditions
PAYPAL IS THE ONLY PAYMENT ACCEPTED.

Payment is due within 3 days.

PAYPAL BUYERS MUST BE CONFIRMED AND VERIFIED (Please see Paypal for information regarding this)...NO EXCEPTIONS, and no P.O. BOXES.

Sorry, but I DO NOT accept bids from new buyers with LESS THAN FIVE (5)POSITIVE FEEDBACK POINTS.

I reserve the right to delete any bids placed that are placed from those with zero, little, or negative feedback, or those not verified by Paypal.