BargainBuyouts is a 17 year Trusted Seller of Great Deals with Excellent Service !!
Check our Feedback Ratings !!
Direct from Factory Distribution Warehouse !!
Authorized Dealer for  

  Electric fireplaces
RealFlame Devin Electric Version Fireplace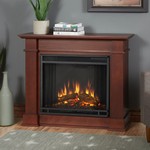 DARK ESPRESSO
NOW WITH NEW THERMOSTAT / VIVIDFLAME LED FIREBOX !!!
PORTABLE & VENTLESS !!
See our other listings for the gel fuel version of this fireplace
The Devin Fireplace features a compact profile and a clean silhouette, making it ideal for smaller spaces. Available in Dark Espresso and White finishes.
The VividFlame Electric Firebox features include remote control, programmable thermostat, timer function, brightness settings and ultra bright VividFlame LED technology.
Technical Information:
-  Cool Touch glass front
-  Plugs into any standard outlet
-  Made from engineered wood with veneer overlay and powder- coated steel.
-  Also has adjustable flame settings and remote control.
-  Comes complete with mantel, firebox with screen kit and remote,
-  Assembles easily in about an hour
36.3" L x 11" W x 30.4" H; 64 lbs.
A genuine fireplace experience without the mess !! 

ELECTRIC HEAT Remote Control Insert Details :
The VividFlame Electric Fireplace sets a new benchmark in LED flame technology. Exclusively developed by Real Flame to offer unparalleled flame realism and brightness, along with a wealth of other great features.
The hidden LED display shows the settings as they are changed from either the control panel or the slim profile remote.
Features a programmable thermostat to provide precise heating in Celsius or Fahrenheit, timed shut off, dynamic embers.
Firebox dimensions 23.6" W x 19.9" H X 8.6" L 32.1 lbs.
1400 Watt, 4780 BTU/hr heater
- Complete with remote, mounting brackets and hardware.
- Programmable thermostat with display in °F or °C
- Ultra bright LED technology with 5 brightness settings
- Digital readout display with up to 9 hour timed shut off
- Dynamic ember effect
If you desire the ambiance of a cozy fireplace inside your living room, great room, family room or meeting area with the lowest risk of environment hazards, RealFlame fireplaces are just what you are looking for.
-  Extremely inexpensive and low maintenance
-  Costs about 25 cents an hour to run at high heat
-  Almost 100 percent heat and energy-efficient, with no chimney, smoke or vent
-  Absolutely no harmful combustion or toxic vapors !!
-  Designs certified by the latest safety standards !!
Important Note:  Photos shown may not be representative of exact color due to monitor color settings.
Nothing makes your home more welcoming than the warmth and crackle of a fireplace. We offer a wide selection of RealFlame Gel and Electric fireplaces and RealFlame gel fuel containers that will match your specific needs.
You can now have the warmth, beauty and convenience of a fireplace in locations where it has never before been possible.
EACH FIREPLACE WOOD MANTEL COMES WITH 90 DAY FREE RETURN SHIPPING " NO HASSLE" MANUFACTURERS WARRANTY !!
ELECTRIC FIREBOXES HAVE 1 YR FREE RETURN SHIPPING " NO HASSLE" WARRANTY !!
See our store for 100's of more products !!
Visit My Store: BargainBuyouts