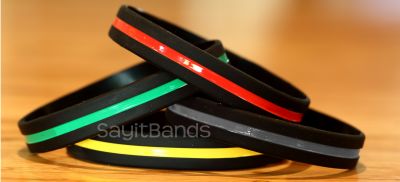 Other color thin line wristbands
Following the incredible popularity of our thin blue line wristbands we have been asked by several other protection groups to create support wristbands. As a result of those requests we have expanded our colection to include the following wristbands for the respective causes. You can contact us about obtaining those wristbands by messaging us through. We are also available with any questions you have at 916-8OO-4386 during business hours. See the list of available thin line wristband color options below:
- The Thin RED Line Wristbands for FIREFIGHTERS
- The Thin SILVER/GRAY Line Wristbands for CORRECTIONS OFFICERS
- The Thin YELLOW/GOLD Line Wristbands for SECURITY OFFICERS/DISPATCHERS
- The Thin GREEN Line Wristbands for PARK RANGERS/FORESTRY/ARMED FORCES
- The Thin WHITE Line Wristbands for EMERGENCY MEDICAL SERVICES

Plus our beautiful custom wristbands
On orders of 200+ wristbands we can do custom thin-line wristbands with your choice of text and images in about 1 week. Send us a message through with the band info (QUANTITY & SIZE & COLOR & TEXT) and we can reply back with information. You can also give us a ring at 916-8OO-4386 with any questions.