** Saiyuki Backgammon Artbook Volume #3 **
Manga Artbook
By Kazuya Minekura
Pictures may take a few moments to load!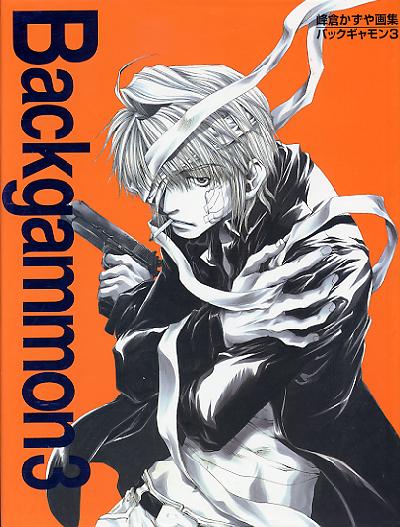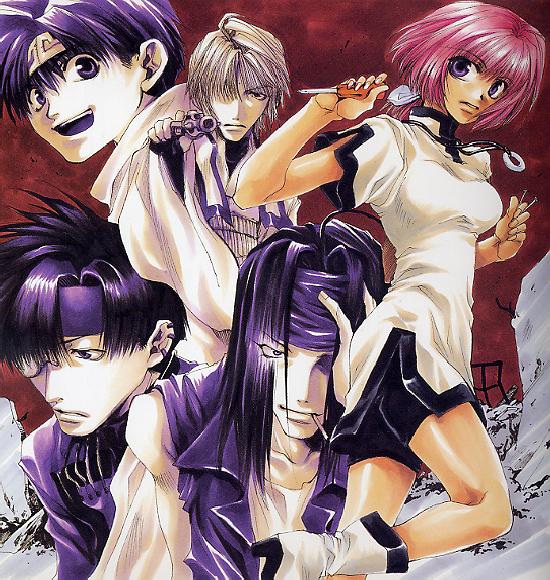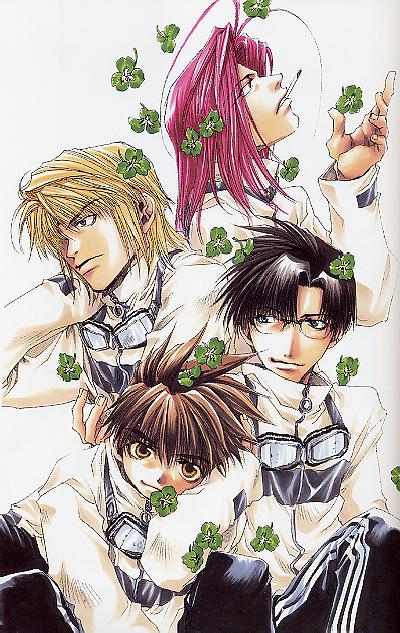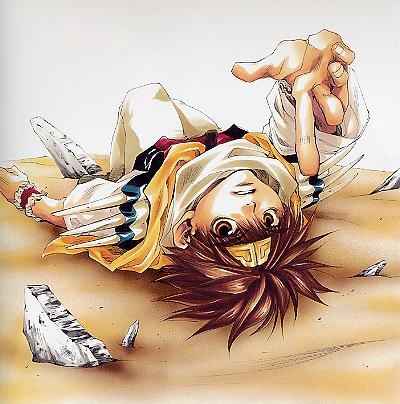 Very Nice, Near Mint, 9x12"inch, 90+ page Japanese Comic in flowing CLAMP styled graphics! These medium quality scans really don't display the fantastic pictures in this book! More scans available upon request. This book should be part of your collection!

This book is Hardback, with a nice Fly leaf, and Blue Embossing on the cover!

When you first get this book, you'll think that it only contains images from Saiyuki, and it does have a lot. But it also has many glorious full page colour images from Minekura's other Manga's: " Wild Adapter ", " Bus Gamer ", "Just!" and a few other miscellaneous images and sketches that I could not identify. The full colour images are either full page singles, or double-spread pics that are too large for my scanner! 

The character rough sketches are beautiful and detailed, all action poses and artist thoughts not just normal standing and face sketches that can be boring... All pages are high quality even the images on the covers I've counted as colour because they are of such high standards not normally seen are also inside the book. Also some of these images are a little Shonen-ai, mostly dealing with "Wild Adapter" and about 3 other images that I couldn't identify but are wonderful!.

There's very little Japanese text to decifer, just page after page of glossy graphics!

 
---
...What can I say, This is a bitter sweet tale...
First things first. Saiyuuki is the Japanese name for a classic Chinese novel, Xi You Ji, which has been translated into English as 'The Journey to the West' or 'Monkey.' It's about a pious and naïve monk, Tripitaka (Sanzou in Japanese) who's ordered by the Bodhisattva Kwannon (Kanzeon Bousatsu) to make a trip to India to fetch certain sacred sutras.
The monk is accompanied and protected by the wily Monkey (Son Gokuu) whom Tripitaka had freed from the mountain where he'd been imprisoned as punishment for running amuck in Heaven. Tripitaka tricks Monkey into wearing a diadem which gives him terrible headaches when a certain sutra is recited, and which serves to keep the overweeningly self-confident Monkey under some kind of control.
He has two other followers, Pigsy (Cho Hakkai) a fat and gluttonous pig, and Sandy (Sa Gojou), once the murderous inhabitant of a stream who has seen the light. Tripitaka rides a white horse who is actually a white dragon whose life he also saved at some point in the past. The monk is regularly attacked by demons, who believe that eating the flesh of a pure monk is a guarantee of immortality, and who are aching to get their kitchen implements on Tripitaka.
Minekura Kazuya's version of this adventurous and satiric Chinese work is.... adventurous and satiric, yes, but boy have the original protagonists been altered out of all recognition. As an indication of which, the title is written with a different kanji for 'sai.' The original one means 'west.' Minekura uses the one meaning 'to the extreme'. And now the 'Journey to Extremes' has been turned into an anime, Gensou Maden Saiyuuki (Fantasy Fairytale Saiyuuki), currently in its second season. Herewith an introduction to the present Japanese incarnations of some very traditional Chinese characters. ...
---
Some really great graphics here! These Manga are fantastic stories and perfect sources of unique anime clipart! Unless stated as new, most are used, but in Excellent condition, Near Mint!. I see NO signs of rips, tears, dogears, or water damage at all!
We provide Prompt Shipping and careful wrapping. Standard Shipping has been taking 2-4 Weeks. Expedited Shipping has been taking 7-14 days. We will combine orders to save on shipping costs.
I have quoted the standard SAL (International Air Service 2-4 Weeks) and expedited AIR (similar to Global Priority 7-14 days). If you MUST have your package faster, you may also request the more expensive EMS (Global Express 1 Week or less).
If you really want to save on postage, feel free to ask for the MUCH cheaper MEDIA RATE postage. Most packages can be shipped via media rate for less than $5-10. However, you must agree to the very slow delivery time ( 6-8 Weeks or more).
---
Visit our Store for More Nice Items!