SparkleSpa® Pearl Jewelry Cleaner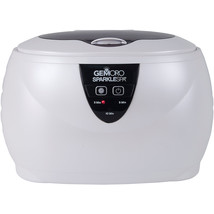 Description
Quickly and easily scrubs jewelry clean with powerful ultrasonic sound waves! Our SparkleSpa® personal ultrasonic provides the same amazing cleaning performance and sparkling results you'd get from a visit to your jeweler. High-intensity sound waves safely and effectively scrubs your jewelry clean like it was just polished by your jeweler, leaving it looking showroom new. Proven to remove the toughest dirt, grime, body oil, cosmetics and body care products from your jewelry. Far superior to gimmicky sonic cleaners, shaker jars or any standalone cleaning solution, the SparkleSpa® is the professional way to clean jewelry.
FEATURES:
It's simple - plug in, fill with water, place your jewelry in the basket and turn it on

600ml capacity ultrasonic tank

Quickly and easily clean your jewelry with gentle, yet powerful ultrasonic sound wavesNo scrubbing or polishing required - cleans in only minutes3 Programmable cleaning cycles - 3, 5 and 10 minutesGuaranteed to remove dirt, grime, body oil, cosmetics and body care products from your jewelry. Designer white pearl finish bright blue LED illuminates the stainless steel tank. Includes a removable basket and bracelet / watch holder. 1 Year limited replacement warranty.This item is heavy and will incur extra shipping charges.
Key Features:
. Three minute automatic shut off
. Stainless steel tank
. Tank Capacity: 16 oz (.47 liters)
. Power Consumption: 35W
. Use only tap water to clean
Have a Nice Day!