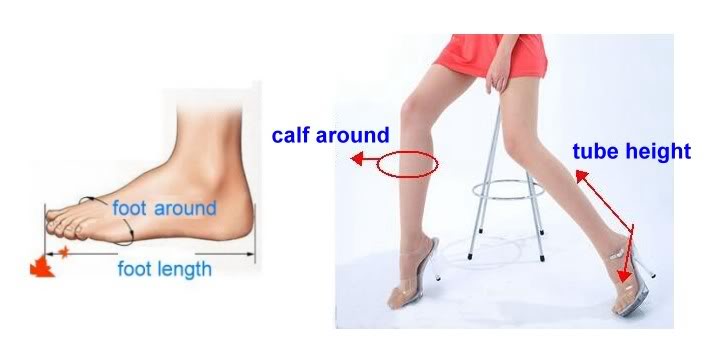 Size Chart (in centimeters):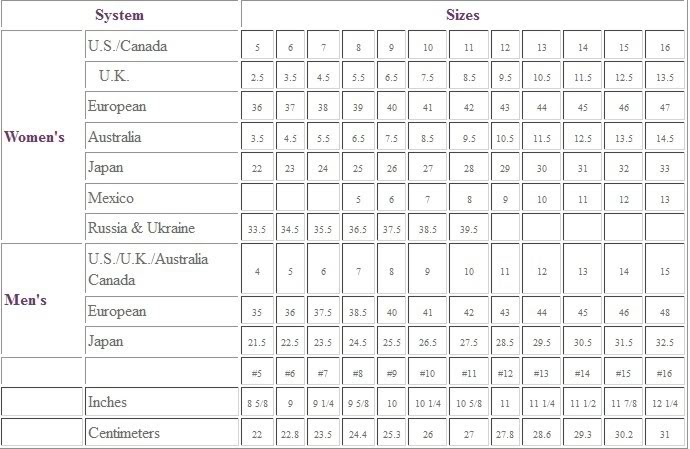 Please provide the following measurement to us ASAP when you place an order
1.Sex
2.Body height
3.Foot length
4.Calf around
5.Foot width
Please note that if your foot length is longer than 25.5 cm (includes 25.5 cm Male European which is a size 40 or Female European size 40) we will not be able to create a high heel for the shoes and it will be made as a flat-bottomed style,
Production Times
Regular sizes: 5-7 business days
Customized sizes: 7-14 business days (Choose Custom Option)
New Requested Costume Designs: 10-15 business days
If you are in urgent need of the costumes, please confirm with us before ordering. We will let you know if we can speed up the production time for you.
Tips
1. As computer screens have a chromatic averration, especially between CRT screens and LCD screens, we can't guarantee that the color of our products will be exactly the same with the photographs you see.
2. If we don't receive any special requirements from you, we will make the costume according to the size you select from the drop-down box (i.e. Size Medium) which will be based on the sizing from our size chart shown in this listing. Therefore please ensure to check the size chart thoroughly before ordering.  The orders can't be cancelled after 2 working days.
3. It's normal to have an inch or so in measurement errors between the sizes you provide and the sizes of the costume(s) you receive.  These errors can't be accepted for any returns or exchanges.
4. Costumes can be custom made according to your measurements.  We strongly recommend that you have your measurements taken by a professional tailor before purchasing.
Q1. Do you offer custom made services?
Yes we do but it depends on the item you're after. In most cases, if you request for a costume to be made, we can do this based on your measurements as long as you agree that the final alteration might be needed for the best kind of fitting.
For costume requests, we strongly recommend that you have your measurements taken by a professional tailor before placing a custom made order, as stated above.
Q2. Can you make an custom item if it's not on your store?
Yes we can. But this also depends on the item request and other factors such as time constraints, other committments or resources at the time of the request.
For custom costume requests, we can design / create / make the costumes according to the pictures / photos you provide us with. However, please ensure that the photos you send are in a high-resolution format with different views and angles.  
This will help us in the production making.
What is the advantage of your products?
a) Quality.  We have several years of experience in designing and making cosplay merchandise, especially costumes.
b) Our Service.  We always strive to offer the best price and customer service as possible.
Payment 
We accept PayPal payments, but you can also use your Credit Card Via PayPal without having to sign up to PayPal if need be. Payment is expected to be received within 1-2 days after you place a order.
Handling Times
Q1. What's the handling time for an order?
This depends on the item purchased. For example, one costume takes an average 5-7 working days to make.  New and custom made designed items can take an additonal 3-5 working days to complete.  
Should you need the item urgently, please contact us first to confirm as we can try speeding up the production time of your order.
Shipping Times
Q2. How long does it take for Shipping times?
Standard Shipping can take anywhere between 12-35 working days, depending on the country you reside in.
EMS shipping can taken between 8-15 working days, depending on the country you reside in.
FedEx, TNT or DHL usually takes between 3-10 working days, also depending the country you reside in.
If your address is located in the remote area, we will ship your item via standard shipping method.
No telephone Number and PO.BOX and APO/FPO address can not been shipped by Express shipping service.
Insurance and Customs: Buyers are responsible for any insurance they require and any tax or duty charged by their country.  Please co-operate with the delivery agent to clear your item(s) through customs.
If you need faster shipping, please feel free to contact us.