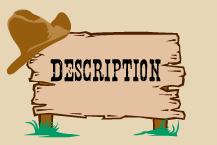 Munki Munki Sleep-shirt
Style: Rodeo Queen
Size Small
This is an adorable western Rodeo Queen themed sleep-shirt. The background is beige with cowgirls, cowgirl boots, lassos, winning ribbons, trophies & bandannas....absolutely adorable!!!!
Made of 100% Cotton.
Perfect condition.
*************************************
We do not ship to the following countries:
Afghanistan
Angola
Balkans
Belarus
Bolivia
Burma
Congo, Democratic Republic of the
Congo, Republic of the
Cote D'Ivoire (Ivory Coast)
Cuba
Iran
Iraq
Lebanon
Liberia
Nigeria
North Korea
Paraguay
Somalia
Sudan
Syria
Zimbabwe


Customs Duties and Taxes:
Depending on your country's laws, you may be subject to import duties and taxes on your purchase. Your charge from ilovemycows includes only the cost of your item(s) and the cost of shipping, and you will be responsible for paying any additional import duties and taxes at the time of delivery prior to your package being released to you. Please note that we have no control over these charges nor can we predict accurately what they may be. Customs and taxation policies vary widely from country to country; so please contact your local government office if you'd like more information.


P.S. Your purchase helps enable me to be a stay-at-home mommie. Thanks!