** Zetsuai Bronze, Since 1989 **
Volume #3
English Translations Available Upon Request!
Pictures may take a few moments to load!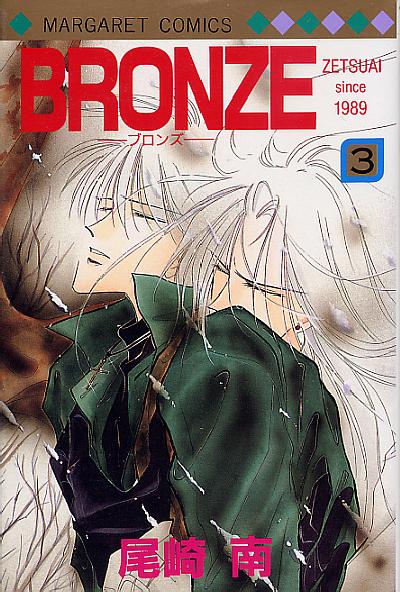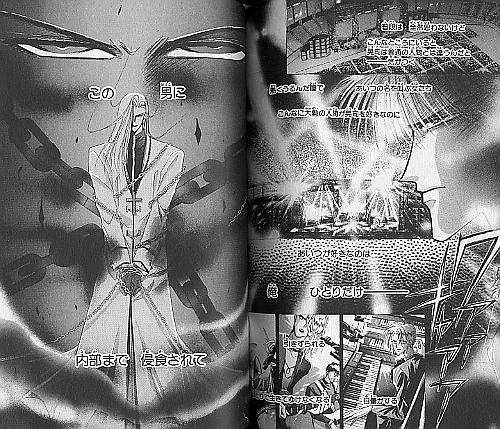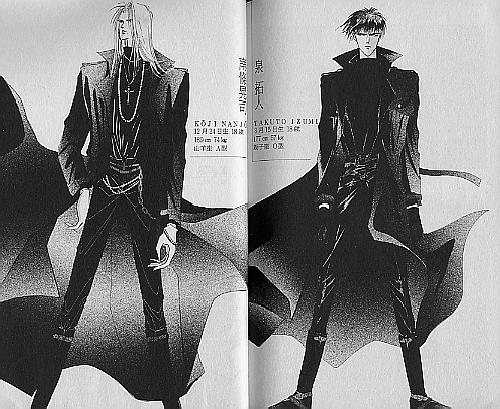 Very Nice, Near Mint, 6x8"inch, 200+ page black and white Manga Japanese Comic in flowing CLAMP styled graphics! These medium quality scans really don't display the fantastic pictures in this book! More scans available upon request. This book should be part of your collection!

. . . Bronze is the Pre-Quel to Zetsuai. This ongoing sequel, is both longer, and contains more yaoi than Zetsuai did. The primary focus centers on Koji's attempts at separating himself from his family in order to pursue his happiness with Izumi, and Izumi's gradual emotional growth as he comes to realize the extent of his own deepening feelings for Koji. Bronze tries to bring a lot more focus on the emotional bonds which now bind Koji and Izumi to one another in order to justify and deepen the inextricable bonds of passion which had been lashed about them in Zetsuai.

This longer series introduces itself with a 4 volume development of Koji and Izumi's relationship, bringing about a gradual awakening in Izumi - thanks to a rather violent motorcycle accident for Koji - which opens his heart to the feelings he holds for Koji. Izumi can no longer blithely pass off his relationship with Koji as the product of Koji's infatuation only, as he is now beginning to feel a certain undefineable feeling which both excites and terrifies him. Though words aren't said, pay close attention to the way Izumi's eyes are drawn throughout Bronze, and you will be able to trace his emotional development.

However, an opposition free romance would be rather bland to read about, so Ozaki twists the plot with a violent thrust of familial intrigue. The powerplays between the members of the Nanjo family are intensely passionate, consuming in their obsession, and violent in their expression. They are the force which actually develops the rest of the series, guiding the development of the characters along intriguing new channels. Each plot twist manages to retain unto itself elements of novel originality, while at the same time holding together with a unique cohesion. Looking back along the chain of events, the past justified the present, yet the past could not foretell the present.

One of the great aspects of this sequel is that the images relate far more of the actual story. I would also recommend purchasing Bronze first, as Zetsuai is more of a history to provide foundation for the relationship that is established in Bronze, but isn't actually required to understand it...

 
---
Some really great graphics here! These Manga are fantastic stories and perfect sources of unique anime clipart! Unless stated as new, most are used, but in Excellent condition, Near Mint!. I see NO signs of rips, tears, dogears, or water damage at all!
We provide Prompt Shipping and careful wrapping. Standard Shipping has been taking 2-4 Weeks. Expedited Shipping has been taking 7-14 days. We will combine orders to save on shipping costs.
I have quoted the standard SAL (International Air Service 2-4 Weeks) and expedited AIR (similar to Global Priority 7-14 days). If you MUST have your package faster, you may also request the more expensive EMS (Global Express 1 Week or less).
If you really want to save on postage, feel free to ask for the MUCH cheaper MEDIA RATE postage. Most packages can be shipped via media rate for less than $5-10. However, you must agree to the very slow delivery time (6-8 Weeks or more).
---
Visit our Store for More Nice Items!