Tested and ensured 100% working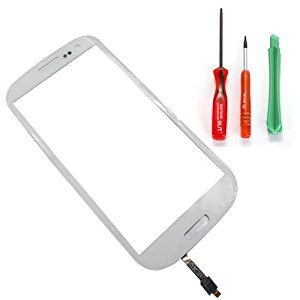 Compatible:

SamSung Galaxy SIII ONLY


What you get:

1. 1X Touch Screen digitizer for SamSung Galaxy SIII
(Please note that this isn't the LCD screen so it's not the part that actually produces the picture, this is the outer part that you run your fingers across and touch when your using the item, it's also the part that usually gets cracked when it's damaged)
2. We'll also supply a FREE instructional video link when the item ships out.
The following FREE tools:
(tools may vary slightly in appearance from the ones pictured)
3. 2X SCREWDRIVERS (T5 and T8 screwdrivers)

1X PRY TOOL

(ADDITIONAL TOOLS SUCH AS AN ADHESIVE STRIP MAYBE REQUIRED TO COMPLETE THE REPAIR)

Please Note: We are in no way responsible for any damage you do to your phone when trying to replace this part. Please make sure that you right model and generation before purchasing the item.

How to see what model of phone you have:

1. Take the back off your phone. Most backs simply slide off. All you have to do is press down slightly and slide the back off toward the base of the phone.