DreamSky Decent Alarm Clock Radio with FM Radio, USB Port for Charging, Black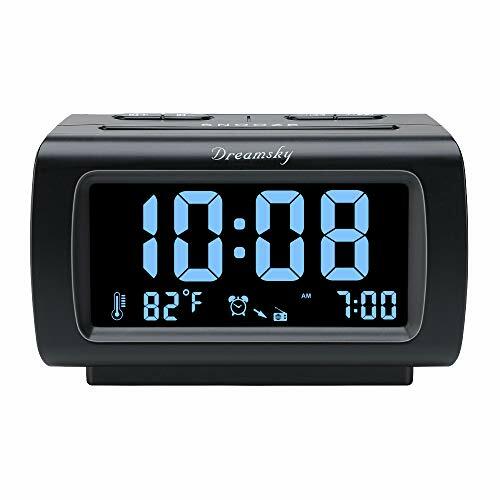 Description
Color:Black Deluxe decent Alarm Clock with Large, Clear Display Clearly view the time on the large and clear LCD screen with nice blue illuminated jumbo digit. No squinting to read the time, even without your glass. Decent look, clean, simple, aesthetically pleasing design. Not too big, not too small, décor even as additional decoration. Adjustable Brightness Control With the dimmer button, you are able to adjust the brightness from 100-0 level comfort view by turning the dimmer wheel, or turn the brightness completely off for night sleep. No light, no complain, clock is still running. Have a good rest! Enjoy FM Radios Single on/off radio button, tuning in your favorite channel with 0-15 level volume adjustment. Built in high quality loudspeaker, the sound is loud and clear, enhance your listen experience. Programmable Sleep Timer Fall asleep to the radio using the programmable count down sleep timer. 10-120 minutes optional. Gradual Alarm with Adjustable Volume The gradual wake alarm feature starts with a subtle, low volume and then gradually increases to a reasonably high level in order to gently wake you up from sleep. Alarms sound can be adjusted to your desired level whatever select wake up to buzzer or radio. Buzzer with 3 level adjustment (high, medium, low). Radio with 1-15 level adjustment. Snooze Button Snooze function will let you catch an extra shuteye. 9 minutes interval to mute the sound for every click button, which can be repeated to one hour until turned off. USB Charging Port The labelled "out " USB port for other smart device charging like cellphone, tablet etc. Very handy and convenient. Battery Backup An optional backup battery keeps the clock working during a power outage.
Features:
Elegant Digital Alarm Clock with Full Range Dimmer for Bedroom: 4 Inches large LCD screen with eye easy catch blue number display, time and content are easy to read at a glance. 100%-0% completely adjustable display brightness for comfortable viewing. 12 or 24hr switch, Indoor temperature ( ? or ?) Display.
Digital FM Radio ONLY with Sleep Timer: Easy tuning in FM radio channel with 0-15 level volume adjustable. Speaker is loud and clear. Benefit sleep timer function lets you fall sleep to the radio by preset the radio to play for a certain amount time (10-120 minutes optional).
USB Charging Port: Extra USB port allow you to charge your smartphone, ipad or other smart device without plug in wall, a handy, convenient and organized bedroom alarm clock radio.
Adjustable Alarm Sound and Snooze: Wake up to buzzer or radio should your preference. Both alarm source volume can be adjusted to your comfortable level. (buzzer : 3 level, radio: 1-15 level). The alarm will begin sound faintly then increases to its max within 5 seconds. 8 minutes interval snooze can be repeated in one hour until turning off.
Main Powered with Battery Backup: Plug in any wall outlet to power the clock radio with the included DC adapter (adapter wire length: 76 inch). 3* AAA battery (not included) backup needed for keep the clock working for a short time during electric power failures.
Product Details:
Package Dimensions: 7.4 x 3.8 x 3.6 inches
Item Weight: 12.8 ounces
Item model number: DS206
Is Discontinued By Manufacturer: No
Manufacturer: US AMEXS LLC
Handling

We will ship all orders within 1 business day of payment.

Delivery

We Do Not Ship Outside of the Continental US.

Return Policy

All items qualify for returns within 30 days of receipt. Buyer is responsible for return shipping on any item that is not damaged.

Feedback

We take our reputation seriously, we buy and sell online, so we understand the value of trust. If you are unsatisfied with your order, please contact us and we will work with you to resolve it to your satisfaction.