LOW CO$T SHIPPING PROVIDED WITHIN THE USA ONLY, BUT I WILL SHIP WORLDWIDE AT BUYERS EXPENSE
DISNEY
MICKEY MOUSE & MINNIE MOUSE
VINTAGE
ANCHOR HOCKING
GLASS MUG
HERE FOR YOU CONSIDERATION
IS A 
GLASS COFFEE MUG IN
THE MICKEY &
MINNIE MOUSE 
COLLECTABLE SERIES.
MUG HAS A VERY COLORFUL PARAGLAZED
PICTURE OF MICKEY & MINNIE MOUSE
ON THE FRONT.
MEASURES 3 1/2" TALL 3" WIDE
AND HOLDS 10 oz.
Copyright
By
   DISNEY
A HIGHLY COLLECTIBLE MUG!
!

Powered by

eBay Turbo Lister

We accept Mastercard, Visa, American Express, Discover, and PayPal.


All postage is calculated at cost which also includes packaging and handling fees which make our standard low cost shipping rates more appealing to our by buyers. Items will be shipped via FedEX or USPS Flat rate postal service with Delivery confirmation, unless otherwise stated in the listing. If you buy more than one item we combine shipping & give a $1.00 discount on shipping for each additional item purchased within (7) days of the first initial purchase. Please allow 5 business days for delivery once item has been paid for through paypal.

RETURN POLICY
All items are shipped as described in the listing if the item has been damaged through shipping we'll take an assertive role to rectify the matter. We have have an excellent feedback rating because our major goal is to satisfy all our customers.
PLEASE NOTE THAT THIS  SELLER IS NOT AN EXPERT IN ANY OF THE ITEMS BEING OFFERED. ALL ITEMS ARE SOLD "AS IS" THEREFORE IT IS THE RESPONSIBILITY OF THE BUYER TO ASK ANY & ALL QUESTIONS IN REFERENCE TO AN ITEM(S) BEFORE PURCHASING THEIR SELECTED PRODUCT.  ALL SALES ARE FINAL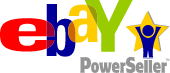 We at Jaxsprat's Unique Collectibles have been avid treasure hunters for over fifteen years. Within the confines of our beautiful and cluttered home in sunny Fort Lauderdale, Florida we have been operating our store for over five years as a wholehearted family enterprise. Our aim is to provide and showcase quality antiques, collectibles, memorabilia, and fine art at affordable prices for everyone. We seek to ensure that our customers have a wonderful experience when shopping for collectibles in our store.
If you have any inquiries or questions in reference to this item or any other item. We are available 24/7 as we make it an integral part of our customer service policy to respond to you in a efficient and timely manner.
 http://stores.ebay.com/Jaxsprats-Unique-Collectibles?refid=store
jaxsprat11@ebay.com