Large 1977 Signed Nedobeck Cat Watercolor and 50 similar items
Large 1977 Signed Nedobeck Cat Watercolor Lithograph UNFRAMED
View full item details »
Shipping options
FREE via Unspecified shipping type to United States
Offer policy
You can make your offer during the checkout process as long as you do not live in a state where marketplace facilitator tax laws exist.
Check your state
.
Return policy
Purchase protection
Catalog info
Payment options
PayPal, MasterCard, Visa, Discover, and American Express accepted
View full item details »
Shipping options
FREE via Unspecified shipping type to United States
Offer policy
You can make your offer during the checkout process as long as you do not live in a state where marketplace facilitator tax laws exist.
Check your state
.
Return policy
Purchase protection
Catalog info
Payment options
PayPal, MasterCard, Visa, Discover, and American Express accepted
Item traits
| | |
| --- | --- |
| Category: | |
| Quantity Available: | Only one in stock, order soon |
| Condition: | As New |
| Edition Type: | Open Edition |
| Date of Creation: | 1970-1989 |
| Original/Reproduction: | Original Print |
| Listed By: | Dealer or Reseller |
| Print Type: | Lithograph |
| Signed: | Signed |
| Print Surface: | Paper |
Listing details
| | |
| --- | --- |
| Seller policies: | |
| Shipping discount: | Seller pays shipping for this item. |
| Posted for sale: | More than a week ago |
| Item number: | 273211158 |
Item description
Large 1977 Signed Nedobeck Cat Watercolor Lithograph Fabulous Nedobeck Litho/watercolor print of his famous cat and birds, signed. I framed it in an inexpensive plastic (not glass) poster frame for easier shipping. It can be hung as is or re-framed. The overall size is a standard 24 x 18 inches. Colors are vivid and bright; signed in pencil. Created in 1977. This very same print has sold on the net for 144.00, so this is a great deal that includes free shipping. (Was priced at 100.00) ---------------------------------------------------------------------------------- Please read these notes: We are happy to combine orders to save you on shipping charges If you have additional information about an item or wish to share your knowledge of a particular item, we'd be delighted to hear from you. The grading system used by many sellers to describe their books can be, despite best efforts and intent, subjective and often disappointing. You'll only find high quality material here: most are new or like new. Occasionally, there's minor shelf wear or a publisher's remainder mark, but the integrity of the book's condition is unaltered. Our shipping charges do sometimes include costs for packaging supplies but are modestly incorporated in the shipping charge; there is no such thing as handling or processing. Most other shippers charge you more for media mail . If you elect to make an offer please note that the system does NOT take shipping into consideration; your offer is treated as if it includes both the price you are willing to pay for the item AND the shipping. This can result in an offer that is less than the cost of shipping the item, which I'd have to reject. FEEDBACK: Most welcomed, but please contact us if you are unhappy with your purchase. We have a return policy and will gladly resolve any issue to your satisfaction. BOOKS THAT ARE NOT RECENTLY PUBLISHED: A book described as new but published several years ago is a reference to its condition; meaning that the book has never been used but may have minor wear from long term storage. We DON'T CHARGE FOR BOOKS TO THE MEN AND WOMEN SERVING IN THE ARMED SERVICES . You will only be responsible for the shipping. REFUNDS: In general: no fuss, and no problem. Items must be returned in the original condition within 10 days of receipt. Items that have been removed from their original sealed wrap (CDs, Books, etc that were in blister packs) will be credited at 80 % of item's price LOSSES AND DAMAGE WHILE IN TRANSIT: We highly recommend insurance and can provide it through Shipsaver and a rate below charged by the postal service. For items over 100.00 we will purchase insurance for you at no cost. You must notify us of any loss immediately however. INTERNATIONAL BUYERS PLEASE NOTE: We are very appreciative of our international customers and realize that your costs are higher. We will do our best to help you with that disadvantage, often by discounting the item's price. We will not, however, falsify customs forms by stating that the item you have won is a gift or by stating its value at a fraction of what it really is. Please expect to have to pay customs charges and any related fees. We do not know the customs charges in your country and are in no way responsible for them. Additionally, packages can be held up in customs and take longer than expected for arrival. Unfortunately, we have no control over that. Shipping costs often vary based on destination. We offer both standard and priority services. We recommend Standard Parcel Post in the interests of economy. Free stuff: a minimal amount is added to shipping to cover packaging. Please be sure you have read these statements and only purchase if you agree with them. Thank you very much for your understanding New to this site? Wondering how to make an offer? Once you've found the set of stuff you want/need/can't live without, click the "Add To Cart" button on the item's page, or drag the item into your shopping cart (located on the right side of the booth and item pages). When you're done shopping, click "Checkout" on your cart to see the items you've added. Once you have clicked "Checkout," all items in your cart will be grouped by seller. Depending on what options the seller allows, you may be allowed to edit any of the following options: * Payment type (Google Checkout, money order, Paypal, or cash) * Shipping or pickup * Quantity of items * Total offer price For any of the above options that can be edited, you can set their value by clicking on the "Edit" link next to the option. There are a variety of reasons you might not see edit links next to these options, which you can read about here. When you're done editing options, you click "Propose Offers" or "Buy Now" to continue with the process of buying the items.
Product reviews for "Greybourne1 Print"
This item has been added to your cart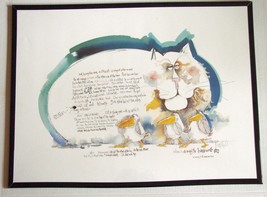 Large 1977 Signed Nedobeck Cat Watercolor Lithograph UNFRAMED
added to cart.
Only one available in stock
View Cart
or
continue shopping
.

Please wait while we finish adding this item to your cart.


Get an item reminder
We'll email you a link to your item now and follow up with a single reminder (if you'd like one). That's it! No spam, no hassle.