Snowblower starter for Tecumseh Snow King, and 50 similar items
Item Details
MPN
33329, 33329A, 33329B / 33329C, 33329D, 33329E
More details about this item
Bin # 435-615 Description: ELECTRIC STARTER KIT Pack Size: 1 Replaces (OEM): ARIENS: 72403600 MTD: 751-11196 MTD: 951-11196 TECUMSEH: 33329 TECUMSEH: 33329A TECUMSEH: 33329B TECUMSEH: 33329C TECUMSEH: 33329D TECUMSEH: 33329E TECUMSEH: 33329F TECUMSEH: 33519 TECUMSEH: 33519A TECUMSEH: 33519B TECUMSEH: 33542 TECUMSEH: 33542A TECUMSEH: 35096 TECUMSEH: 3700 TECUMSEH: 37000 TECUMSEH: 8892 TECUMSEH: 88921 TECUMSEH: 88922 TECUMSEH: 88923 TECUMSEH: 88924 TECUMSEH: 88925 TECUMSEH: 8892S Fits Models: ARIENS For 8, 10 and 12 HP Snow King engines Honda Floor care equipment with LP powered engines;GXV340 and GXV390 Propane buffer engines TECUMSEH HM-70, HM-80, HMSK-80, VH-60, HMSK-85, HMSK-90, HMSK-100, HMSK-105, HMSK-110, LH-318SA, OH-318SA, OHSK-100, OHSK-110, OHSK-120, OHSK-125, OHSK-130, OHSK-80 and OHSK-90; for 8, 10 and12 HP Snow King engines Specs: Teeth:16 teeth on gear Volt:120 Includes starter, starter button, power cord and hardware Made by an OEM supplier Additional Information: Uses our 435-911 Electric Starter Cord
Product reviews for "Tecumseh Starter"
Not showing 1 review left without comment.
This item has been added to your cart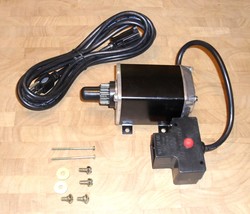 Snowblower starter for Tecumseh Snow King, HM70, HM80, HMSK80, VH60, HMSK85
added to cart.
900 available in stock
View Cart
or
continue shopping
.

Please wait while we finish adding this item to your cart.