RARE Original & Signed Galya Pillin Tarmu and similar items
RARE Original & Signed Galya Pillin Tarmu Large Still Life Pastel Art Painting
OBO
Seller accepts offers on this item (you can make your offer during the check out process).
View full item details »
Shipping options
This reflects the seller's handling time and may not include time spent in transit.
If you have questions about shipping, please contact the seller.
Return policy
Purchase protection
Catalog info
View full item details »
Shipping options
This reflects the seller's handling time and may not include time spent in transit.
If you have questions about shipping, please contact the seller.
Return policy
Purchase protection
Catalog info
Item traits
| | |
| --- | --- |
| Reviews: | |
| Category: | |
| Quantity Available: | Only one in stock, order soon |
| Condition: | Used |
Listing details
| | |
| --- | --- |
| Seller policies: | |
| Shipping discount: | Items after first shipped each discounted $0.00 | Free shipping on orders over $1,000.00 |
| Price discount: | 20% off w/ $200.00 spent |
| Posted for sale: | More than a week ago |
| Item number: | 484439433 |
Item description
FREE SHIPPING WITHIN THE USA ONLY, I WILL SHIP WORLDWIDE AT BUYERS EXPENSE FOR YOUR CONSIDERATION IS A ORIGINAL, RARE PASTEL PAINTING BY HIGHLY ACCLAIMED LISTED ARTIST GALYA PILLIN TARMU THIS WONDERFUL WORK OF ART IS A UNTITLED STILL LIFE CREATED PASTEL ON PAPER, HAND SIGNED DATED BY THE ARTIST. FRAME MEASURES 46" BY 28" INCHES PROVENANCE: FORMERLY THE ARTIST'S COLLECTION ITEM IS IN EXCELLENT CONDITION; ORIGINAL PAINT SURFACE, SCUFFS, ORIGINAL MARKINGS ON MATTING AS DISPLAYED IN THE PHOTO GALLERY. THE PAPER BACKING OF THE FRAME HAS WATER STAINS THAT DOES NOT CAUSE DAMAGE TO THE ARTWORK AT ALL. About the Artist GALYA PILLIN TARMU (1926 - ) Galya Pillin Tarmu is an artist whose paintings manifest an extensiveness use of color, energy and emotion. While viewing her imagery you are immediately swept up in the complex structure of the picture plane. This is especially true of her figurative subjects; it is as though they are communicating their immediate feelings; and the observer is interacting with the painting. It can be disconcerting and stimulating at the same time, depending on the subject matter. Becoming one with the picture is what very few artists can ever hope to achieve for their audience. At 83, she is as vibrant as ever; painting is her life and she cherishes every moment. Ms. Tarmu still paints almost every day, not wanting to be interrupted she locks herself into her studio and takes the phone off the hook. Although a contemporary, her expressive style of painting seems to have a connection to an earlier period. Her expressionist voice is analogous to the German movement that took place at the turn of the century. Die Brücke (The Bridge) was a small group of painters (Founding members were Fritz Bleyl, Erich Heckel, Ernst Ludwig Kirchner and Karl Schmidt-Rottluff. Later members were Emil Nolde, Max Pechstein and Otto Mueller) that transformed the world of painting. Die Brücke is sometimes compared to the Fauves. Both movements shared interests in primitivist art. Both shared an interest in the expressing of extreme emotion through high-keyed color that was very often non-naturalistic. Both movements employed a drawing technique that was crude, and both groups shared an antipathy to complete abstraction. Artist Statement Born to a cultural heritage of suffering, I was warned at an early age that I should be an Artist (with a capital A) only if I absolutely must, only if there was no other alternative for me. Art was a commitment, a calling, a vocation in the religious sense. I had a longing to make something intensely, even painfully beautiful. So I took up the challenge with a great deal of excitement, an excitement which has not waned over the years. The technical aspects of learning my art/craft were not where the suffering lay, since I was born with talent. And there was the whole incredible, fabulous world of art at my fingertips, since I grew up at the Art Institute of Chicago and was fortunate enough to have an art history teacher who presents the history of art not only in its awesome beauty, but also with every kind of social meaning. I still remember her vividly - her name was Kathleen Blackshear. Throughout years of painting, drawing and printmaking, I have become very aware that what I struggle with are the contradictions: the fleeting opposed to the materially permanent, the animal and the transcendent, the lean and the fat, the mean and the generous, the decorative versus the austere and the erotic opposed to the modest. Life is full of these contradictions, which I try to resolve in my painting. What it means to be poor and rich at the same time, simultaneously loving and hating, being both tired and alert, fearful and courageous - resolving these contradictions is where the struggling and suffering come in. But then, if I do manage to resolve some of these contradictions, there is the reward of great enjoyment and empowerment. A great many painters have come to my assistance: Giotto, Vermeer, Velasquez, Turner, Goya, Degas, Toulouse-Lautrec, Manet, Whistler, Sargent, Chase, Munch, early Ensor, Schiele, Klimt, Corot and - in my own time - Fritz Scholder, Elmer Bischoff and Alice Neel. These are painters who, like me, wrestled with art's complexities and contradictions. Through it all I have developed my own voice, my own poetry.
This item has been added to your cart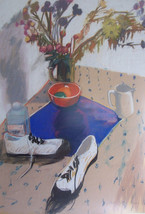 RARE Original & Signed Galya Pillin Tarmu Large Still Life Pastel Art Painting
added to cart.
Only one available in stock
View Cart
or
continue shopping
.

Please wait while we finish adding this item to your cart.
Get an item reminder
We'll email you a link to your item now and follow up with a single reminder (if you'd like one). That's it! No spam, no hassle.