Vintage MURANO Glass Art Cobalt Blue and 13 similar items
More details about this item
LOW COST SHIPPING WITHIN THE USA, BUT I WILL SHIP WORLDWIDE AT BUYER'S EXPENSE MURANO GLASS ART HERE FOR YOUR CONSIDERATION IS A VINTAGE MURANO BULLICANTE COBALT BLUE HANDBLOWN WITH CONTROLLED AIR BUBBLES TABLE DISPLAY THE MURANO DISPLAY IS A SCULPTURED GLASS IS AS DISPLAYED, IT IS A STUNNING AND CAPTIVATING COBALT BLUE COLOR WITH A UNIQUE SHAPE. THE GLASS PIECE IS SOLID HEAVY AND HAS A POLISHED FINISH. MAKES AN IDEAL PLACEMENT FOR A DISPLAY TABLE, OR ADD TO OTHER HANDBLOWN ART GLASS. MEASURES APPROX 7" WIDE AND 1 1/2" IN HEIGHT CONDITION IS VERY GOOD LIKE NEW.
Why are we showing these items?
These items aren't really that similar to your original item, we just thought we'd show em for kicks
Catalog
Murano Glass Art

Jaxsprat's U...

Jaxsprat's U... pg 2

Category "Italian"
Catalogued as "Murano Glass Art"

This item has been added to your cart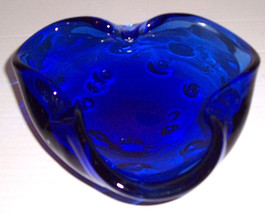 Vintage MURANO Glass Art Cobalt Blue Bullicante Designed Table Display With Air
added to cart.
Only one available in stock
View Cart
or
continue shopping
.

Please wait while we finish adding this item to your cart.