Vintage Heidi Daus Ring, 7, Multi Color and 23 similar items
Item Details
Country/Region of Manufacture
China
More details about this item
Exquisite, Heidi Daus ring in size 7, regal multi color crystal abstract infinity swirl design, double signed "Heidi Daus" and "CN", a collector's delight!
Why are we showing these items?
These items aren't really that similar to your original item, we just thought we'd show em for kicks
Catalog
Heidi Daus Ring

"Ring"

"Ring" pg 2

Category "Rings"
Catalogued as "Heidi Daus Ring"

This item has been added to your cart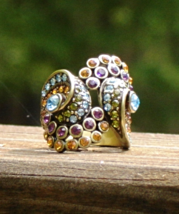 Vintage Heidi Daus Ring, 7, Multi Color Crystals, Regal Swirl, Signed Heidi Daus
added to cart.
Only one available in stock
View Cart
or
continue shopping
.

Please wait while we finish adding this item to your cart.