Magic the Gathering MTG Blue Flying (60) and 13 similar items
More details about this item
Category: Magic the Gathering For sale is a (60) card (plus two checklist cards) constructed "Flying" all blue deck for the game Magic The Gathering, built by yours truly. It features a mixture of played and brand new / never-been-played cards (sorry, I couldn't tell you which is which, though assume older cards have almost certainly been played). This deck comes with the following cards [Please note that (C) stands for Common, (U) for Uncommon, (R) for Rare, and (MR) for Mythic Rare]: (3) SORCERIES: *(1) Void Snare (C) *(1) Tidal Surge (C) *(1) Counsel of the Soratami (C) (10) INSTANTS: *(1) Mizzium Skin (C) *(1) Downsize (C) *(1) Anticipate (C) *(1) Into the Roil (C) *(1) Crypsis (C) *(1) Dance of the Skywise (C) *(1) Repulse (C) *(1) Calculated Dismissal (C) *(1) Sudden Storm (C) *(1) Fact or Fiction (C) (2) ENCHANTMENT: *(1) Invisibility (C) *(1) Tricks of the Trade (C) (25) CREATURES: *(1) Errant Ephemeron (C) *(1) Kapsho Kitefins (U) *(1) Riverwheel Aerialists (U) *(1) Isperia's Skywatch (C) *(2) Wave-Wing Elemental (C) *(1) Vigilant Drake (C) *(1) Cloud Manta (C) *(2) Advanced Hoverguard (C) *(1) Wayward Soul (C) *(1) Ojutai Interceptor (C) *(1) Cloud Spirit (C) *(1) Skywinder Drake (C) *(2) Wind Drake (C) *(1) Quickling (U) *(2) Welkin Tern (C) *(2) Seacoast Drake (C) *(2) Cloudfin Raptor (C) *(2) Faerie Impostor (U) (20) LANDS: *(20) Basic Islands Card conditions range from fair to 'like new', but most are in great shape. Please note this deck features cards from before Modern format. This deck will make quick work of your opponent, especially if they are lacking flyers! NOTE ABOUT SHIPPING: I do combine on shipping, though I've had trouble with Bonanza's 'combined shipping' system. If you buy more than one item and it charges you twice for shipping, I will refund any unused portion. If you would like to know shipping cost ahead of time, please let me know the items and your zip code and I can provide that. I do NOT ship internationally. I apologize for this, but due to my work schedule and the post office's hours it's difficult for me to get there to mail international packages. I have made exceptions based on the amount spent and if I have days off, so you are welcome to ask! I just can't promise anything, unfortunately.
Why are we showing these items?

These items are in the same booth & category as the original item

Booth

King Collect...

Magic The Gathering Trading Card

Category "Playabl..."

"Card"

King Collectibles - 80s Toys, Trading Cards, Vintage Items & More!

This item has been added to your cart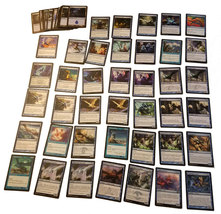 Magic the Gathering MTG Blue Flying (60) Card Custom Starter Deck * 02
added to cart.
Only one available in stock
View Cart
or
continue shopping
.

Please wait while we finish adding this item to your cart.