Russian Amazonite Gemstone Round Beaded and 50 similar items
Item Details
Country/Region of Manufacture
United States
More details about this item
Russian Amazonite gemstone round beaded necklace, Grade AA stones, 10mm stones, necklace is 18 inch and adjustable to 19 inch. Hand knotted with Beadalon Dacron fiber cord, a braided Dacron fiber that resists both abrasion and stretching. The snakeskin-like texture of this cord gives it grip, so knots are more secure. Completed with sterling cord guards and a silver plated lobster claw clasp. Amazonite is a translucent to opaque microcline feldspar composed of potassium aluminum silicate. Amazointe, also known as Amazon Stone, ranges in color from blue-green to green. It's an opaque stone often found with white, yellow, or gray inclusions and a silky luster or a silvery sheen. Mohs hardness 6-6.5. Amazonite was named after South America's Amazon River, which flows through Brazil. However, mineralogists claim that no green deposits of feldspar exist in this region. Amazonite and other green feldspars does occur naturally in other areas of Brazil but not in the Amazon River. Amazonite is associated with deposits of granite and quartz and is found in parts of Colorado, USA, Norway, Canada, Russia, India, Madagascar, Nambia and Tanzania. The coloration varies from light green to a darker ''emerald'' green, depending on the region it comes from. . * Russian Amazonite stones, Grade AA, beaded necklace * Necklace length, 18 inch, adjustable to 19 inch. * Stone size: 10mm * Hand knotted with Beadalon Dacron fiber cord. * Sterling clasp and cord guards.
This item has been added to your cart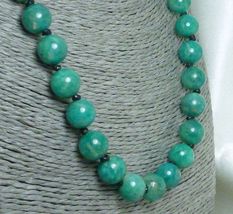 Russian Amazonite Gemstone Round Beaded Necklace
added to cart.
Only one available in stock
View Cart
or
continue shopping
.

Please wait while we finish adding this item to your cart.