Bloody Zombie GNOME-BIE-ETT GIRL Walking and 50 similar items
Item Details
Model
ZOMBIE HORROR GNOME-BIE-ETT GIRL-FEMALE-WIFE
theme
zombie, horror, Halloween, Walking Dead, funny,gag
Body size
15-in(37.5cm) H x 6-in (15cm) W x 6-in (15cm) Deep
exact brand
Forum Novelties
use
yard garden decoration, Halloween party prop
Material
hollow molded plastic
*FREE SHIPPING FOR US MAINLAND
Alaska, Hawaii, Puerto Rico- Please Inquire!!!
More details about this item
Creepy Walking Dead Zombie Bloody HORROR GNOME-BI-ETTE GIRL Female Wife Funny Garden Yard Lawn Decor Scary Haunted House Cemetery Graveyard Gory Halloween Prop Decoration She's REALLY Mad and coming after you!!! Scary dark gruesome funny bloody horror GNOME-BI-ETTE - Zombie lawn yard garden decor gnome evil demon statue, is sure to scare off trespassers… any time, not just as haunted house decor, costume party decoration or Halloween prop. Not even Gnomes can escape the Walking Dead! Horrific Female GNOMBIE figurine, of durable hard hollow plastic, stands approx. 15-inches (37.5cm) tall. Sturdy construction can be displayed indoor or outdoor. Enough painted detail to startle… make you pause… then laugh! Very light weight and creepy, her hands are holding the bones of her latest victim and wants to EAT YOUR BRAINS! Got a garden that is just dying for some attention? Then you may want to match it up with some little gals that know a thing or two about making things dead. You may be asking yourself, what purpose could this haunting miniature freak possibly serve on your lawn? Well, for one thing, they can save you the trouble of ever having to utter, ''Get off my lawn, you darn kids!''. Just when you thought it was safe to go back into the back yard garden, along comes a blood thirsty ''GNOME-BI-ETTE'' with only one thing on her mind… to take you out and feast on your innards! This flesh-eating monster wants you dead… Shock friends, family and neighbors with your horrible choice of style in yard decor, or scare off neighborhood strays by placing GNOMBIE strategically in your garden. Sure to frighten all who pass. Horrifying, funny prank joke or gag gift! No lawn, yard or garden is truly complete without a gnome… This berserk creature may be just the look you've been after… According to legend, the gnome will protect your garden, but this gnome is different… The addition of this innocent lawn figure can turn into a murderous nightmare, as this pint-sized serial killer takes protecting the garden to a terrifying, relentless extreme… There's something out to get you… A gore loving, blood-thirsty GNOMBIE, ready to eat the brains of other unsuspecting lawn ornaments!!! ***Please Note: Hollow, durable plastic is lightweight, so to prevent GNOMBIE from ''traveling'' in the wind or rain, you may want to carefully cut or drill a hole in the base, to fill it with sand, pebbles, rocks, marbles, plaster, etc., and re-seal the hole with outdoor glue or even duct tape. Another option is to attach her to a heavy base with screws or outdoor adhesive, or hang her from a tree or post!!! New in manufacturer packaging. Material: Durable hard hollow Plastic-PS Size: Approx. 15-inch tall (37.5cm) x 6-inch (15cm) wide x 6-inch (15cm) deep. Base approx. 7-inch wide x 6-inch deep *Not intended for use in play by children under 14. Brand: Forum Novelties MPN: HH-FN-73333 UPC: 721773733338 *FREE SHIPPING for USA 48 MAINLAND States only* Alaska, Hawaii Puerto Rico- Please Inquire!
This item has been added to your cart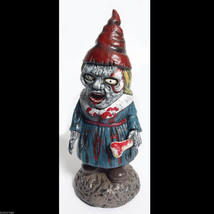 Bloody Zombie GNOME-BIE-ETT GIRL Walking Dead Horror Prop Garden Yard Decoration
added to cart.
2 available in stock
View Cart
or
continue shopping
.

Please wait while we finish adding this item to your cart.