Halloween Prop-CROCODILE Alligator Toilet and 50 similar items
Item Details
Model
CROCODILE ALLIGATOR SNAKES TOILET TOPPER
MPN
HH-DT-154044-1306-TOILCROC
Type
Re-usable: Cling, Tattoo, Decal, Peel'N'Place
use
Halloween Party, Practical Joke, Gag Gift
exact type REMOVABLE
Lid Topper Decoration, Toilet, Seat, Commode, Loo
title
CROC on the CRAPPER BUTT BITER!!!
theme
jungle, safari, pirate, Peter Pan
Style
Crocodile,Alligator,Horror,Haunted House,Halloween
More details about this item
Realistic Horror Prop CROCODILE ALLIGATOR SNAKES TOILET TOPPER Restroom Tattoo Cling Sticker Grabber Decal Bathroom Halloween Decoration-Peter Pan Pirate Voodoo Mardi Gras jungle safari haunted house create scene setter CROC on the CRAPPER BUTT BITER!!! The myth... The urban legend... It's TRUE... There are ALLIGATORS in the SEWER!!! Scary Gothic Bathroom Decor Halloween Decoration Lifelike REPTILE SERPENT TOILET SEAT LID TOPPER Tattoo Jumbo Cling Decal Grabber Peter Pan Pirate Voodoo Jungle Safari Witch Craft Haunted House Prop Joke Prank Gag Gift, Cheap Halloween Props, Cheap Halloween Decorations, NEW Detailed SCARY, SPOOKY and GROSS... Fresh Decor from a Creepy Haunted House! HALLOWEEN Prop Decor Floor Gore Wall Grabber Window Cling Can be used on most smooth surfaces, such as mirrors, refrigerators and windows *PLEASE NOTE: ***This is a regular window cling... with Non-sticky surface*** Static Cling: to use on SMOOTH SLICK surface. Apply immediately when still damp. For other surfaces, please use clear tape. Cling size approx 13-inch Long x 11-inch Wide (toilet seat/lid) *PLEASE NOTE: this a grabber with static cling properties for easy repositioning and removal. Sheet approx 15-inch x 12-inch Easily peel n place on any clean and dry *STANDARD-SIZE toilet lid. Perfect decoration or prop for any bathroom! Smooth vinyl-like plastic can be displayed on flat slick non-porous surface. Easy to use - Removable - Peel'n'Place - Will adhere to most smooth surfaces. -Removable and fully repositionable -Leaves no residue -For temporary use only. Place this decal on your toilet lid for a creepy surprise for your family and guests! Reusable Decorations Directions: 1) Clean surface to be decorated and dry thoroughly. 2) Remove cling from original backing and apply to surface. 3) Remove air bubbles by smoothing surface from the center outward. Reposition as needed. *Always be sure to test before applying to surface, may leave a mark. *Not recommended for use on floors. ***Please Note: Item will be shipped rolled up in a cardboard tube, and may need to be laid flat for a few days to straighten back out. mpn: HH-DT-154044-1306-TOILCROC upc: 639277540447 - - -
This item has been added to your cart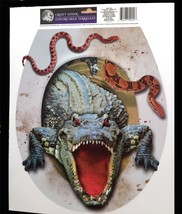 Halloween Prop-CROCODILE ALLIGATOR TOILET TOPPER-Cling Decal Bathroom Decoration
added to cart.
3 available in stock
View Cart
or
continue shopping
.

Please wait while we finish adding this item to your cart.