Merkaba Star,blue Tigers Eye, Energy Charged and 50 similar items
Merkaba Star,blue Tigers Eye, Energy Charged Natural Carved 3rd Eye Chakra
View full item details »
Shipping options
Estimated to arrive by Mon, Jun 24th. Details
This estimate is based on:
The seller's handling time
Standard shipping (1 to 5 business days) transit time to US
Actual delivery times may vary. Have shipping questions? Contact the seller
FREE via Standard shipping (1 to 5 business days) to United States
Ships from United Kingdom

Return policy
None: All purchases final
Purchase protection
Catalog info
View full item details »
Shipping options
Estimated to arrive by Mon, Jun 24th. Details
This estimate is based on:
The seller's handling time
Standard shipping (1 to 5 business days) transit time to US
Actual delivery times may vary. Have shipping questions? Contact the seller
FREE via Standard shipping (1 to 5 business days) to United States
Ships from United Kingdom

Return policy
None: All purchases final
Purchase protection
Catalog info
Item traits
| | |
| --- | --- |
| Category: | |
| Quantity Available: | 22 in stock |
| Condition: | New with tags |
| UPC: | Does not apply |
| Brand: | Unbranded |
| Color: | Brown |
| Country/Region of Manufacture: | India |
| Features: | Natural |
| Type: | Unit |
| Gemstone: | BLUE TIGERS EYE |
| Unit Quantity: | 1 |
| Size: | 20mm to 25mm (Point to Point) Approx |
| Natural/Synthetic: | Natural |
Listing details
| | |
| --- | --- |
| Seller policies: | |
| Shipping discount: | Items after first shipped at flat $1.00 | Free shipping on orders over $60.00 |
| Price discount: | 10% off w/ $100.00 spent |
| Posted for sale: | More than a week ago |
| Item number: | 554827368 |
Item description
Each Hand Crafted Crystal Merkaba Star is Between 20mm to 25mm approx from tip to tip on edge Please note that this is hand made with natural crystals formed over millions of years therefore may have some natural imperfections. This also means that each crystal we sell is completely unique and so may differ from the pictures shown slightly. This does not affect the healing properties in any way they can differ in size slightly so please be aware. Each Merkaba will be Reiki Charged as one of our numbers has practiced for many years.. Your Star will be sent wrapped There are many ways to recharge and use a Merkaba, however as you are searching out a Merkaba Star you must interested in learning about them, we recommend the various sites so please research. What does the name Merkaba mean? The Egyptians translation of Merkaba is broken down by syllable to mean: Mer - rotating fields of light / Ka - spirit / Ba - soul. The Merkaba is believed to achieve transformation on all levels of existence. In Hebrew, Merkaba literally means - "Chariot". The Merkaba literally becomes a vehicle for ascension. Blue Tiger Eye (also called Hawk's Eye, Tiger's Eye, Tigereye) is a very soothing stone as it aids in reducing stress, increasing calm and easing anxiety. Shimmery Blue Tiger Eye can illuminate issues that may have been difficult to see otherwise. Blue Tiger Eye helps to open, clear and align the mid to higher range chakras, which will assist in speaking with clarity and acting from a place of integrity. Blue Tiger Eye works extremely well with the Throat and Third Eye chakras, providing insight into internal conflicts and emotional or mental issues. Blue Tiger Eye brings a "go with the flow" attitude, aiding in relief from fears, phobias and hot tempers. Use Blue Tiger Eye to balance the male/female, Yin/Yang energies. Use Blue Tiger Eye to increase all forms of psychic abilities, especially clairvoyance, astral travel and remote viewing. Like all Tiger Eye, Blue Tiger Eye can be used in prosperity rituals around a candle, or in manifestation grids. ....................... ALL PHOTOS eclectic shop uk NO UNAUTHORISED USE ........................ One Supplied POSTED ROYAL MAIL FREE IN THE UK OVERSEAS AS PRICED IMPORT DUTIES / TAX ARE THE RESPONSIBILITY OF THE BUYER, PLEASE BE AWARE WHEN BUYING FROM OVERSEAS. eclectic shop uk If you have any issues then please let us know. Important information. We want you to be happy with your purchase so will do all we can to help. USE the Ask seller a question function please. Combined Postage. Combined postage is calculated at the checkout but the discount (if any) will only be picked up if you pay for all your purchases in one transaction. Please use the "Add to Basket" function rather than "Buy Now".The Basket is also used for any offer within our store ie, Buy 5 Pay for 4. Please note FREE shipping is not free it is factored into the price. [see returns] Shipping. Our working week is Monday to Friday. We aim to dispatch your order within 24 hours (Mon-Fri) from the time the order was placed. If you need your order urgently then let us know and we'll try to accommodate your request. Items of value, signed for (Not Tracked) in the UK Overseas are Tracked via Royal Mail and Mail Track This information will be available until your goods are scanned as delivered Royal Mail Signed For items are only scanned when the item has been delivered. Depending on whether the item was sent 1st or 2nd Class, this may be a few days after posting. Please check online first for any future updates on your item. Royal Mail Signed For is for our confirmation of delivery. Please keep a lookout for the delivery If Royal Mail cannot get a signature from you they will leave a card. This Card will have instructions on it for you to either get it redelivered or you can go to your nearest PDO office and collect (Remember to take i.d) if you fail to collect the goods will be returned to us. If this happens there will be a redelivery charge as the Free postage has been used. (Free is never Free it's in the price of your purchase) Price of postage will be revoked should you require a refund after they have attempted delivery. Postage Delays. If your order has not been received after 6 working days from the day of despatch then please message us. Note* We have a 1 day turn around for postage. so if you order on Friday after 13.00pm We will post on The following Monday. With respect to UK Bank holidays the delivery will be later. Returns All returns will be dealt with in accordance with the Consumer Contracts Regulations and UK law in general. Items must be returned unused within 30 days. We're unable to accept returns for tailor-made items. AND Touch Jewellery NO returns in any way for body Jewellry (Earrings, Nose Studs, Body Bars and so on) Refer to the UK Health and Safety. Return postage is the buyer's responsibility so retain your proof of postage until the refund has been processed. If an item is faulty or damaged CONTACT US as soon as possible. We are genuine and can come to an agreement. As delivery is factored in to our prices for the UK If you change your mind we reserve the right to only refund you the cost of the Item as postage has been used. Your right to cancel Your right to cancel an order for goods starts the moment you place your order and ends 14 days from the day you receive your goods. This 14 day period is the time you have to decide whether to cancel, you then have a further 14 days to actually send the goods back eclectic shop uk All prices include VAT ( UK 270 9723 86 ) for UK Customers. See our other items (description exceeds maximum possible length)
This item has been added to your cart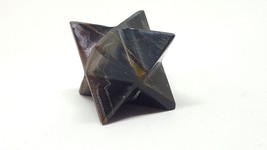 Merkaba Star,blue Tigers Eye, Energy Charged Natural Carved 3rd Eye Chakra
added to cart.
22 available in stock
View Cart
or
continue shopping
.

Please wait while we finish adding this item to your cart.


Get an item reminder
We'll email you a link to your item now and follow up with a single reminder (if you'd like one). That's it! No spam, no hassle.