Rendered at 16:19:35 05/19/19
acciaio inox FANTASTICO LISCIO SIKH Kara Punjabi NUOVA DESIGN KADA KAKAR SS10
Shipping options
This reflects the seller's handling time and may not include time spent in transit.
If you have questions about shipping, please contact the seller.
Ships from United Kingdom

Offer policy
You can make your offer during the check out process.
Return policy
Full refund available within 30 days
Purchase protection
Shipping options
This reflects the seller's handling time and may not include time spent in transit.
If you have questions about shipping, please contact the seller.
Ships from United Kingdom

Offer policy
You can make your offer during the check out process.
Return policy
Full refund available within 30 days
Purchase protection
Item traits
Category:
Quantity Available:

22 in stock

Condition:

Nuovo con etichette

Colore principale:

Argento/Acciaio Inox

Tipo:

Braccialetti

EAN:

Non applicabile

Paese di fabbricazione:

India

Genere:

Unisex

Design Senza:

SS10

Materiale Principale/ Metallo:

Acciaio Inox

Acciaio Inox Liscio SS10 KADAs:

Medio 6.9 cm (3 in stock)
Medio 6.8 cm (3 in stock)
Medio 6.7 cm (3 in stock)
Medio 6.6 cm (3 in stock)
Piccolo 6.5 cm (3 in stock)
Piccolo 6.1 cm (3 in stock)
Piccolo 6.0 cm (3 in stock)
Piccolissimo 5.9 cm (1 in stock)
Listing details
| | |
| --- | --- |
| Seller policies: | |
| Shipping discount: | Free shipping on orders over $150.00 |
| Price discount: | 10% off w/ $100.00 spent |
| Posted for sale: | More than a week ago |
| Item number: | 509798853 |
Item description
acciaio inox FANTASTICO LISCIO SIKH Kara Punjabi NUOVA DESIGN KADA KAKAR SS10 Questo foglio informativo sul prodotto è stato originariamente stilato in lingua inglese. Si prega di consultare appresso una traduzione automatica dello stesso in lingua italiani. Per ogni domanda, si invita cortesemente a contattarci. Splendida in acciaio inox liscio/Plain Sikh Singh Khalsa Kara Sikh Bracciale SS10- Punjabi nuovo idromassaggio di Design - appena arrivati Garanzia di vita per Shine. Questi rimarrà mozzafiati per la loro vita e non si arrugginisce a tutti. Non-allergica alla pelle. REGALO per la vita #karaforlife #kadaforlife Visita il mio negozio: OnlineSikhStore Check out my altri articoli! Assicurarsi di aggiungere al tuo elenco preferiti! Oltre ai valori religiosi Karas sono i migliori per essere dato come un dono ricordo/memorabile. Quindi, una brillante idea per i cari regalo. È facile da ricordare qualcuno indossando un kara come sto indossando una Kara che è stato dato a me da mia grandmum circa 15 anni fa e sempre mi ricorda di lei guardando esso o quando qualcuno mi chiede circa il mio Kara. Disegno n. SS10 Peso di questi Karas sono circa 18-27g (variabile a causa di diverse dimensioni di karas). Le dimensioni sono che il diametro interno del Karas si misura in centimetri. Questi Karas sono uno dei Kakars Sikh. (Molto liscia -come mostrato in foto - foto è ingrandita per visualizzare i dettagli) - popolare design nel mercato in questo momento - molto famoso in giovani e ci è l'unico venditore che ha questo design esclusivo per la vendita nel Regno Unito. Il peso è di 18-27g (variabile a causa di diverse dimensioni) Molto da interno liscio e pesante. Non allergica alla pelle. Questi Karas sono da Santa e benedetta città di Amritsar (la città del tempiale dorato / Darbar Sahib/Shiri Harmandir Sahib Ji). Si prega di scegliere variazione dimensioni mentre l'acquisto o parlarne con noi nella tua Nota: Si prega di misurare diametro del tuo vecchio kara o 3 e mezzo nocche di un pugno, quindi scegliere formato dalle variazioni. Si prega di leggere qui di seguito ulteriori informazioni su Sikh Kara: UN kara (punjabi: ??? (Gurmukhi), ??? (Shahmukhi) ???? (Devanagari)), è un (acciaio o ferroSARB loh) bracciale, indossato da tutti avviato Sikh. È uno dei cinque Kakars o 5Ks — esterni articoli di fede — che identificano un Sikh come dedicato a loro ordine religioso. Il kara fu istituito con il decimo Guru di Sikh Gobind Singh alla BaisakhiAmrit Sanskar nel 1699. Guru Gobind Singh Ji spiegato: Lui non riconosce nessun altro tranne me, nemmeno il conferimento di beneficenza, le prestazioni di atti misericordiosi, austerità e ritenuta il pellegrino-stazioni; la luce perfetta del Signore illumina il suo cuore, poi lo considerano come il Khalsa immacolato. -[1] Il kara è per ricordare costantemente il Sikh lavoro di discepolo a fare Dio, un richiamo costante missione di Sikh su questa terra e che lui o lei deve svolgere opere di giusti e veri e le azioni, mantenendo con il Consiglio dato dal Guru. Il Kara è un simbolo di attaccamento infrangibile e impegno verso Dio.[2] È la forma di un cerchio che è senza inizio e senza fine, come la natura eterna di Dio. È anche un simbolo della fratellanza Sikh. Come Sikh Testo sacro gliGuru Granth Sahib dice "nel decimo mese, si erano fatti in un essere umano, O mio amico commerciante, e vi sono stati dati il tempo assegnato per eseguire buone azioni".[3] Allo stesso modo, Bhagat kabir ricorda il Sikh di tenere sempre la coscienza con Dio: "Con le mani e i piedi, fare tutto il vostro lavoro, ma lasciate che la vostra coscienza rimangono con il Signore immacolato."[4] La base kara è un semplice braccialetto in acciaio disadorno, ma esistono altre forme. È stato storicamente usato come un pugno di ferro per il combattimento corpo a corpo. Campo di battaglia variazioni includono kara con punte o bordi taglienti. Sikh soldati dell'esercito indiano britannico sarebbero risolvere le controversie da competere in una forma di boxe noto come Loh-musti (pugno di ferro di Lit.) con un kara su una mano. Finitura brillante e molto decorativo. Articolo da regalo ideale per i propri cari. Siamo fornitore del Regno Unito basato OnlineSikhStore. Gli elementi possono essere raccolti dal nostro negozio a Rochester, Kent, UK. Abbiamo 100% feedback positivo. Offerta con fiducia e controllare i nostri altri elenchi fantastici. Se non siete soddisfatti del vostro acquisto, che vi daremo il 100% di rimborso sul ritorno dell'elemento. Nessuna regola dura e veloce per rimborsi e resi. Per ulteriori informazioni si prega di testo/whatsapp/viber/imocall a 07883024604. Faremo del nostro meglio per rispondere tutti i messaggi sul stesso giorno. Economia libera Royal Mail per la spedizione nel Regno Unito. Affrancatura di prima classe può essere organizzato ad un prezzo molto ragionevole specificato nell'inserzione. Gli acquirenti possono anche considerare di organizzare le proprie spese di spedizione e puoi mandarci il link o etichetta di spedizione pagamento pre. Sconti sulla spedizione saranno dato per gli acquirenti internazionali per multi-Acquista. Tutte le domande non esitate a contattarci. P.S. Il colore dell'elemento può variare leggermente a causa delle condizioni di luce e flash fotocamera. Alcuni karas potrebbe essere trascurabile piccolo nero rettifica mark sul giunto kara. Questo è sempre visto in tutte le Karas come la maggior parte del Kara lavoro fare/che modella è fatto da mani. Tuttavia, questo non influenzano il qualty/look di karas. Accettiamo il ritorno, sostituzione e fanno rimborsi ecc entro 14 giorni dall'invio data solo. Si prega di comunicare eventuali problemi con la voce in questo periodo. Per favore nota dimensioni variano più meno di 1mm a causa della variabilità della misurazione. Siete pregati di notare che ci sarà un'affrancatura supplementare spese dovute dall'acquirente in caso di swap o di scambiano a causa delle dimensioni. Pertanto, chiediamo il compratore per misurare il loro diametro di kara vecchio prima di scegliere la dimensione da variazioni. Affrancatura di ritorno sarà pagato dal compratore. Eventuali spese P p pagati sarà non-rimborsabile. Siete pregati di notare che ci può essere una rettifica/minore collottola marchi sui giunti di kara che accade a causa di rettifica il giunto inox teel. Come qualcuno che ha mai visitato negozi Kara Amritsar deve hanno assistito che questi Karas entrare jumbles e principalmente realizzata manualmente a mano. Tuttavia, seguiamo le procedure di classificazione/selezione adeguata prima di ottenere questi karas ma ancora a volte è difficile ottenere la perfezione e spero che sia comprensibile. INCASE, non siete felici con qualità, fatecelo sapere e noi vi pubblicheremo il rimborso completo dopo la verifica. Soggiorno Benedetto e si prega di acquistare con fiducia! Design No SS10 Gender Unisex Main Material/ Metal Stainless Steel Country/Region of Manufacture India Main Colour Silver/Stainless Steel Type Bracelets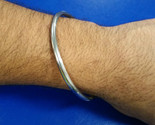 22 in stock
Available in multiple acciaio inox liscio SS10 KADAs
Price negotiable
Ships within 1 day.
Returns/refunds accepted
Contact the seller
Get an item reminder
We'll email you a link to your item now and follow up with a single reminder (if you'd like one). That's it! No spam, no hassle.