Item details
Qty available
24 in stock
Country/Region of Manufacture
China
Model
Accessories Advanced Custom Military Army Weapons for Lego Sets
This item has been added to your cart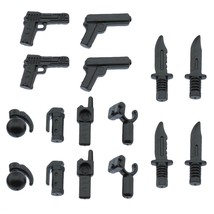 Custom Minifigures Military Army Guns Weapons Compatible w/ Lego Sets Minifigs
added to cart.
24 available in stock
View Cart
or
continue shopping
.

Please wait while we finish adding this item to your cart.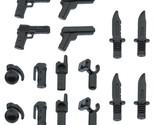 Add to cart
24 in stock
Ships within 2 days.
Returns/refunds accepted
Do you have any questions for the seller?
More about this item
Custom Minifigures Military Army Guns Weapons Compatible w/ Lego Sets Minifigs. Liven up the home brick building bin with some military armor and weapons packs. Custom accessories for Lego sets are fast becoming a new favorite. The same minifigures and Lego characters are sold online. Many popular pieces are even copies now, so customers are always looking for new accessories. Here instead are custom Lego minifigure weapons and armor. Each item is simply compatible with Lego Sets or other 2 inch Minifigure characters. Each minifigure pack is molded with high quality ABS plastic. ABS Plastic is the same type of material most building blocks companies use. Customer will receive only high quality, fine detail weapons and accessories. Each weapon is a scale replica toy only and is not mechanical. These parts are generic and simply compatible for 2 inch minifigures such as Lego and Brickarms items. Some families may worry about the violence that these compatible custom Lego sets insight. Through the news, social media, and at school, children learn about war and the military. Furthermore is the exposure from many combat or war style video games. With these custom sets, kids can get back to using their imagination instead of watching simulated violence. Many children also have parents or grandparents with a military background. Thus, parents could use these custom minifigure accessories as a learning tool. Kids will learn about military gear and weapons while creating epic battle scenes for fun. Kids will be excited to use their hands and imagination again with these awesome weapons packs. Mix and match custom accessories for hours of fun. Create scenes of cops and robbers with different weapons or have military squads locked in epic battles. All ages will enjoy setting up different Lego figures with armor and weapons. Once again these toy weapons are scale replicas compatible for Lego sets, Brickarms characters, or other 2 inch minifigures. Items Included In The Accessories Weapons Pack: 2 X Pistol (Ruger) 2 X Pistol (Glock) 2 X Buoy Knife 2 X Combat Knife 2 X Laser Sight for Rifles 2 X Walkie Talkie / Detonator 2 X Smoke / Flashbang Grenade 2 X F1 Grenade
Listing details
Shipping discount
Seller pays shipping for this item.
Posted for sale
More than a week ago