Item details
Expiration Date
Factory Fresh and Constantly Rotated
Country/Region of Manufacture
United States
This item has been added to your cart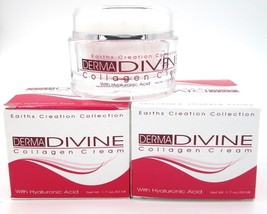 Derma Divine Collagen Skin Cream with Hyaluronic Acid (2)
added to cart.
6 available in stock
View Cart
or
continue shopping
.

Please wait while we finish adding this item to your cart.
Make an offer
6 in stock
Price negotiable
Ships within 1 day. Estimated delivery: Monday, October 30th
Returns/refunds accepted
Do you have any questions for the seller?
More about this item
For best results, use with Derma Divine Type II Collagen Capsules. The Capsules insure you get the nutrition your skin needs from the inside, while the cream insures you get what you need from the outside. Derma-Divine [HA] contains Vitamin A which helps build collagen fibers within the skin in addition to its more superficial exfoliating property. This is the basis for its use in minimizing the appearance of fine wrinkle lines. Collagen Type II help the external surface of the skin, improving moisture and smoothness. Oxidation reactions can produce free radicals, which start chain reactions that damage cells. Antioxidants terminate these chain reactions by removing free radical intermediates, and inhibit other oxidation reactions. Derma-Divine [HA] contains the following blend of powerful antioxidants: Vitamin E, Vitamin C, Grape seed oil, Pomegranate Green Tea Collagen has long been known for its ability to create suppleness and elasticity in the skin. Derma Divine takes it one step further by introducing Hyaluronic Acid to intensify the rich and luxurious effects of this cream. Soft and pure as it goes on, it penetrates the upper levels of the epidermis and saturates your skin with Elastin and Keratin to rejuvenate and fight the visible effects of aging. Derma-Divine [HA] Cream is a mix of natural ingredients; Our Specialized cream is made to fight against signs of aging. What makes Derma-Divine superior to other product on the marked is the percentage of Hyaluronic Acid. Hyaluronic Acid helps keep the skin smooth and "plump" through its ability to hold up to 1,000 time its weight in water. The ability to retain and hold moisture is the secret to youthful, healthy, and vibrant skin. Aging robs the skins of the ability to hold in moisture. As we get older our bodies produce less and less Hyaluronic Acid. The drop in Hyaluronic Acid starts at around the age of 18-20 years. After about age 25, the body starts aging and the collagen starts to break down. This is when your body will start showing fine lines around the mouth and eyes as the first signs of aging appear. After the age of 40 the down slide becomes apparent. Skin starts to lose its elasticity and lines and wrinkles appear. Hyaluronic Acid also supports de formation and maintenance of collagen, an important connective tissue. Collagen degradation is believed to cause a decrease in skin tone and elasticity. Our exclusive formula contains Allantoin [HA] amplifies the increase of water content of the extracellular matrix and enhancing the shedding of upper layers of dead skin cells, increasing the smoothness of the skin; promotion of cell proliferation and wound healing; and a soothing, anti-irritant, and skin protectant effect by forming complexes with irritant and sensitizing agents. Froo www.froo.com Froo Cross Sell, Free Cross Sell, Cross promote, Marketing, listing Apps, Apps, Application
Listing details
Shipping discount
Seller pays shipping for this item.
Posted for sale
More than a week ago