Item details
Qty available
75 in stock
Country/Region of Manufacture
United States
This item has been added to your cart
CLOSE OUT PRICING Eco Thank You Simple Reusable Shopping Bag
added to cart.
75 available in stock
View Cart
or
continue shopping
.

Please wait while we finish adding this item to your cart.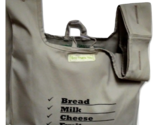 Make an offer
75 in stock
Available in multiple brands
Price negotiable
Ships within 5 days. Estimated delivery: Wednesday, January 3rd
Returns/refunds accepted
Do you have any questions for the seller?
More about this item
Exceptional Quality,functionality and Classic Look! A one of a kind reusable shopping bag that you will love to remember to bring with you. The complements you will get when you use the Eco Thank You shopping bags will make you want to remember to bring them in with you every time you shop; and these bags can be washed and reused for many years to come so you will also feel good about reducing waste and plastic bags in the environment. Classic, durable quality canvas twill fabric to withstand multiple washes and trips to the store. (This makes your wallet and the environment happy!) Wide sturdy handles for comfortable carrying when loaded (your arms and hands will love this). Reinforced slits in each handle to fit onto bagging station arms (this will make your bagger very happy!) Breakaway stabilizer loops front and back for easy set-up, faster loading, and quick removal (this will make you, those waiting in line, the bagger and the retailer happy!) One or multiple bags will load on to a retailers bagging stand or carousel, side gussets expand for ample capacity, easily filled with a grab and go functionality. Moves you and your purchases through check out and out the door easily. (This will make the retailer and customers waiting in line very happy!) You and your cashier will love the Eco Thank You reusable shopping bag. Individuals or families using 5-10 Eco-Thank You bags for weekly shopping equates to 260-520 fewer plastic bags per year provided by retailers, disposed of in landfills, clogging up waterways or cluttering the landscapes of the world. ***Groceries not included for demonstration purposes only*** Unexpanded Size: 19.5" x 14" (1.5" -2" generous side gussets expand for additional capacity) California, New York, Oregon, Washington State
Listing details
Shipping discount
Items after first shipped at flat $0.00 | Free shipping on orders over $50.00
Posted for sale
More than a week ago