Rendered at 19:31:29 06/24/19
GET ON BOARD! Songs of Freedom 1968 7" Spirituals / Slavery History 6 tracks PS
Offer policy
You can make your offer during the check out process.
Return policy
Full refund available within 30 days
Purchase protection
Offer policy
You can make your offer during the check out process.
Return policy
Full refund available within 30 days
Purchase protection
Item traits
| | |
| --- | --- |
| Category: | |
| Quantity Available: | Only one in stock, order soon |
| Condition: | Used |
| Style: | Religious & Devotional Gospel |
| Record Size: | 7" |
| Duration: | Single |
| Record Grading: | Very Good (VG) |
| Sleeve Grading: | Good Plus (G+) |
| Record Label: | Triton |
| Release Year: | 1968 |
| Genre: | Religious & Devotional |
| Speed: | 33 RPM |
Listing details
| | |
| --- | --- |
| Shipping discount: | Seller pays shipping for this item. |
| Posted for sale: | More than a week ago |
| Item number: | 264623654 |
Item description
GET ON BOARD! 'Songs of Freedom' Vinyl grading - VG Sleeve grading - Good 3 pictures uploaded, sleeve close ups, front and rear, disc - apologies for the tripod reflection - and a view of the label details. 7 tracks. Vinyl record released in association with the Freedom Train publication, by Dorothy Sterling. Scholastic Book Services issue. Catalogue number - CC 0613 Duration - 15 minutes, approx. Directed by Ellen Stern Ryp Soloist - Bob Chapman Arranged and Conducted by Buryl Red Matrix numbers - Side One - XB-139 T2 Side Two - XB-38 P1 Please read the record grading guide below and familiarize yourself with the grades used. Goldmine standards adhered to, plus full description in all aspects. I strive to grade fairly, and have never sold a record without listening to it first. Visual grading is not an option at all. This 46 year old 7" I have graded as being in Very Good condition. Both sides play through with no jumping, skipping or any other audio horrors. There is a bit of isolated, low-level and generally non-intrusive surface noise common to any used vinyl of this vintage, and shouldn't spoil your authentic listening experience! A perfectly acceptable vinyl-to-mp3 transfer, with a suitable turntable. Keep it real but in a digital way! The sleeve I have graded being in Good condition with light scuffing to the edges, minor bumps to the corners, and very light 7" ring diameter wear marks front and rear, plus other small signs of storage and age. Tracklisting - Side One - Introduction Get On Board Steal Away Didn't My Lord Deliver Daniel? Side Two - Let My People Go Good News, Chariot's Coming John Brown's Body Any questions, email and I'll help if I can. Thanks for looking! :o) Buy-it-Now, 9.75 Postage - USA - Free Shipping...nice! * Records are posted in dedicated record mailing boxes with 2 corrugated cardboard stiffeners. GRADING GUIDE. (Goldmine Standard) MINT (M) Absolutely perfect in every way. Often rumored but rarely seen, and if it is not just out of the pressing plant it is unlikely that, personally, I would ever use this grading. NEAR MINT (NM OR M-) A good description of a NM record is "it looks like it just came from a retail store and it was opened for the first time." In other words, it's nearly perfect. NM records are shiny, with no visible defects. Writing, stickers or other markings cannot appear on the label, nor can any "spindle marks" from someone trying to blindly put the record on the turntable. Major factory defects will be absent. If played, it will do so with no surface noise. NM covers are free of creases, ring wear and seam splits of any kind. VERY GOOD PLUS (VG) or EXCELLENT (E) A good description of a VG record is "except for a couple minor things, this would be Near Mint." VG records may show some slight signs of wear, including light scuffs or very light scratches that do not affect the listening experience. Slight warps that do not affect the sound are OK. Minor signs of handling are OK, too, such as telltale marks around the center hole, but repeated playing has not misshapen the hole. There may be some very light ring wear or discoloration, but it should be barely noticeable.VG covers should have only minor wear. A VG cover might have some very minor seam wear or a split (less than one inch long) at the bottom, the most vulnerable location. Also, a VG cover may have some defacing, such as a cut-out marking. Very Good (VG) Many of the imperfections found on a VG record are more obvious on a VG record. VG records lack most of the original gloss found on factory-fresh records. Groove wear is evident on sight, as are light scratches deep enough to feel with a fingernail. When played, a VG record has surface noise, and some scratches may be audible. Minor writing, tape or a sticker can detract from the label. They remain a fine listening experience, just not the same as if it were in better shape.VG covers will have many signs of human handling. Ring wear in the middle or along the edges of the cover where the edge of a record would reside, is obvious, though not overwhelming. Some more creases might be visible. Seam splitting will be more obvious; it may appear on all three sides, though it won't be obvious upon looking. A small pen or ink mark, or an original price sticker may be noticeable. Good (G), Good Plus (G) or Very Good Minus (VG–) Good does not mean bad! The record still plays through without skipping, so it can serve as filler until something better comes along. But it has significant surface noise and groove wear, and the label is worn, with significant ring wear, heavy writing, or obvious surface damage to the label. A Good to VG– cover has ring wear, has seam splits obvious on sight and may have even heavier writing. POOR (P) and Fair (F) Poor (P) and Fair (F) Records that have obvious damage, they are cracked, impossibly warped, or skip and/or repeat when an attempt is made to play them.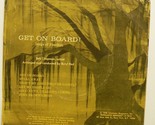 1 in stock
Price negotiable
Returns/refunds accepted
Contact the seller
Get an item reminder
We'll email you a link to your item now and follow up with a single reminder (if you'd like one). That's it! No spam, no hassle.