Rendered at 14:45:37 05/26/19
LYDIA DARVAS "MY PARADISE" HAWAII MIXED MEDIA PAINTING
Shipping options
This reflects the seller's handling time and may not include time spent in transit.
If you have questions about shipping, please contact the seller.
Offer policy
You can make your offer during the check out process.
Return policy
Purchase protection
Catalog info
Shipping options
This reflects the seller's handling time and may not include time spent in transit.
If you have questions about shipping, please contact the seller.
Offer policy
You can make your offer during the check out process.
Return policy
Purchase protection
Catalog info
Item traits
| | |
| --- | --- |
| Category: | |
| Quantity Available: | Only one in stock, order soon |
| Condition: | Used |
| Date of Creation: | 1970-1989 |
| Region of Origin: | US |
| Medium: | Acrylic |
| Style: | Realism |
| Original/ Reproduction: | Original |
| Signed?: | Signed |
| Original/Reproduction: | Original |
| Listed By: | Dealer or Reseller |
| Size Type/Largest Dimension: | Large (Greater than 30in.) |
Listing details
| | |
| --- | --- |
| Seller policies: | |
| Shipping discount: | Seller pays shipping for this item. |
| Price discount: | 20% off w/ $200.00 spent |
| Posted for sale: | More than a week ago |
| Item number: | 126427481 |
Item description
LYDIA DARVAS "MY PARADISE" HAWAII MIXED MEDIA PAINTING FREE SHIPPING WORLDWIDE FOR THIS ITEM HERE FOR YOUR CONSIDERATION IS A RARE, AUTHENTIC, AND ORIGINAL FRAMED OIL PAINTING CREATED BY THE HIGHLY ACCLAIMED ARTIST LYDIA H. DARVAS TITLED: "MY PARADISE" As an American painter of fine art in the Contemporary Modernist and Abstract Expressionist Style, I incorporate into this style the portraits and caricatures of legendary and/or famous American personalities who have significantly contributed to American history and culture. THIS MASTERPIECE DEPICTS A BEAUTIFUL HAWAIIAN WOMAN AMIDST A TROPICAL ISLAND LANDSCAPE. SURRONDED BY LUSH VEGETATION AND EXOTIC FRUITS. ONCE AGAIN LYDIA SHOWCASES HER ASTONISHING EFFECT OF VIVID HUES WITH GREAT USE AND PLACEMENT. THE CANVAS DISPLAYS STRONG RAISED TEXTURED STROKES WHICH IS JUST ONE OF LYDIA'S CLASSIC SIGNATURE STYLES AND TECHNIQUES. LYDIA DARVAS' WORK HAS BEEN HIGHLY REGARDED WORLDWIDE. HER PIECES HAVE BEEN EXHIBITED GLOBALLY IN PUBLIC PRIVATE INSTITUTIONS GALLERIES. HER PAINTINGS HAVE GRACED THE WALLS WITHIN THE HOMES OF FAMOUS DESIGNERS, CELEBRITIES AND ART CONNOISSEURS SUCH AS THE LATE GIANNI VERSACE, AND SERGIO VALENTE TO NAME JUST A FEW. THIS IS A GREAT FOCAL PIECE TO ADD TO YOUR CURRENT COLLECTION CREATED BY A HIGHLY SKILLED PROLIFIC ARTIST. THE ITEM MEASURES 40" BY 30" INCHES. ACRYLIC AND MOLDING PASTE ARE THE MIXED MEDIA COMPOUNDS USED TO CREATE THIS MASTERPIECE. THE PAINTING IS IN IMMACULATE CONDITION AND IS READY TO BE FRAMED. Lydia Darvas Date of Birth: October 8, 1935 Lydia Darvas has worked in oils, acrylics, multimedia, collages. She has used various styles starting with realistic, subsequently changing to surrealistic and abstract and finally developing a uniquely personal style characterized by hidden faces or forms embedded in surrealistic backgrounds executed on large canvasses mainly in oil but also in collages. She has named this personal style as "Comby" which indicates a combination of surrealism and collages. Occupationally induced illness: Lydia's new "Comby" technique entailed the extensive use of turpentine applied over large oil-pairited surfaces. Chronic inhalation of fumes of turpentine mixed with oil pigments containing toxic heavy metals resulted in cumulative poisoning that culminated in her hospitalization. She was diagnosed with spina! spondylolisthesis and initial stages of Parkirison's disease. As a result she was forced tc interrupt her artistic career since 1984. Since that time she has been undergoing detoxification therapy for her. AWARDS • June 6, 1976, Bicentennial Award in Multimedia from the American Heritage Art Show held in the Miami Herald Building, Miami, FL • Sept.8 - Oct.5, 1979, International Salon II held in the outskirts of Zurich, Switzerland • April 1980, First Prize from An/Ida Corporation Art Show, held in Miami, FL • November 2002, Registration in the Picture Reference Library of the National Gallery of Art, Washington, D.C. • Over my lifetime, Many other honors, second prizes and cash awards. SOLO EXHIBITIONS 1969 Twelfth Annual Allentown Exhibition Buffalo, N.Y. My artwork was reviewed in the "Buffalo Courier Express" and I received many mere commissions. Nov.27 Dec.28, 1970 Byron Hall Gallery, Miami Beach, FL 1970 Crystal House, Miami Beach, FL 1971 King-Cole Gallery Miami Beach, FL (Exhibition lasted 6 months) 1972 Diplomat Gallery, Hollywood, FL (Exhibition lasted 1 year) 1973 Hollywood Museum of Art, Hollywood, FL 1975 LoweArt Museum, Coral Gables, FL Feb.8-22, 1976 Parker Play House, Fort Lauderdale, FL 1978 to 1979 Grove House Gallery, Coconut Grove, FL 1982 1983 Konover Gallery, Miami Beach, FL (Exhibition lasted 2 full years) June 5, 1983 Poetry Art Exhibition, United Way fundraiser, Coconut Grove FL Feb.23, 1984 Archdiocese of Miami, Miami, FL (Exhibit and TV Broadcast) Feb. to April, 1984 Villanova, University, Miami Lakes, FL June 20th 2009 Comfort Zone Studio Art Expo Hollywood, FL PUBLISHED REVIEWS Jan.18, 1970 "Buffalo Courier Express", Buffalo, N.Y. (Whole Page Review about Lydia's Art) Mar.21, 1972 "The Daily Sun Reporter", Fort Lauderdale, FL Dec.29, 1972 "Sun Tattler", Hollywood, FL Sep.24, 1974 "The Journal", Miami Beach/North Miami, FL Jan. 1976 1977 "Contact", Miami, FL (Reviews on pages 20 33) Aug. 6, 1978 "The Miami Herald", Miami, FL (About Lydia's Technique) June 1982 "Apollo", page 42, London, England (British Magazine) Feb. to April, 1984 "St. Thomas of Villanova University News", Miami Lakes, FL Aug. 22, 1991 "Zivot", Bratislava, Czechoslovakia (The whole of page 19) BOOKS CITING ARTIST AND HER WORK 1977 "International Biographical Directory" (second edition) 1978-1979 Contemporary American Art in "Artist USA" (seventh edition) 1987 "Encyclopedia of Living Artists in America" COLLECTIONS Club Balneario, La Ribera de Playa Az jl, Caracas, Venezuela Historical Museum, Hamburg, N.Y. Neil Armstrong Museum at Space Center, Houston, Texas Stadthause, Zurich, Switzerland Sergio Valente (the famous men's clothing designer) bought Lydia's artwork on April 18, 1982. In addition her artwork has found its way to many private and public collections in Canada, South America and U.S.A. APPEARANCES IN LOCAL TV BROADCASTS (MIAMI. FL) Channel 4 (CBS) 1976 Channel 6 (NBC) 1978 Channel 10 (ABC) 1978 Channel 17 (WLRN) ( Public Television), 1980 EDUCATION 1949-1953 MFA, Fine Arts Academy in Bratislava, Slovakia Check out my other items! We accept Mastercard, Visa, American Express, Discover, and PayPal. All postage is calculated at cost which also includes packaging and handling fees which make our standard low cost shipping rates more appealing to our by buyers. Items will be shipped via FedEX or USPS Flat rate postal service with Delivery confirmation, unless otherwise stated in the listing. If you buy more than one item we combine shipping give a 1.00 discount on shipping for each additional item purchased within (7) days of the first initial purchase. Please allow 5 business days for delivery once item has been paid for through paypal. RETURN POLICY All items are shipped as described in the listing if the item has been damaged through shipping we'll take an assertive role to rectify the matter. We have have an excellent feedback rating because our major goal is to satisfy all our customers. PLEASE NOTE THAT THIS SELLER IS NOT AN EXPERT IN ANY OF THE ITEMS BEING OFFERED. ALL ITEMS ARE SOLD "AS IS" THEREFORE IT IS THE RESPONSIBILITY OF THE BUYER TO CHECK ALL ITEMS BEFORE PURCHASING THEIR SELECTED PRODUCT. - BUT IS RECOMMENDED ON HIGHER PRICED ITEMS. ALL SALES ARE FINAL We at Jaxsprat's Unique Collectibles have been avid treasure hunters for over fifteen years. Within the confines of our beautiful and cluttered home in sunny Fort Lauderdale, Florida we have been operating our store for over five years as a wholehearted family enterprise. Our aim is to provide and showcase quality antiques, collectibles, memorabilia, and fine art at affordable prices for everyone. We seek to ensure that our customers have a wonderful experience when shopping for collectibles in our store. If you have any inquiries or questions in reference to this item or any other item. We are available 24/7 as we make it an integral part of our customer service policy to respond to you in a efficient and timely manner. http://stores.ebay.com/Jaxsprats-Unique-Collectibles?refid=store jaxsprat11@ebay.com Every buyer gets a MyStoreRewards invitation for cash back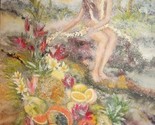 1 in stock
Price negotiable
Ships within 5 days.
Contact the seller
Get an item reminder
We'll email you a link to your item now and follow up with a single reminder (if you'd like one). That's it! No spam, no hassle.