Item details
Qty available
Only one in stock, order soon
Platform
Nintendo Game Boy Advance, Nintendo Game Boy Advance
Format
NTSC N America, NTSC N America
This item has been added to your cart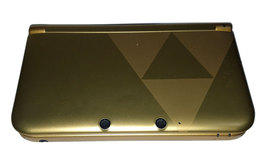 Nintendo 3DS XL Console / System Only Legend of Zelda Triforce Edition * Used
added to cart.
Only one available in stock
View Cart
or
continue shopping
.

Please wait while we finish adding this item to your cart.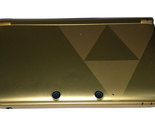 Add to cart
1 in stock
Ships within 2 days. Estimated delivery: Thursday, November 30th
Do you have any questions for the seller?
More about this item
Category: Video Games, RECENTLY ADDED ITEMS ***PLEASE NOTE: THIS SYSTEM DOES ***NOT** COME WITH THE CHARGER OR ZELDA GAME. THIS IS FOR THE SYSTEM BOX ONLY. I WILL NOT ACCEPT REFUNDS IF YOU ASSUMED THE CHARGER AND GAME CAME WITH IT AND DID NOT READ THE LISTING. PLEASE READ THE DESCRIPTION BEFORE BUYING*** For sale is a previously owned but gently used Nintendo 3DS XL system. This is the special gold 3DS with the triforce design. It is in excellent excellent condition with no scratches on the screen that I can see. The outside has a couple of small nicks but they're so small the camera wouldn't even pick them up. Overall it is in almost new condition. I barely played the system (maybe a total of 10-20 hours) before deciding to upgrade to a system that would allow me to download SNES games (this does not). I hate parting with it but I don't need two 3DS systems. PLEASE NOTE: This does NOT come with the game. It DOES NOT come with a charger. You will get the original box and everything else that came with it but no game or charger. CONDITION: Used but excellent condition; couple of tiny nicks on the front, barely there AMOUNT USED: Maybe 10-20 hours. I did not use it much before upgrading COMES WITH: The system, stylus, the box, the paperwork, AR stuff, original SD card that came with it (inside the system) [everything that originally came with it except the charger game] DOES *NOT* COME WITH: There is no charger there is no downloadable Zelda game OTHER NOTES: This is the older 3dS XL version that does not play SNES games does not have the newer design. This means it does NOT have the second analog stick The price has been lowered to compensate for the lack of a charger and game. I ask that if you pay via PayPal to please have a confirmed address. I try to get shipping as close as possible but if it's off I'll refund any extra. If you want to know exact shipping please PM me your zip code and I'll be happy to look it up. NOTE ABOUT SHIPPING: I do combine on shipping, though I've had trouble with Bonanza's 'combined shipping' system. If you buy more than one item and it charges you twice for shipping, I will refund any unused portion. If you would like to know shipping cost ahead of time, please let me know the items and your zip code and I can provide that. I do NOT ship internationally. I apologize for this, but due to my work schedule and the post office's hours it's difficult for me to get there to mail international packages. I have made exceptions based on the amount spent and if I have days off, so you are welcome to ask! I just can't promise anything, unfortunately.
Listing details
Shipping discount
No combined shipping offered
Posted for sale
More than a week ago