Item details
Qty available
20 in stock
Model
Wiggle GLOW GIANT GOOGLY EYES
Theme
Halloween, Funny, Gag, Crafts, Decorations
Styles
Styles
View A: SPOOKY (3 in stock)
View D: ROUND (3 in stock)
View C: PEEKING (7 in stock)
View B: SM/LG (7 in stock) View Details
This item has been added to your cart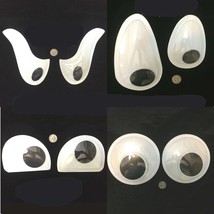 Snowman Wiggle GLOW GIANT GOOGLY EYES Jumbo Craft Gag DIY Prop Decoration-CHOOSE
added to cart.
20 available in stock
View Cart
or
continue shopping
.

Please wait while we finish adding this item to your cart.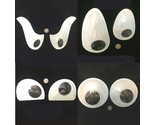 Add to cart
20 in stock
Available in multiple styles
Ships within 2 days. Estimated delivery: Monday, November 27th
Returns/refunds accepted
Do you have any questions for the seller?
More about this item
Big Pair Funny Wiggle GLOW GIANT GOOGLY EYES Jumbo Size Halloween Props Crafts Party Gag DIY Decorations-Self Stick Adhesive Backs-Christmas Halloween SNOWMAN-Decorate Tree Car Garage Door Refrigerator Mailbox Water Cooler-TWO Piece Set-Choose from FOUR Styles Pictured Kids can never seem to get enough of classic googly wiggle eyes! Hysterical massive glow-in-the-dark giant wiggle eyes turn almost anything into a hilarious gag, Christmas Snowman or Halloween decoration. These BIG googly eyes are just like their smaller counterparts, only enormously larger, and they glow in the dark! Jumbo glowing googly eyes can also comfort kids by illuminating light switches, dark corners and other things they may need to find in the night. Awesome Giant Eyes are charged by exposing to direct bright light and then glow in the dark. No batteries required! A black light will also give them an extra eerie glow! Easy to apply self-stick adhesive backs for temporary adhesion. (For more permanent applications, use your own glue to adhere or add magnets to the backs) Giant funny swirling glow-in-the-dark wiggle googly eyes. Choose from 4 available classic and crazy shapes to bring any inanimate object to life, for loads of creepy Halloween party fun or funny gag any time. Think of what you can create with these large eyes. Monsters, clowns and other crazy creatures come to life with this pair of large wiggle eyes. Surprise friends, family and co-workers by attaching these wiggle eyes to refrigerator, garage door, water cooler or anywhere you want to bring a smile. Ideal jiggly additions for crafts projects, costume making, and much more! Huge Sizes Range from 3.5 to 6-inch Wide x 4.5 to 8-inch Long (8.75 to 15cm W x 11.25 to 20cm L) ***WARNING CHOKING HAZARD: Not for under 3 yrs*** Choose ONE PAIR of Giant Glow-in-the-Dark Plastic Googly Eyes among the 4 shapes available. Each package includes 2-pieces per set. -Package included 2-pieces (Left and Right) per set pair, as pictured - Include self-stick adhesive backs - Spooky addition to Halloween outside decor - Let eyes peek out from bushes or flower beds - Ideal for decorating home, furniture, appliances, trees, mailboxes, cars, and more! -Plastic and fiberboard material -Sizes range from 3.5 to 6-inch W x 4.5 to 8-inch L (8.75 to 15cm W x 11.25 to 20cm L) Turn out the lights to see these giant eyes glow! The perfect decoration for your glow party or other themed event, these big googly eyes will have everyone's sights set high. Use to decorate trees, mailboxes and more! *Needs exposure to bright light first. Place These Extra-Large Google Wiggle Eyes out during the daylight hours to absorb bright light, or place directly under bright lamp light for a few minutes to force a quicker glow. Enjoy as you watch the eyes start to glow when darkness falls! Approx Individual Sizes by Style: -View A: SPOOKY - 4.5-inch W x 8-inch L (11.25 W x20cm L) -View B: SM/LG - 3.5 to 4.5-inch W x 5 to 7-inch L (8.75 to 11.25cm W x 12.5 to 17.5cm L) -View C: PEEKING - 5.5-inch W x 4.5-inch L (13.75 W x 11.25cm L) -View D: ROUND - 6-inch Diameter (15cm) MPN: HH-DT-GLOWGOOG UPC: 639277202741
Listing details
Shipping discount
No combined shipping offered
Posted for sale
More than a week ago