Item details
Qty available
Only one in stock, order soon
This item has been added to your cart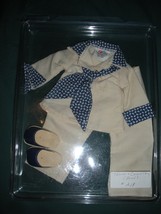 Vtg. Fisher Price My Friend #218 Town & Country Blue Pantsuit NR MT w/ CLOGS!
added to cart.
Only one available in stock
View Cart
or
continue shopping
.

Please wait while we finish adding this item to your cart.
Add to cart
1 in stock
Ships within 2 days. Estimated delivery: Monday, December 4th
Do you have any questions for the seller?
Fisher Price My Friend #218 Town and Country Blue Pantsuit Outfit NEAR MINT WITH BLUE CLOGS! In the late 1970's to early 80's, Fisher Price introduced a series of soft bodied dolls with vinyl limbs, lush, brushable hair, vinyl faces, and easily removable clothes and accessories. The series, called My Friend dolls, featured 5 doll characters: Mandy, Jenny, Becky, Nicky, and Mikey. These dolls could be washed in the clothes washer and tumble dried in the dryer. Their hair could also be shampooed and styled in a variety of ways. Here is a stylish, VHTF My Friend #218 Town and Country Blue Pantsuit Outfit in NEAR MINT condition for your consideration. This outfit was only manufactured for one year (1977-78). It consisted of a cream colored or light tan blazer with three internal metal snap fasteners on the front and a butterfly collar. The jacket's exterior exhibited three small pearly white buttons while its collar and cuffs were blue and white. The set also included a soft fabric blue and white matching ascot that could function as either a belt and/or a neck or head scarf. The original Fisher Price tag is still attached to the coat. The outfit does not exhibit any pulls, stains, marks, or tears on the fabric. The original Fisher Price offering came with white clogs; however, since I didn't have these, I substituted a pair of original Fisher Price blue/white clogs. I actually think I like the blue clogs better with this outfit than I would the white clogs. Like the dolls, this outfit is machine washable. I would recommend using cold water and either laying the items flat to dry or tumble drying them in low heat. This outfit is EXTREMELY hard to find with its original matching scarf let alone with any clogs. I have included some pictures of what this outfit looks like on a My Friend #215 Mandy for your perusal. This doll is sold separately in my booth and is NOT included with this offering. This outfit weighs 6 oz. UNWRAPPED. I will be shipping it inside a box to protect the integrity of the plastic container and its outfit. If I can keep the weight under 13 oz., I will ship it First Class. Otherwise, I will send it via either Priority Mail or Parcel Post. My location is Lafayette, IN (47905). I'm more than willing to combine purchases into one shipment to save on shipping. All I ask is that you wait and let me combine all of your purchases on one invoice so that I won't be charged multiple PayPal transaction fees and that you won't be overcharged by Bonanza's shipping calculator. I need to manually insert the correct shipping costs on your invoice. I want to save you money on shipping. My Friend #215 Mandy doll modeling Fisher Price Blue Town and Country Pantsuit outfit and blue FP clogs; doll sold separately Preferred payment is via PayPal. Payment is expected within 5 business days. The price listed is for the item itself. The total amount due will be the purchase price of the item the ACTUAL shipping cost to deliver your item to you. All shipping costs or extra fees (in the case of Canadian shipments) are the responsibility of the buyer. I will do everything in my power to find you the cheapest shipping rate—-whether it's the USPS (First Class, Parcel, or Priority), Fed Ex, or UPS. I DO NOT PAD MY SHIPPING COSTS—-NEVER HAVE AND NEVER WILL! I SHIP WITHIN 48 HOURS OF A CLEARED PAYMENT. I primarily utilize Fed Ex Home Delivery for items exceeding 5 lbs. in weight, measuring greater than 12 inches in any dimension, or traveling longer distances. I've been finding Fed Ex has been running @33% cheaper than the USPS (including Parcel Post) and UPS Ground. FYI, another benefit of using either Fed Ex or UPS is that their quote includes up to 100 worth of FREE insurance. Additional amounts of insurance may be purchased for a nominal fee (that is much less than the USPS). Fed Ex also provides automated tracking updates re: your parcel's whereabouts directly to your personal e-mail account. In order to ship Fed Ex (or UPS for that matter), I MUST have a residential or work place address, NOT a P.O. Box number, as well as a home or cell phone. Otherwise, they will not accept the shipping paperwork or transport your item. Since Bonanza's shipping calculator does NOT offer Fed Ex Home Delivery as a shipping option, PLEASE DO NOT SEND PAYMENT UNTIL I HAVE HAD AN OPPORTUNITY TO MANUALLY CHECK THESE RATES AND INSERT THEM INTO YOUR INVOICE. Otherwise, the shipping calculator may overcharge you. Packages traveling to Alaska or Hawaii will be shipped Parcel Post via the USPS. Insurance and delivery confirmation are required. I'm more than willing to combine multiple purchases into one box whenever it is safe to do so to decrease your shipping costs. Once again, PLEASE wait to check out until I can combine your purchases on ONE INVOICE and can calculate their combined shipping rate via Fed Ex. If you pay for these items separately, I get charged multiple transaction fees by PayPal plus you get over-charged on your shipping. Of course, I will refund you any amount over 1.00 that you've overpaid on shipping. However, it's easier on both of us if you wait until I can send you the correct amount. I'm more than happy to ship selected play sets to Canada and Australia. Remember that shipping to Australia can be quite expensive so please contact me for a shipping quote before you purchase an item. I will attempt to find the cheapest shipping rate possible. Also, Australian and Canadian customers will be responsible for any brokerage fees, Custom's duties, or VAT's imposed by your governments. I am not responsible for these charges. Insurance is required for all international shipments. Last, but not least, I offer a 10% discount for orders totaling 125.00 or more. ALL SALES ARE FINAL. NO RETURNS ARE ACCEPTED. I have attempted to bring any noted "imperfections" to your attention prior to your purchasing the item. However, I'm only human. If I have missed something or you have a problem with your purchase, please contact me prior to leaving feedback. txzj pxzj28633 txzj44 txzj85
Listing details
Shipping discount
Shipping weights of all items added together for savings.
Price discount
10% off w/ $125.00 spent
Posted for sale
More than a week ago
Product reviews for "Fisher-Price Doll (1970s)"
| | |
| --- | --- |
| | Great purchase |