This item has been added to your cart
Water Drawing Board Art Supply Red Mini Buddha Board Erases Dry All Ages Relax
added to cart.
9 available in stock
View Cart
or
continue shopping
.

Please wait while we finish adding this item to your cart.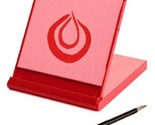 Add to cart
9 in stock
Ships within 1 day. Estimated delivery: Tuesday, November 28th
Do you have any questions for the seller?
More about this item
Red Mini Buddha Board Give the gift of serenity and creativity with the Mini Buddha Board. A small, portable version of the Original Buddha Board, this elegantly packaged 5-inch square card incorporates the "magic" painting surface and folds backward onto its own small easel stand. Based on the Zen concept of living in the moment, simply paint on the surface with water and your creation will come to life in bold design. Then, as the water slowly evaporates, your art will magically disappear leaving you with a clean slate and a clear mind - ready to create a whole new masterpiece. The Buddha Board is environmentally friendly and will last for years with proper care. It gently encourages the user to value the present and effortlessly brings out the creative side that exists in all of us. Allow yourself to let go and not be concerned with each outcome - live for the moment and enjoy! Made of thick plastic with a gloss finish Includes a painting brush, twelve special-occasion stickers to personalize the cover, and a place on the inside to write a message on Japanese paper. Environmentally friendly - no ink, no paint, no chemicals Measures 5.75" x 5.25" x 0.5" Money Back Guaranty! There are NO return shipping charges on any item that happens to arrive defective. You will receive a refund or replacement. Worry free purchase! When you purchase from this seller you are supporting a small business in the United States.
Listing details
Shipping discount
Seller pays shipping for this item.
Price discount
$5.00 off w/ $100.00 spent
Posted for sale
More than a week ago